1lb

Frozen fish fillets

such as cod, haddock or tilapia, partially defrosted

1/4 cup chopped

Onion

chopped

1 tsp fresh

Parsley

chopped
Herb-Baked Fish with Crispy Crumb
The special twist in my Herb-Baked Fish with Crispy Crumb is the fresh parsley and crushed corn flakes in the crumb. The parsley adds a strong herby flavor and corn flakes make it so much crispier than a normal bread crumb, meaning that it holds its crunch even when swimming in the delicious buttery sauce.
This recipe is super easy and an added bonus is that you can use any fish from your freezer. You don't even need to fully defrost it! It can be popped into the oven partially thawed. Simple and delicious, a great fish recipe to have handy!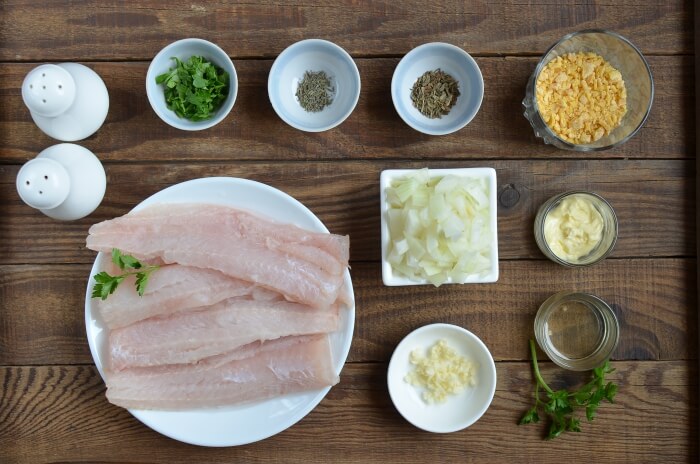 So, how to cook Herb-Baked Fish with Crispy Crumb?
Steps to make Herb-Baked Fish with Crispy Crumb
Preheat the oven and prepare the fish

10

Cook the onion and garlic

6

Add the herbs to the fish

1

Make the crumb

2

Cook the fish

15

Serving Herb-Baked Fish with Crispy Crumb

2