8 ounce

Can of tuna

drained and flaked, or salmon

1 tablespoon

Mayonaise

or as required
Mimosa Salad
Mimosa Salad is a layered salad which can be found on our table during celebrations and occasions like Easter or Christmas. Mimosa salad got its name because it resembles yellow spring mimosa flowers.
The mimosa flower effect is achieved by crumbling boiled egg yolk on the surface of the layered salad. There are many varieties of the mimosa salad – in my recipe, I use canned tuna in oil but you could also use canned salmon if you prefer. I combine the fish with potato, carrot, hard boiled eggs, onion and mayo to make a creamy, delicious layered salad. Everything is finely grated in this salad which makes it really smooth. The wow factor comes from the layering.
To make Mimosa Salad, you will need the following ingredients: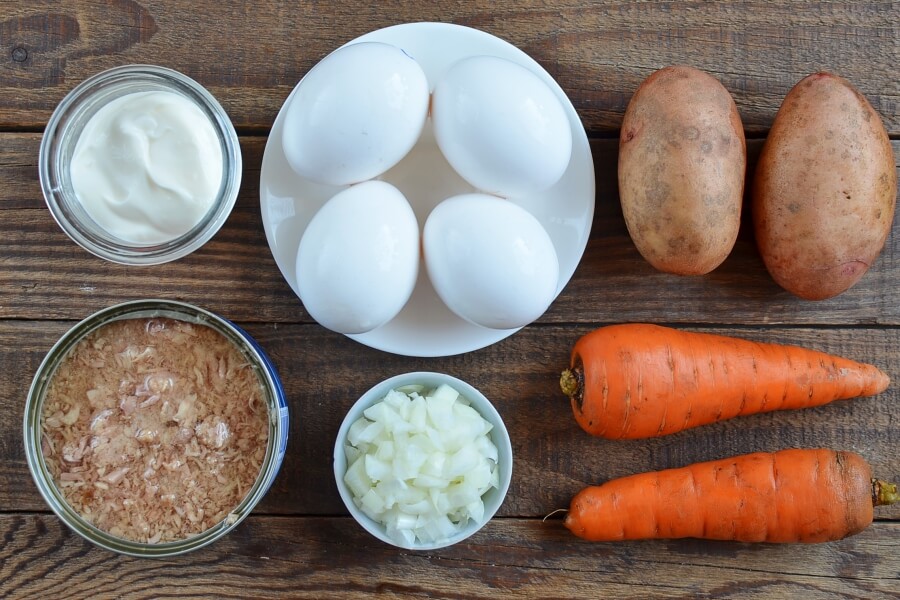 So, how do you make Mimosa Salad?
Steps to make Mimosa Salad
Cook the carrots and potatoes

25

Grate

15

Hard boil the eggs

15

Cool the eggs

10

Separate the egg whites and yolks

5

Crumble and grate

3

Prepare the onion

5

Start layering

15

Spread the tuna (or salmon) mixture into individual trifle cups or 1 large trifle bowl. Sprinkle onion in an even layer over the fish, followed by a layer of egg white. On top of the egg white, spread a thin layer of mayonnaise. Sprinkle the carrot over egg white layer; top with another layer of mayonnaise.

Next layers

Serve

1