Pickled Pig's Trotters
This Pickled Pig's Trotters recipe will make some of you say 'Woah Nelly!', and others of you head straight to grab a fork! If you're not from the Deep South, this definitely one of the more 'out-there' recipes I've posted but bear with me! A couple of years ago I had a real love affair with the cuisine of the Southern States, after a month-long road trip through Alabama, Mississippi and Louisiana. Yams, collards, grits, cornbread muffins – I tried them all, including pickled pigs feet. Just like the locals, I took a fork and ate them straight from the jar and surprise, surprise, I was hooked!
Pickled pigs feet are also popular in Asian cuisine so maybe they felt comfortingly familiar to me. This simple pickled pigs feet recipe has you cooking them until tender and falling off the bone, before leaving them to pickle for a few days, with some chili for a good kick of heat.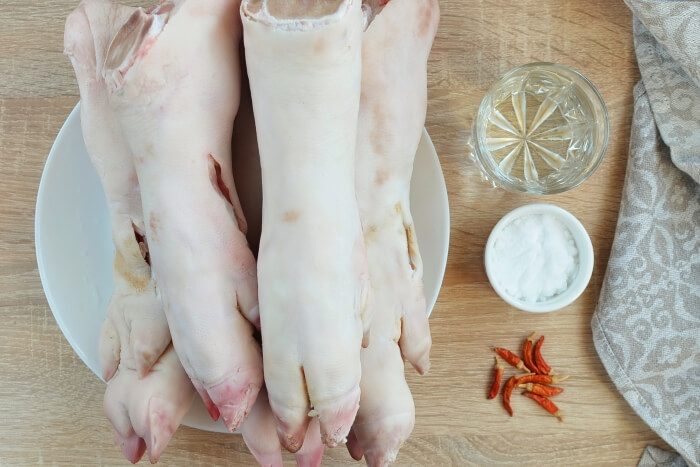 So, how to cook Pickled Pig's Trotters?
Steps to make Pickled Pig's Trotters
Boil the trotters

120

Prepare the trotters

40

Make the pickling liquid

1

Prepare the pickling jars

5

Leave to pickle

7 days

Serving Pickled Pig's Trotters