3-3 ¼ lbs

Pork shoulder

4-inch thick

2 tbsp

Olive oil

or unsalted butter

1 cup

Chicken stock

unsalted

For thickener:
Instant Pot Pork Shoulder
This Instant Pot Pork Shoulder recipe is my personal favorite. It is deeply satisfying, uses simple ingredients, and is perfect for cooking in the Instant Pot. My shopping tip: make sure to ask your butcher for a pork shoulder with some beautiful marbling and fat for tender and delicious results. 
To make this recipe, first, brown the pork shoulder. Then cook the onions and garlic. Once the onions and garlic are caramelized and sticking to the pot, deglaze them to lift all the extra flavor from the bottom of the Instant Pot. With just a little bit of initial effort, you can now delegate cooking the pork shoulder to your Instant Pot Pressure Cooker. The result is a fork-tender pork roast on the table in less than two hours. Served with a homemade garlic butter onion sauce, this recipe is a hit every time I make it. Perfect for a family dinner or entertaining a crowd.
To make the Instant Pot Pork Shoulder, you will need the following ingredients: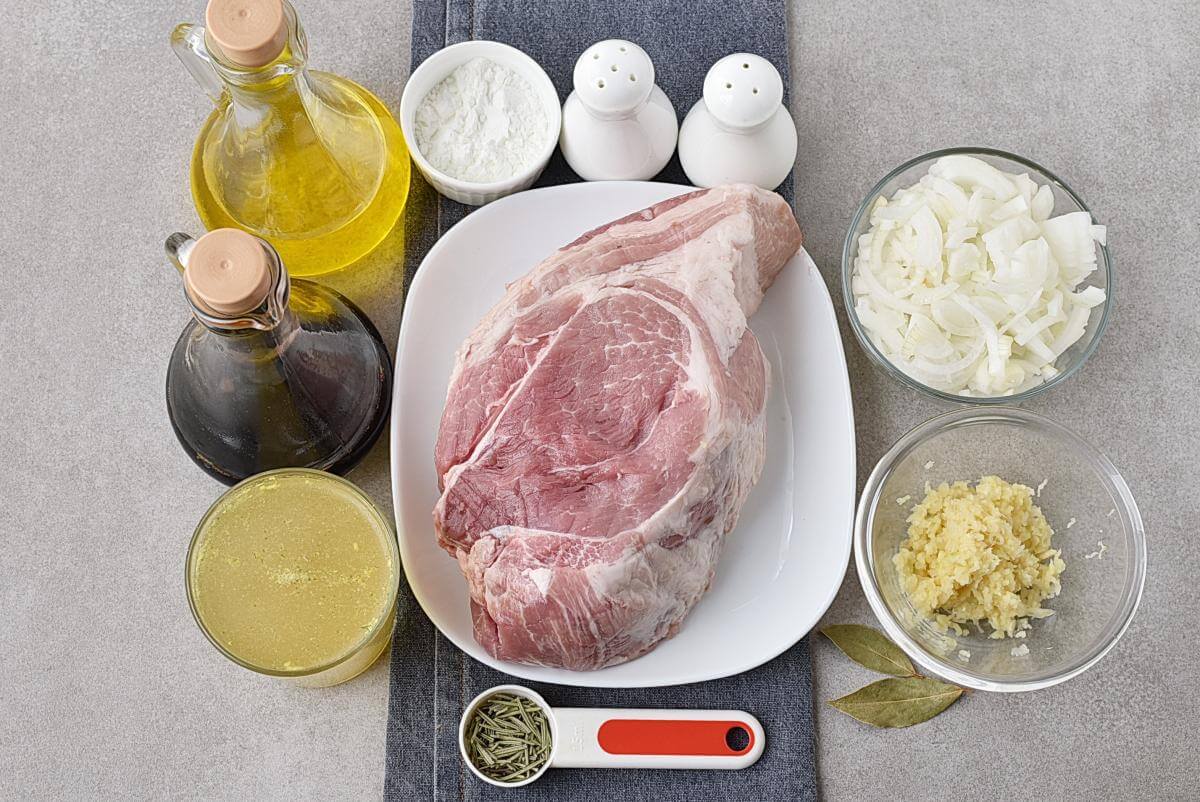 Steps to make Instant Pot Pork Shoulder
Heat Instant Pot

3

Season pork shoulder

1

Brown pork shoulder

10

Melt 2 tablespoons unsalted butter or olive oil in the inner pot and make sure to coat the whole bottom of the pot. Place the seasoned side of the pork shoulder in the Instant Pot. Season the other side of the pork shoulder. Brown for 5 minutes then flip over and brown on the other side for another 5 minutes.

Remove

Sauté onion and garlic

4

Add rosemary and bay leaves

1

Deglaze

1

Cook pork shoulder

1h 15m

Add in 1 tablespoon regular soy sauce and ½ a teaspoon table salt and mix to dissolve. Return back the pork shoulder into the Instant Pot along with its juices. Close the lid with the venting knob in the "Venting" position and then slide the venting knob to the "Sealing" position. Set the pot to cook at "High Pressure" for 60 minutes and then 15 minutes for "Natural Pressure Release". After 15 minutes, turn the knob to the "Venting" position, releasing any remaining steam. Then carefully remove the lid.

Remove pork shoulder

1

Season and thicken sauce

2

Serve