3 tbsp

Olive oil

extra-virgin

1 lb

Pork shoulder

cut into 1/2-inch pieces

1

Onion

medium , finely chopped

2 cloves

Garlic

finely chopped

1

Chili pepper

small , seeded and finely chopped

Black pepper

freshly ground

2

Potatoes

large , cut into 1/2-inch pieces

2 tbsp

Parsley

coarsely chopped, leaves
Pork and Quinoa Stew
Pork and Quinoa Stew is one of my favorite "busy week" recipes. We all know those busy weeks where you feel like you are running around, dropping one kid off at tennis practice and rushing straight to pick another one up from the swimming pool! The last thing you want to do when you get home is face into cooking dinner. Enter this stew which you can make in advance and will keep in the refrigerator for two days. 
This one pot stew is a delicious comforting meal. I start by browning the pork shoulder on all sides. Then I cook the onions, garlic, chili, bay leaf, cumin,  pepper and tomato paste before adding the water, quinoa, potatoes and pork. Simmer the whole lot for 20 minutes and there you have it – amazing pork stew in under an hour! 
To make Pork and Quinoa Stew, you will need the following ingredients: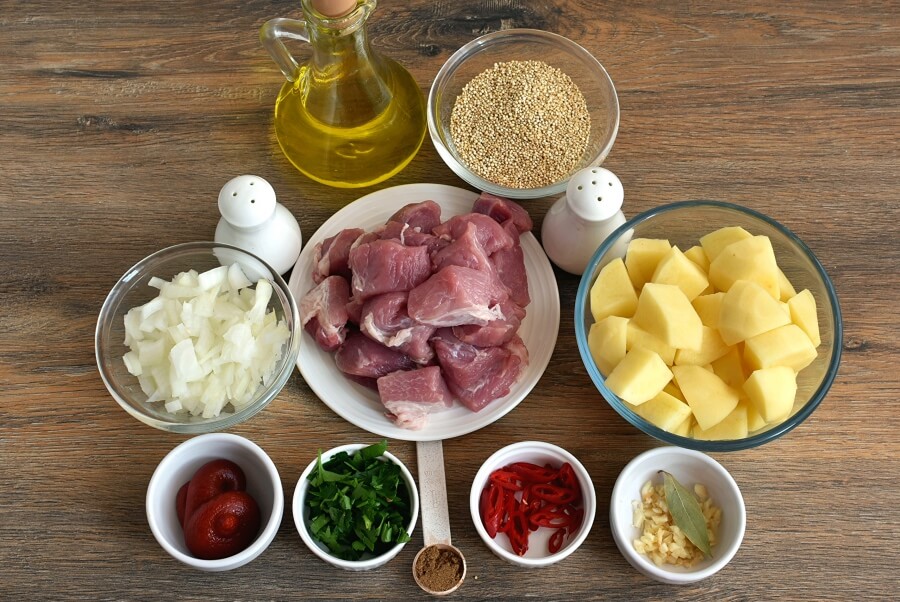 So, how do you make Pork and Quinoa Stew?
Steps to make Pork and Quinoa Stew
Heat the oil

2

Brown the pork

5

Cook the onions

10

Add the garlic, chili and seasonings

1

Add remaining ingredients

2

Season and simmer

20

Serve