For the sauce

1 cup

Strawberries

fresh , coarsely chopped

1/2 cup

White wine

or white grape juice

For the chicken

4 (6 ounces each)

Chicken Breast

halves, boneless skinless chicken breast
Strawberry Mint Chicken
Last summer, my kids requested that we grow strawberries in the garden. As is often the way with homegrown fruit and veg, when it came to harvest time we had more strawberries than we could eat. So I started putting them in every dish – sweet and savory!
That's when I came up with Strawberry Mint Chicken. You wouldn't think this flavor combination should work, but boy does it! This dish has become a family favorite and you're about to find out why!
I start out by making a quick strawberry, mint and white wine based sauce. Then I grill the chicken. I serve the cooked chicken with the sauce and a sprinkle of green onion on top. Quick, easy and delicious!
To make Strawberry Mint Chicken, you will need the following ingredients: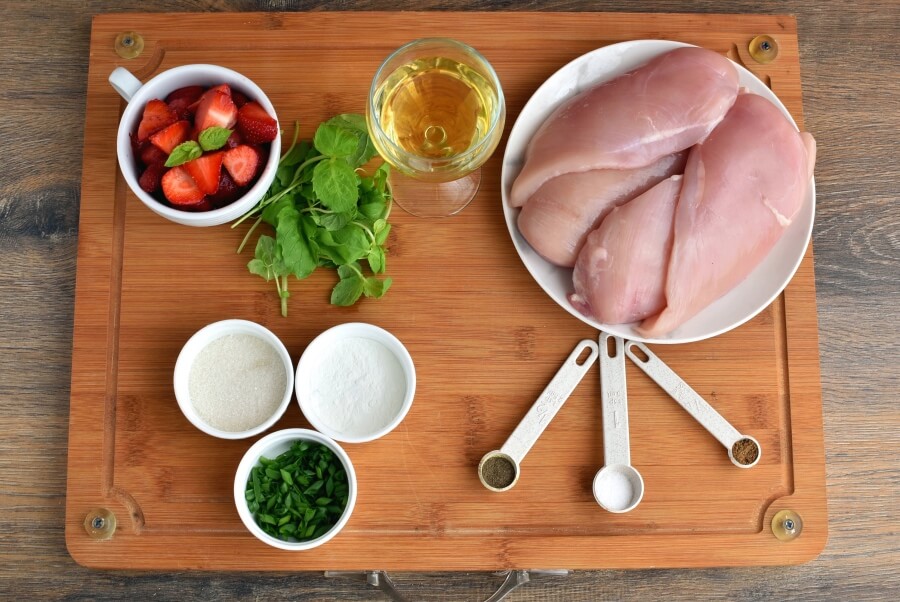 So, how do you make Strawberry Mint Chicken?
Steps to make Strawberry Mint Chicken
Make the sauce

2

Add strawberries and wine

3

Simmer

3

Add the mint

2

Grill the chicken

10

Brush the chicken with the sauce

1

Serve