2.6 lb

Potatoes

peeled, chopped

14 oz

Can chopped tomatoes

with herbs

1/4 cup

Instant gravy powder

1/4 cup

Cheddar cheese

grated
Super-Easy Cottage Pie
Always a winner, my Super-Easy Cottage Pie is the perfect dish to serve up for a weeknight dinner or Saturday night in. There's one little thing I want to clarify first. What's the difference between a cottage pie and a shepherd's pie? They often get mixed up, but there's one simple difference between these traditional pies: the meat in cottage pie is beef and in shepherd's pie, it's lamb. Both are delicious!
There's no better combination than a meaty bolognese mixture, rich with tomatoes, onion and garlic, topped with smooth and buttery mashed potato and finished with bubbling golden brown Cheddar cheese. Heaven in every mouthful!
To make Super-Easy Cottage Pie, you will need the following ingredients: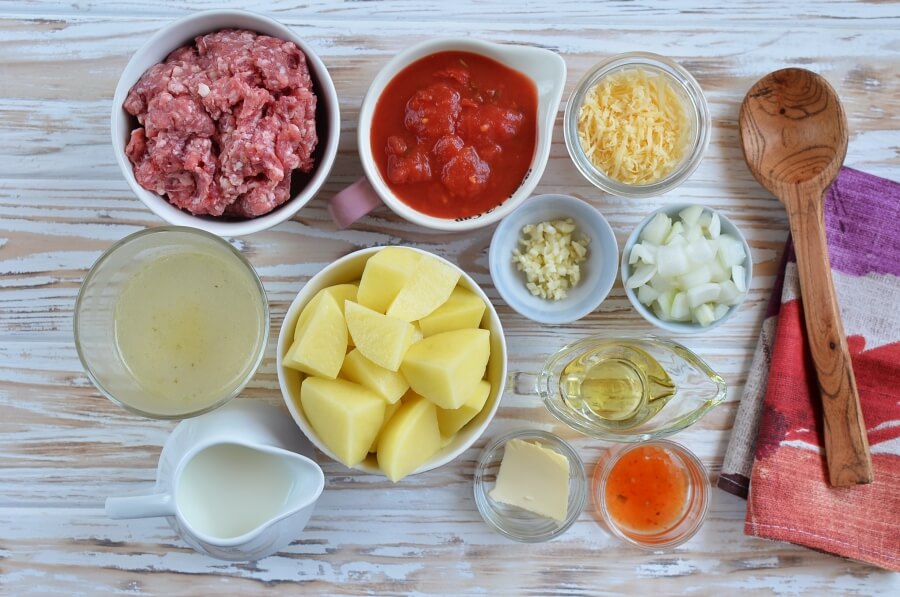 So, how to make Super-Easy Cottage Pie?
Steps to make Super-Easy Cottage Pie
Heat the oven and prepare a baking dish

10

Brown the beef

15

Cook the onion and garlic

3

Add the beef and gravy powder

1

Add the broth and canned tomatoes

30

Cook the potatoes

15

Mash the potatoes

5

Assemble the cottage pie

5

Bake the pie

25