2 tbsp

Shallots

sliced thinly

1/2 cup

All-purpose flour

1 tbsp

Drained capers patted dry

1/4 tbsp

Black pepper

or to taste
Lemony Pork Piccata
This juicy Lemony Pork Piccata is served in the most luxurious butter sauce, just like you'd find at a trattoria in Italy! What makes something 'piccata'? Well there are a few key ingredients, along with special cooking methods.
Firstly, the meat (or fish) is sliced or flattened until thin. Then it's gently sauteed, before being served in a buttery sauce, made sour with lemon juice and capers. Those are the basics. I enrich my sauce with chicken broth and white wine, along with fried shallots and chopped parsley. Instead of slicing the pork, I use a meat mallet to flatten it, which also works to tenderize the meat.
To make Lemony Pork Piccata, you will need the following ingredients: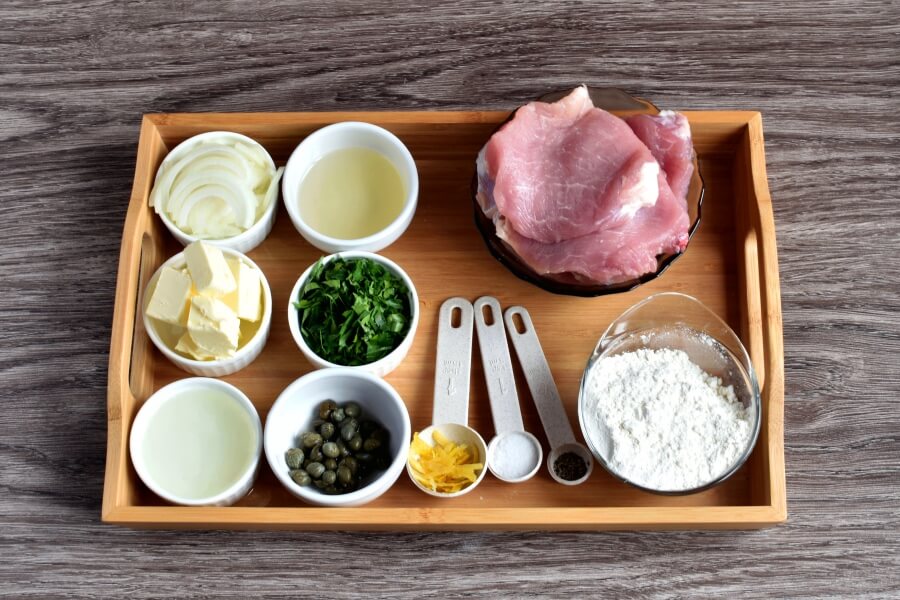 So, how to make Lemony Pork Piccata?
Steps to make Lemony Pork Piccata
Heat the oven

5

Flatten the pork chops

2

Combine the coating

1

Coat the pork

2

Melt the butter

1

Cook the shallots and pork chops

10

Prepare the pork chops for baking. Bake the pork chops baking

20

Make the sauce

2

Add the lemon juice

2

Serve the pork