For ginger fried rice:

3 tsp

Neutral oil

neutral tasting, divided

2

Green onion

finely chopped

½-inch

Fresh ginger

grated

2 cups

Cooked rice

day-old, cold

Tornado egg omelet:
Tornado Eggs & Ginger Fried Rice
Try a new twist to your go-to omelet recipe with our Tornado Eggs & Ginger Fried Rice! In this recipe, a whirlwind of scrambled eggs is placed over a mound of fried rice to create a beautiful and fancy presentation. And it's easy to make at home! So what's the secret to this recipe? Three things: a non-stick skillet, a pair of chopsticks, and the swirling technique. 
The recipe starts off with the cold day-old rice. Heat some oil in a skillet and add onions and ginger. Once the aromatics are fragrant, stir in the rice. Season and cook until the rice is heated through. Spoon a portion of the fried rice into a small bowl pressing down with a spoon. Flip it upside down onto a plate and lift the bowl. Repeat. To make the Korean omelet, crack 2 eggs into a bowl and whisk with a pinch of salt. Heat a little oil in a non-stick skillet and add the eggs. Once the edges are set and the center starts to bubble, get your chopsticks ready. Starting from the opposite edges, drag the chopsticks to the center of the skillet. Don't allow the chopsticks to get too close to each other. For best results, keep them not less than 1 inch apart. Keep the chopsticks in place while rotating the skillet away from you. The more layers you can make, the more beautiful the omelet will look. Jiggle the skillet a bit while doing this. Once the eggs stop swirling, slide the omelet out of the skillet. Repeat with the remaining eggs and serve immediately over the fried rice.
To make the Tornado Eggs & Ginger Fried Rice, you will need the following ingredients: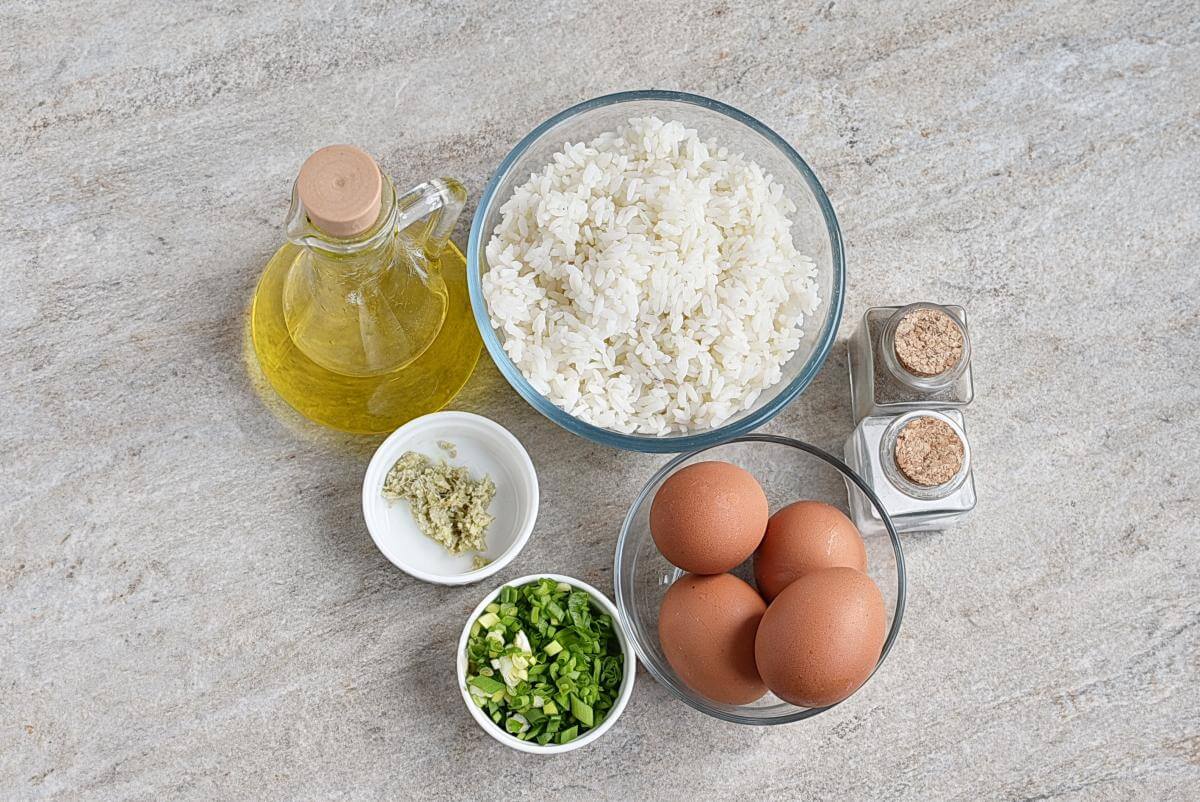 Steps to make Tornado Eggs & Ginger Fried Rice
Cook onions and ginger

1

Add rice

5

Mold rice

2

Whisk eggs

2

Make omelet

2

In an 8-inch non-stick skillet over medium heat, heat 1 teaspoon oil and swirl around. Pour in the eggs. Once the edges are firm and bubbles appear in the center, use the chopsticks to grab the two opposite edges and drag them to the center of the skillet. Keep the chopsticks in place at least 1 inch apart from each other while rotating the skillet away from you. Jiggle the skillet a bit while twisting the omelet into a tornado shape. Rotate the skillet until the eggs stop swirling.

Assemble

3

Serve