8 cups

Corn kernels

about 8–9 ears of corn

1 large

Onion

roughly chopped

1 (14 oz) can

Coconut milk

full fat

1 tbsp

White wine vinegar

Black pepper

fresh cracked

stems

Parsley

thinly sliced, for garnish
Vegan Corn Chowder
This Vegan Corn Chowder is a bright yellow, creamy bowl of goodness which will definitely have you asking for seconds! This corn chowder tastes so delicious and is really simple to make. Simply shuck some ears of corn (you can use frozen or canned corn if you don't have any fresh corn ears).
Start by sautéing the onions and corn kernels. After adding garlic and spices, pour in vegetable stock and simmer for 10 minutes. At this stage, reserve some corn kernels to garnish the soup at the end. Blend the soup until smooth, then add coconut milk – again at this stage, reserve some of the coconut milk to drizzle over the soup when serving.
To make this Vegan Corn Chowder, you will need the following ingredients: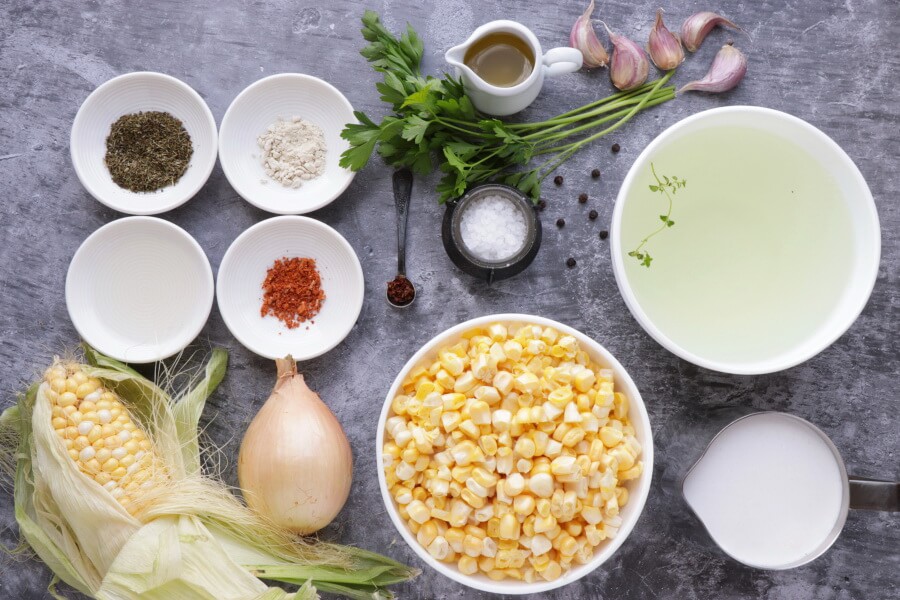 So, how do you make Vegan Corn Chowder?
Steps to make Vegan Corn Chowder
Sauté the corn and onion

8

Add garlic and spices

1

Add stock and simmer

10

Remove from the heat and cool

1

Blend

5

Add coconut milk and vinegar

1

Serve