TOP 10 Ginger Recipes
Recipes that Are Just the Right Amount of Spicy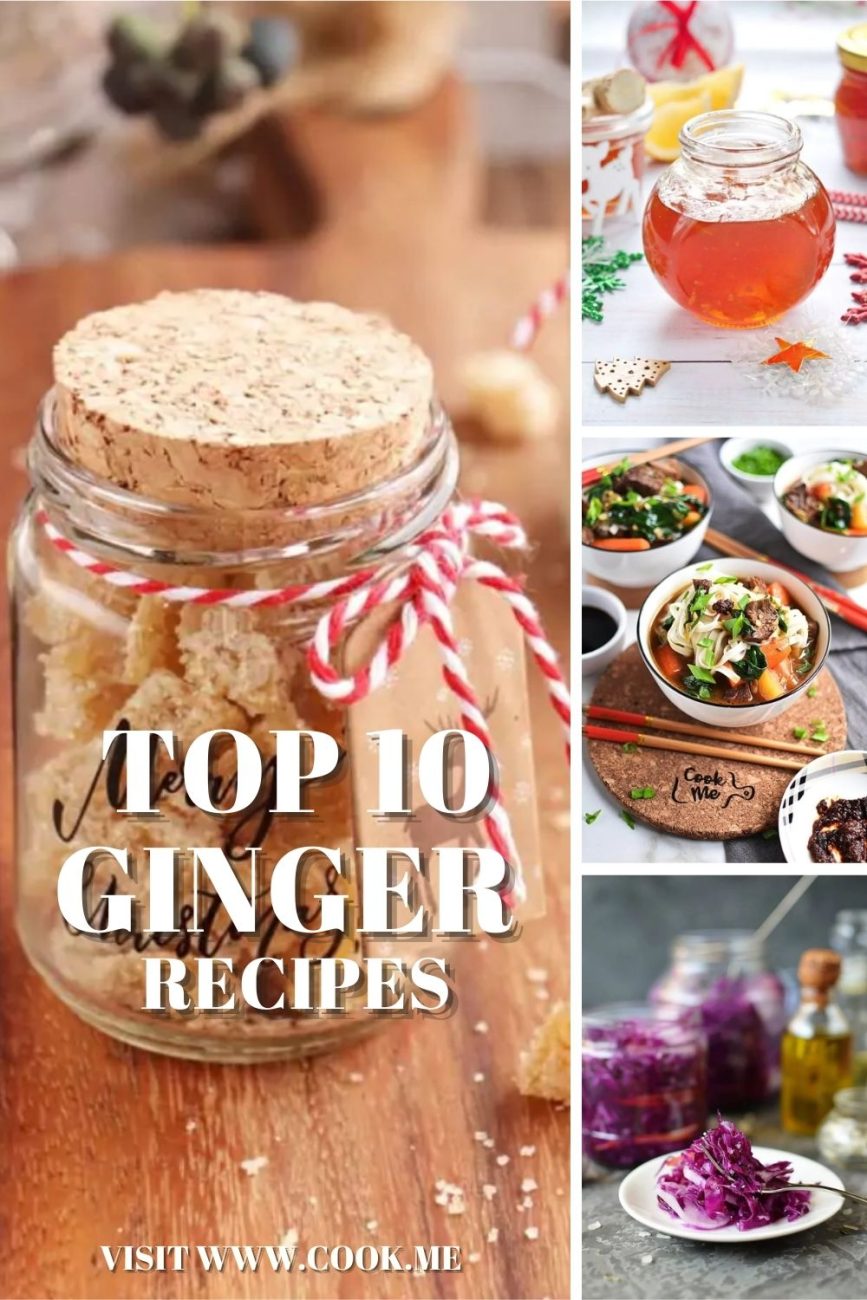 Gingery Apple Cabbage Sauerkraut is one of my favorite fermented foods to make and eat! This is such a simple recipe, but you do have to tend to the sauerkraut as it ferments. During the process, open the jars once a day to release air. When you open the jars,…
Ingredients for Gingery Apple Cabbage Sauerkraut:
8 cups Red cabbage
2 ½ tsp Sea salt
1 cup Daikon radish
1 Apples
2 tbsp Ginger
4 cloves Garlic
This Orange Ginger Marmalade is a great combination of sweet and juicy oranges with warm and spicy ginger. I use the seeds and pith (the white membrane between the orange fruit and the peel) as a natural form of pectin which helps jam and marmalade to set. To make this,…
Ingredients for Orange Ginger Marmalade:
2.2 lbs Oranges
Juice of 1/2 Lemon
1 ½ tbsp Fresh ginger
5 cups Granulated sugar
4 cups Water
Are you a ginger fanatic? Then you have to try baking this deliciously moist Vegan Gingerbread Cake with Triple Ginger. Why Triple Ginger? Because we have chosen to add ginger in 3 ways, 3 times in this recipe and it just works with every addition. Great on a winter afternoon…
Ingredients for Vegan Gingerbread Cake with Triple Ginger:
1 cup Spelt flour
½ cup All-purpose flour
1½ tsp Baking powder
¼ tsp Baking soda
3 tbsp Candied ginger
1 tsp Cinnamon
½ tsp Ground ginger
¼ tsp Ground cloves
2 tbsp Walnuts
3 tbsp Chocolate chips
2 tbsp Flaxseed meal
¾ cup Non-dairy milk
½ cup + 2 tbsp Coconut sugar
2 tbsp Vegetable oil
¼ tsp Sea salt
2 tsp Vanilla extract
2 tbsp Molasses
1 tbsp Fresh ginger
I love to give jars of this Candied Ginger as Christmas gifts. I've always loved the idea of giving food as a gift and what could be better than preparing homemade food gifts for the food lovers in your life? This candied ginger recipe is really easy to make and…
Ingredients for Candied Ginger:
6 cups Fresh ginger
6 cups Water
4 cups Granulated sugar
1 cup Cane sugar
This Celery Ginger and Lemon Juice is a super healthy juice, which is packed with fresh immune-boosting ingredients like celery, ginger and lemon. Celery is a superfood that can help your digestion and help with bloating and water retention too. For maximum health benefits, drink the juice quickly on an empty stomach. …
Ingredients for Celery Ginger and Lemon Juice:
3 ribs Celery
½ inch Fresh ginger
½ Lemon
¼ cup Water
This Sesame Ginger Beef Zucchini Noodles recipe is another of my delicious healthy lunches, which I love to prepare in advance. I am obsessed with zucchini noodles or Zoodles, as I call them! They are a super way to cut carbs at lunchtime.
Ingredients for Sesame Ginger Beef Zucchini Noodles:
¼ cup Soy sauce
2 tbsp Honey
2 tbsp Apple cider vinegar
1 lb Ground Beef
2 tbsp Sesame oil
1 tbsp Fresh ginger
3 cloves Garlic
2 Zucchini
This Healthy Vegan Broccoli & Basil Soup is a perfect recipe for a cold and rainy spring day! This vibrant soup uses only a few ingredients, takes about 20 minutes to make, and tastes surprisingly rich and nourishing for something so light and simple. The fresh ginger, added at the end of cooking, gives a warming kick, while fresh lime juice adds brightness to the dish. This soup will warm and refresh you on a cold spring day!
Ingredients for Healthy Vegan Broccoli & Basil Soup:
1 tbsp Coconut oil
2 Yellow onions
3 cloves Garlic
4 cups Vegetable stock
1 head Broccoli
1 cup Baby spinach
2 tbsp Lime juice
1 tbsp Fresh ginger
1 cup Basil
Kosher Salt
Black pepper
This Chinese Hot Pot of Beef and Vegetables is a nourishing, delicious Chinese stew that will brighten up the darkest days of winter. It is full of delicious spices like ginger, cinnamon, and chili to heat you up inside. If you don't want to use sherry in this recipe, simply replace it with additional beef broth or water.
Ingredients for Chinese Hot Pot of Beef and Vegetables:
4 tsp Vegetable oil
1½ lbs Beef
½ cup Green onion
2 tbsp Fresh ginger
1 tsp Ground star anise
4 cloves Garlic
1 (14¼-oz) can Beef broth
2¾ cups Water
¼ cup Soy sauce
1 tbsp Brown sugar
3 tbsp Sherry
2-3 tsp Chili paste
2 (3-inch) Cinnamon stick
2 cups Turnips
1½ cups Baby carrots
1 tbsp Water
2 tsp Cornstarch
8 cups Fresh spinach

FOR SERVE (OPTIONAL):
Chinese noodles
These Chocolate-Glazed Gingerbread Cakes are so festive for the holiday season. And if you are on the hunt for a new dessert recipe, look no further than this one! It is easy to prep and bake and yields 12 rich in robust gingerbread flavor muffins. Finish them off with a…
Ingredients for Chocolate-Glazed Gingerbread Cakes:
FOR CAKES:
¼ cup (90 g) Honey
¼ cup (95 g) Molasses
½ cup (125 g) Brown sugar
¾ cup (180 ml) Milk
1 ¼ cup (150 g) All-purpose flour
1 ¼ tsp Baking powder
1 tsp Ground ginger
½ tsp Ground Allspice
½ tsp Cinnamon
1 pinch Ground nutmeg
65 g Unsalted butter
1 pinch Salt
1 Eggs
⅓ cup (75 g) Candied ginger

FOR GANACHE:
200 g Dark chocolate
100 ml Heavy cream
15 g Unsalted butter
1 tsp Glucose syrup
This Sheet Pan Garlic Ginger Chicken & Broccoli is a delicious and easy prepare ahead dish. It is a fantastic meal to serve bento-style, or you can prepare it in advance and have it for lunch for a few days.
Ingredients for Sheet Pan Garlic Ginger Chicken & Broccoli:
FOR GARLIC GINGER SAUCE:
¾ cup Soy sauce
½ cup Water
¼ cup White vinegar
¼ cup Vegetable oil
2-inch knob Fresh ginger
4 cloves Garlic
4 Medjool dates

FOR CHICKEN AND BROCCOLI:
1 lb Chicken thighs
1 head Fresh Broccoli
1 Red bell pepper

TO GARNISH:
Sesame oil
Sesame seeds
Green onion