TOP 10-Minute Meal Recipes
Perfect for Busy Weeknights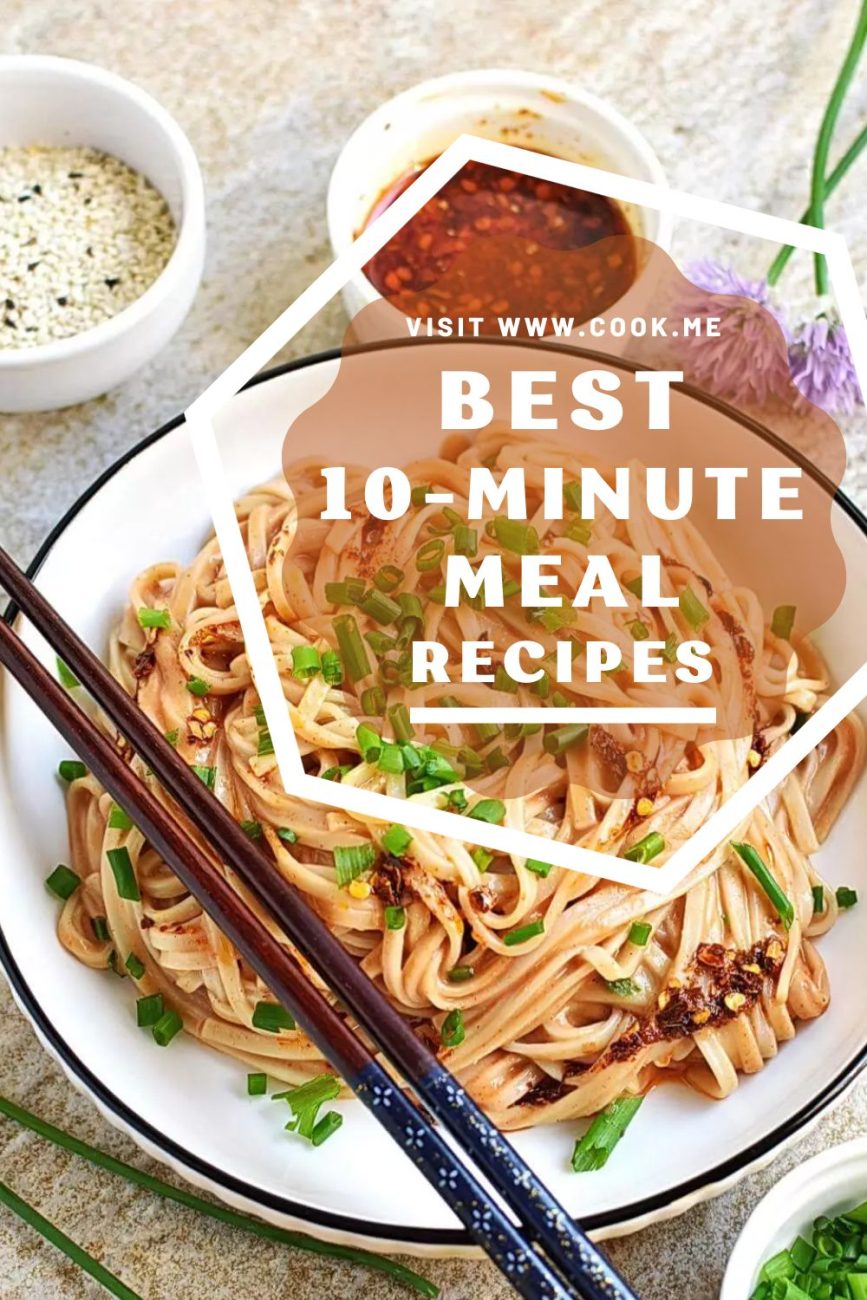 In this recipe for 10-Minute Sesame Noodles a mixture of savory condiments coats  wheat noodles, cooked until tender, and then topped with chopped scallions and chili oil. Ready in mere 10 minutes, this recipe is foolproof and will yield delicious results. Serve as is or as a side dish to…
Ingredients for 10-Minute Sesame Noodles:
2 oz Chinese noodles
½ tbsp Sesame paste
1 tbsp Peanut butter
1 tbsp Soy sauce
1-2 tsp Rice vinegar
1 tbsp Vegetable oil
½ tsp Sugar
5 tbsp Braised meat sauce
1 Scallions
Chili oil
Ingredients for Avocado Grapefruit Salad:
FOR SALAD:
1 Grapefruit
4 cups Mixed greens
1 Avocado
¼ cup Almonds

FOR VINAIGRETTE:
3 tbsp Olive oil
1 tbsp Champagne vinegar
1 tbsp Honey
Salt
Black pepper
Ingredients for Crunchy Broccoli Salad:
FOR CIDER COLESLAW DRESSING:
3/4 cup Mayonnaise
1 tbsp Dijon mustard
2 tbsp Honey
1/4 cup Apple cider vinegar
1/4 tsp Turmeric
1/2 tsp Onion powder
1/2 tsp Garlic powder
1 tsp Black pepper
1 tsp Salt

FOR BROCCOLI SALAD:
6 cups Broccoli
1/2 cup Celery
2 cup Carrots
1/3 cup Red onion
1/2 cup Craisins
1/3 cup Cranberries
1/3 cup Sunflower seeds
Lazy Vareniki, aka Ukrainian lazy cheese pierogi, is a delicious and healthy breakfast option for those busy mornings. Made with fresh farmer's cheese, they are melt-in-your-mouth soft and tender. Plus, they are so fast and easy to make. You can whip up these lazy cheese pierogi while the water for…
Ingredients for Lazy Vareniki:
1 lb Farmer's cheese
½ tsp Salt
1 tbsp Sugar
1 Eggs
about ½ – 1 cup All-purpose flour
This creamy and smooth Whipped Labneh Dip is the simplest appetizer or light meal you can whip up in less than 10 minutes. Thick and tangy Middle Eastern yogurt topped with burst cherry tomatoes and olives seasoned with za'atar spice and red pepper flakes and sprinkled with chopped fresh parsley…
Ingredients for Whipped Labneh Dip:
2 cups Labneh
1 Lemon
Kosher Salt
¼ cup plus 1 tbsp Olive oil
1 clove Garlic
3 sprigs Fresh thyme
1 cup Cherry tomatoes
1 tsp Za'atar
Crushed red pepper
½ cup Olives
This homemade 10-Minute Easy Enchilada Sauce is one of my favorites. It's actually my secret ingredient that makes everyone say YAM. Bold, rich, delightfully smoky, and spicy, it makes everything better, from tamale pie, chicken enchiladas, and huevos rancheros to your favorite tacos. Plus, this sauce comes together easily in…
Ingredients for 10-Minute Easy Enchilada Sauce:
2 tbsp Olive oil
2 tbsp All-purpose flour
4 tbsp Chili powder
1 tsp Onion powder
½ tsp Garlic powder
½ tsp Salt
¼ tsp Cumin
¼ tsp Dried oregano
2 ¼ cups Chicken broth
2 tbsp Tomato paste
This Easy Caprese Stuffed Fresh Mozzarella recipe is a new twist on a classic Italian salad. The key ingredients of the beloved caprese salad – tomatoes, fresh mozzarella, and herbs – are piled into a large fresh mozzarella ball to make a flavorful and delicious antipasto salad the whole family…
Ingredients for Easy Caprese Stuffed Fresh Mozzarella:
2 Fresh Mozzarella Ball
12 Cherry tomatoes
¼ Onion
1 stalk Celery
¾ tsp Oregano
¼ tsp Salt
4-5 leaves Basil
2-3 tbsp Olive oil
1 tbsp Balsamic vinegar
This Korean Tuna Mayo Deopbap is a delicious rice dish that you can whip up in only 10 minutes. Deopbap is a Korean rice dish where rice is placed at the bottom of a bowl and topped with your favorite toppings. In this case, scrambled egg, sautéed kimchi, tuna, crunchy…
Ingredients for Korean Tuna Mayo Deopbap:
1 ½ cups Korean Cooked rice
2 Eggs
⅓ cup Kimchi
1 can Can of tuna
4 tbsp Japanese mayo
2 tsp Cooking oil
½ sheet Nori
1 tbsp Teriyaki sauce
Salt
Black pepper
This Microwave Potato Soup recipe is the answer to all your prayers. It's a simple soup that you can make from scratch in under 10 minutes. All you need at your disposal is a microwave and a microwave safe mug! Start by cooking the potatoes in water in the microwave….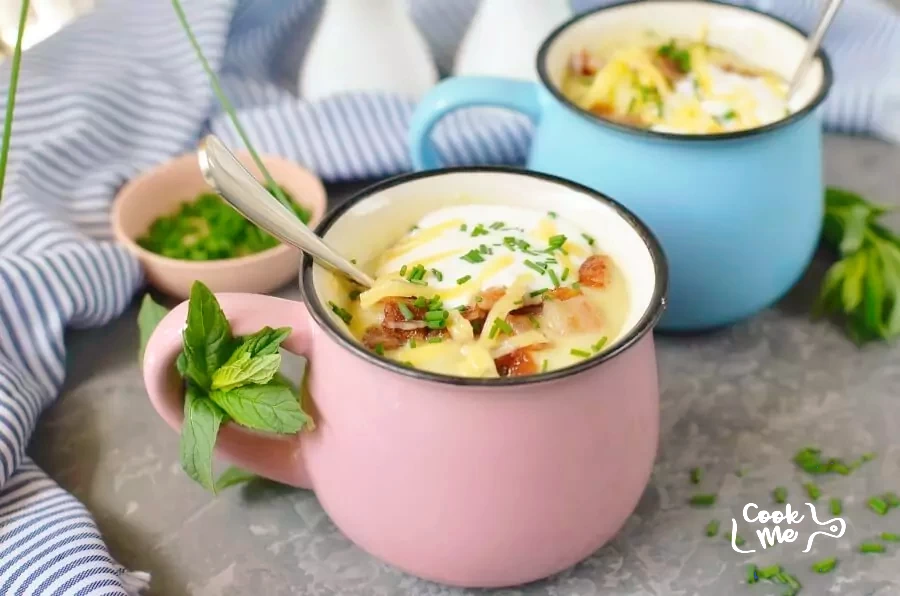 Ingredients for Microwave Potato Soup:
¾ cup Water
3 tbsp Potatoes
1 tbsp Onion
2 tbsp Cheddar cheese
1 tbsp Bacon
2 tsp Cornstarch
½ cup Chicken stock
¼ cup Milk
Salt
Black pepper
Sour cream
Springtime just got a little bit sweeter with these Creamy Dark Chocolate Truffles. With one bite, you'll discover an amazing creamy texture and rich chocolate flavor. Even better, they are made with only four ingredients and are refined-sugar-free, gluten-free, and low-calorie. You are going to love these truffles, I promise!    …
Ingredients for Creamy Dark Chocolate Truffles:
½ cup Chocolate chips
¼ cup Greek yogurt
1 tbsp Peanut butter
2 tbsp Unsweetened cocoa powder