TOP 10 Most Popular Ukrainian Recipes
Discover Delicious Ukrainian Dishes with Our Collection of Recipes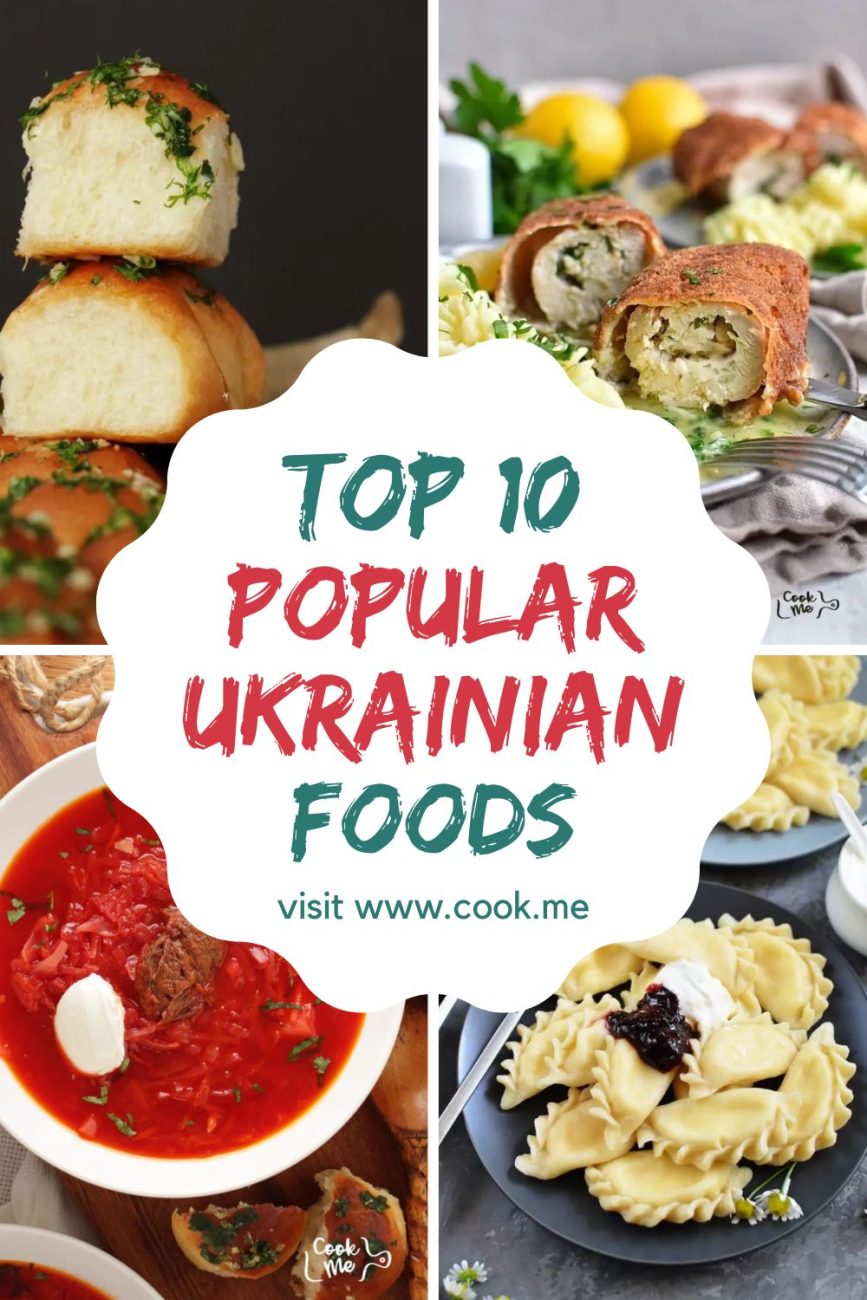 Looking for an easy and delicious dinner roll recipe? Give these Pampushky Ukrainian Garlic Rolls a try! Fluffy and soft, these simple yet full of flavor rolls are sure to impress. Brush the hot rolls with the garlic-herb sauce for the ultimate finishing touch, and enjoy! The recipe is egg-free,…
Ingredients for Pampushky Ukrainian Garlic Rolls:
FOR DOUGH:
250 ml Water
2 tbsp Sugar
1 tsp Active dry yeast
450 g All-purpose flour
1 tsp Salt
¼ cup Sunflower oil

FOR GARLIC SAUCE:
½ oz Garlic
1 tsp Salt
2 ¼ tbsp Sunflower oil
2 tbsp Parsley
⅙ cup Water
Ingredients for Ukrainian Borscht:
FOR BROTH:
3 qt Water
1 ½ lbs Beef
½ Onion
1 Carrots
1 root Parsley
2 Bay leaf
5 Black peppercorns
1 tsp Salt

FOR BORSCHT:
3 Potatoes
1 tbsp Lard
2 Carrots
½ cup Onion
2 cloves Garlic
2 Beets
1 Bay leaf
3 tbsp Tomato puree
½ Cabbage
Lemon juice
Salt
Black pepper
Ingredients for Chicken Kiev:
FOR GARLIC BUTTER STUFFING:
6 tbsp Unsalted butter
2 tsp Parsley
2 cloves Garlic
¼ tsp Salt

FOR CHICKEN:
2 (7–8-oz) Chicken Breast
½ tsp Salt
¼ tsp Black pepper
1 Eggs
¼ cup All-purpose flour
1 cup Panko breadcrumbs

FOR FRYING:
4 cups Vegetable oil
These homemade Nalesniki – Ukrainian Crepes, aka nalysnyky, are thin crepes rolled up with a savory cheese filling and baked in the oven until golden brown and deliciously tender. If you crave comfort food for breakfast or brunch, you will love these. Truly comforting and a real joy to eat!…
Ingredients for Nalesniki – Ukrainian Crepes:
FOR CREPES:
4 Large eggs
1 cup Whole milk
6 tbsp Water
1 cup All-purpose flour
1⁄2 tsp Salt

FOR CHEESE FILLING:
2 cups Cottage cheese
2 Egg yolks
2 tsp Heavy whipping cream
1⁄4 tsp Salt
1 tsp Fresh dill
FOR FRYING:
1⁄8 cup Butter

FOR DOTTING:
1⁄4 cup Butter

FOR SERVING:
Sour cream
I love this recipe for Ukrainian Dumplings aka Galushki which is one of my mother's specialties. I am so happy to share this family favorite with you today. Galushki is like the Ukrainian version of gnocchi – a type of potato pasta dumpling. Yum! Start by making the Ukrainian dumplings…
Ingredients for Ukrainian Dumplings aka Galushki:
FOR THE DUMPLINGS:
5 cups All-purpose flour
4 Eggs
1 cup Water
150 g Butter

FOR THE TOPPING:
1 lb Mushrooms
1 Onion
1 cup Bacon
3 tbsp Butter
Olive oil
Salt
Black pepper
Your whole family will adore these tasty Vegetarian Buckwheat and Mushroom Croquettes. Made with a delicious mushroom filling, coated with a bread crumb coating and fried until crispy. To make these croquettes, start by cooking buckwheat. Sauté onions and mushrooms and once cooked, combine with the buckwheat. Shape into patties….
Ingredients for Vegetarian Buckwheat and Mushroom Croquettes:
1 cup Buckwheat groats
½ lb Button mushrooms
1 Onion
1 Carrots
2 Large eggs
1 tbsp Semolina flour
Salt
Black pepper
¾ cup Bread crumbs
Olive oil
These Syrniki: Ukrainian Cheese Pancakes make for a delicious breakfast or dessert that feels comforting and satisfying. Farmer's cheese is the main ingredient in this recipe. Though mild in flavor, it is packed with protein and calcium to help keep you feeling full longer and energized for a productive day….
Ingredients for Syrniki: Ukrainian Cheese Pancakes:
1 lb Farmer's cheese
2 Eggs
½ + ⅓ cup All-purpose flour
¼ cup Sugar
½ tsp Salt
½ cup Raisins

FOR FRYING:
6-8 tbsp Vegetable oil
Ukrainian Easter Bread, aka kulich, is a delicious, traditional bread made for Easter. To me, Easter is all about baking and enjoying the home-cooked feast. So, this kulich recipe hits the spot and remains a family favorite. The recipe is simple to make and uses pantry staples like milk, flour,…
Ingredients for Ukrainian Easter Bread:
1 cup Whole milk
1 cup Raisins
4 cups All-purpose flour
¼ cup Sugar
2 ¼ tsp Instant yeast
1 tsp Salt
2 Eggs
¼ cup Butter
1 tsp Orange zest
1 tsp Lemon zest
FOR EGG WASH:
1 Eggs
a splash of Water
Put this Vareniki with Farmers Cheese on the menu for your next potluck dinner night. The other guests will talk about these delicious dumplings for weeks, if not months after! People will ask you for the recipe for this vareniki with cheese. The best thing about this recipe is that…
Ingredients for Vareniki with Farmers Cheese:
FOR THE PIEROGI FILLING:
2 lbs Farmer's cheese
½ cup Sugar
1 Eggs

FOR THE PIEROGI DOUGH:
2 Eggs
2 tbsp Sour cream
½ cup Water
1 cup Milk
4 cups All-purpose flour
3 tbsp Sugar
1 tsp Salt
Lazy Cabbage Rolls are my simple take on stuffed cabbage rolls. Stuffed cabbage is common in Eastern Europe and it is a great way to use nutrient-rich cabbage in your meals. Cabbage has so many health benefits and it is a great source of vitamins too. I love exploring cabbage…
Ingredients for Lazy Cabbage Rolls:
FOR THE CABBAGE ROLLS:
4 cups White rice
½ Cabbage
1 lb Ground pork
1 lb Ground turkey
1 Onion
2 Large eggs
Seasoning
Salt
Black pepper
2 tbsp Parsley

FOR THE SAUCE:
1 tbsp Olive oil
3 tbsp Butter
1 Carrots
2 cups Marinara sauce
3 cups Water