TOP 10 Shrimp Recipes
The Antioxidants in Shrimp Are Good for Your Health.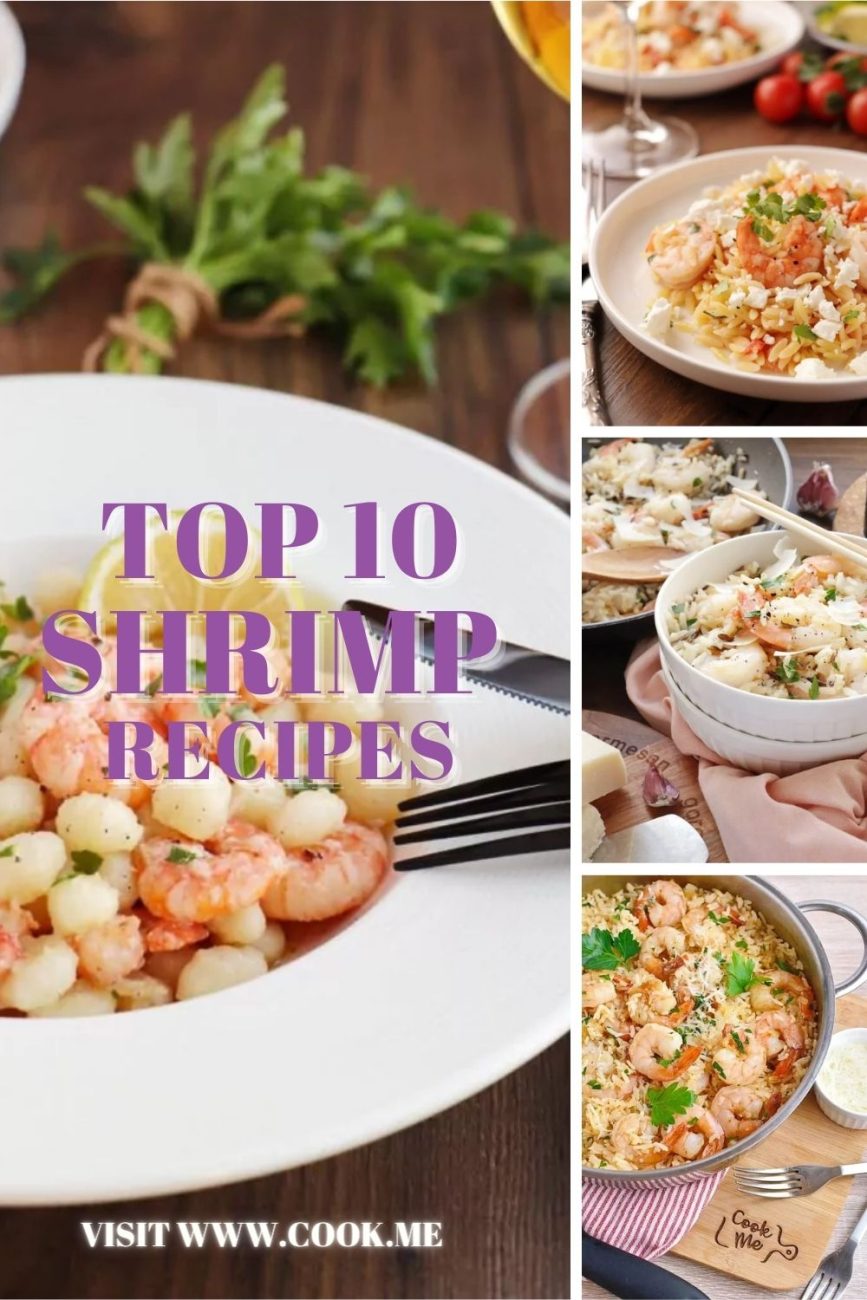 Kicking things up with this Mexican Shrimp Cocktail. Spicy, peppery, sweet and sour, brimming with fresh and bold flavors, this flavorful coctel de camarones is easy to make and tastes addictively delicious. The best thing about this is that you just mix all the ingredients together and chill for 1…
Ingredients for Mexican Shrimp Cocktail:
1 pound Shrimp
Salt
1 cup Red onion
1 cup Cucumber
½ cup Celery
1 Jalapeño pepper
1 (15-ounce) can Whole peeled tomatoes
½ cup Ketchup
¼ cup Cilantro
2-3 tbsp Lime juice
1 to 4 tbsp Hot sauce
1 cup Clamato juice
1 Avocado
Garlic Butter Shrimp and Rice is an easy yet flavorful recipe that takes only 10 minutes to cook. I am a fan of seafood, and shrimp are among my favorites! If you are anything like me, then you will love this recipe too. This garlicky shrimp and creamy rice is…
Ingredients for Garlic Butter Shrimp and Rice:
1 cup Instant rice
6 tbsp Butter
4 cloves Garlic
12 -16 ounces Large Shrimp
3 tbsp Skim Milk
¼ cup Parmesan cheese
2 tbsp Parsley
Salt
Black pepper
Parmesan cheese
If your family is big into seafood then this Shrimp Orzo with Feta recipe is going to be a real hit! It's not often that you'll find me designing recipes without red meat somewhere in the list of ingredients but I do enjoy shrimp and other shellfish, almost with the…
Ingredients for Shrimp Orzo with Feta:
1¼ cups Orzo pasta
2 tbsp Olive oil
2 cloves Garlic
2 Tomatoes
2 tbsp Lemon juice
1¼ pounds Shrimp
2 tbsp Cilantro
¼ tsp Black pepper
Salt
½ cup Feta cheese
I think the thing I love most about these scrumptious Shrimp and Goat Cheese Tarts are not just their 'out of this world' flavor but the fact that in just 25 minutes I can feed 10 people, if not more! That is why this recipe is a great choice for…
Ingredients for Shrimp and Goat Cheese Tarts:
2 sheets (1 package) Frozen puff pastry
4 ounces Goat Cheese
1 cup Cherry tomatoes
½ tbsp Fresh thyme
20 Shrimp
½ cup Green onion
Garlic Chicken and Shrimp shouldn't work as a flavor combination, but I am here to tell you that it does! In fact, it's amazing – juicy shrimp, tender chicken and pungent garlic combine to make a quick and delicious midweek meal. Start by pounding the chicken breasts to flatten them….
Ingredients for Garlic Chicken and Shrimp:
2 Chicken Breast
1 lb Large Shrimp
6 tbsp Butter
¼ cup Olive oil
4 cloves Garlic
1 tbsp Basil
1 tbsp Parsley
½ tsp Kosher Salt
½ tsp Creole seasoning
Drum roll please… with this Easy Shrimp Pasta, I've finally found a seafood dish that the whole family adores! That's right – including the kids! The combination of juicy shrimp with a creamy, garlic sauce and forkfuls of pasta is a definite crowd-pleaser and I'm now getting regular requests for…
Ingredients for Easy Shrimp Pasta:
1lb Large Shrimp
3/4lb Fettuccine Pasta
1/3 cup White wine
1/2 Onion
1 clove Garlic
1/3 cup Parmesan cheese
2 cups Whipping cream
2 tbsp Butter
1 tbsp Olive oil
1/4 tsp Ground paprika
1/2 tsp Sea salt
1/4 tsp Black pepper
1 tbsp Parsley
Spicy Fish Soup is my favorite, Far Eastern flavored soup. Fresh cod fish and shrimp, simmering over a low heat, in a mix of spices such as peppers, garlic, chili powder, and ground cumin, this delicious meal is a staple all over Asia. My Aunt is from Singapore and grew…
Ingredients for Spicy Fish Soup:
½ pound Cod
½ cup Shrimp
½ Onion
1½ cups Tomatoes
½ cup Green bell pepper
1 clove Garlic
1 (4 ounce) Chili pepper
1 tbsp Chili powder
1 tsp Cumin
¾ cup Plain yoghurt
1½ cups Chicken broth
Make your Italian pasta nights even fancier with this Shrimp and Leek Spaghetti recipe. All your guests will be very impressed and it doesn't even take that long to make. Isn't it nice when you find a dinner party recipe that's quick to make? – so on those last minute…
Ingredients for Shrimp and Leek Spaghetti:
8 ounces Whole-grain Spaghetti
1 pound Shrimp
2 cups Leek
1 tbsp Garlic
2 cups frozen baby Sweet peas
¼ cup Heavy cream
2 tsp Lemon zest
2 tbsp Lemon juice
2 tbsp Fresh dill
1½ tbsp Olive oil
½ tsp Black pepper
¾ tsp Kosher Salt
The Shrimp Scampi Gnocchi is my husband's favorite dinner and he suggests pairing a good dry white wine with this course. Simple to make but fancy in flavor, no one would even know. Using store bought gnocchi is probably easier and skips a few steps, however, if you do have…
Ingredients for Shrimp Scampi Gnocchi:
1 (16-ounce) package Potato Gnocchi
8 ounces Shrimp
2 tbsp Olive oil
6 tbsp Unsalted butter
Kosher Salt
Black pepper
3 cloves Garlic
⅓ cup Chicken stock
1 Lemon
2 tbsp Parsley
I love to make this 15 Minute One Pan Shrimp and Rice for a quick midweek meal. I love quick and easy dinners that I can have on the table quickly during the week. Then I tend to focus on more elaborate meals at weekends when I have more time…
Ingredients for 15 Minute One Pan Shrimp and Rice:
1 cup Basmati rice
1 lb Shrimp
1 tbsp Vegetable oil
¼ cup Onion
2 cloves Garlic
½ tsp Ground paprika
½ tsp Cumin
½ tsp Salt
¼ tsp Black pepper
1 ¾ cup Water
¼ cup Parmesan cheese