TOP 10 Sweet Potato Recipes to Cook This Fall
If You Love Sweet Potatoes, then You Will Adore These Bright and Delicious Meals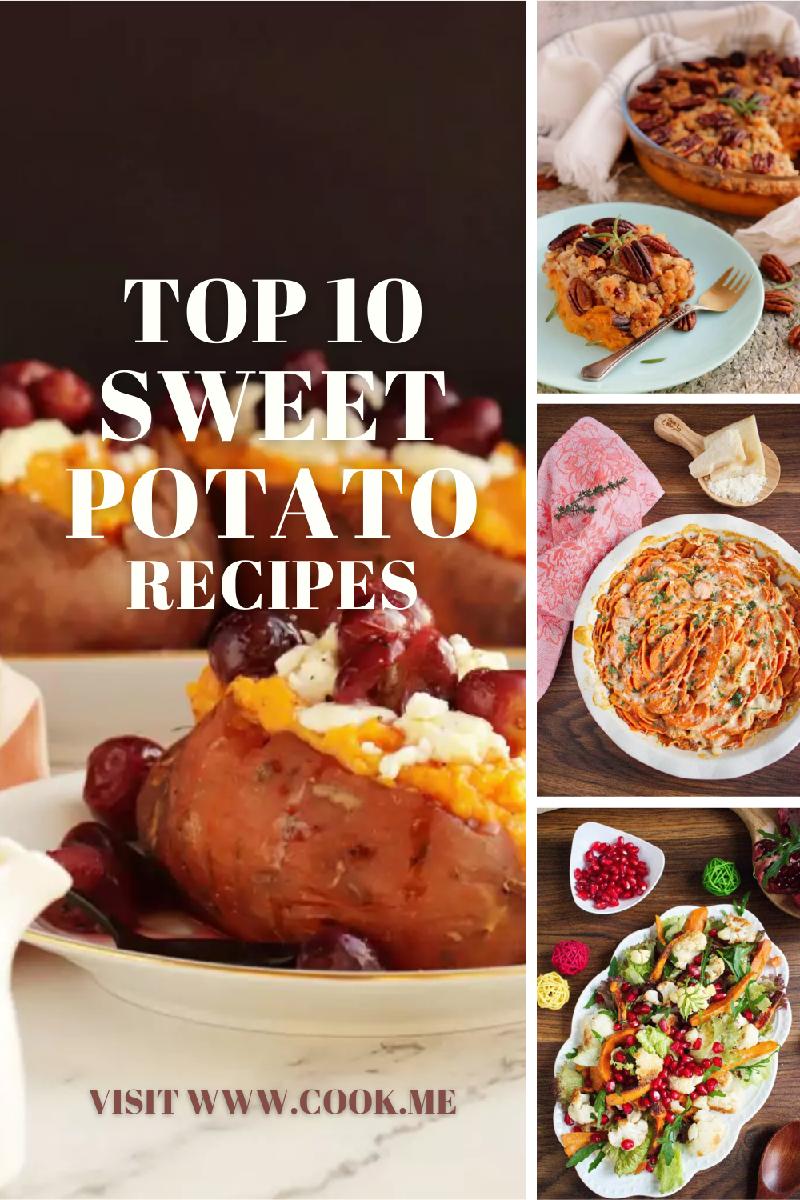 Roasted Grape, Goat Cheese Stuffed Sweet Potatoes is one of those recipes when you hear the ingredients you think, "no, that combination won't work" but once you try it, you will change your mind so fast! Mixing goat cheese and sweet potatoes with roasted grapes is genius and I can't…
Ingredients for Roasted Grape, Goat Cheese Stuffed Sweet Potatoes:
4 Sweet potatoes
2 cups Red Grapes
1 tsp Grapeseed oil
¼ tsp Salt
¼ tsp Black pepper
4 oz Goat Cheese
2 tbsp Honey
1 pinch Cinnamon
1 pinch Ground nutmeg
This Sweet Potato and Cauliflower Salad recipe is a delicious festive salad which everyone will love! It combines warm, roasted vegetables with lettuces, pomegranate seeds and a sherry vinaigrette.  To make the salad, start by roasting sweet potatoes and cauliflower in the oven and leave to cool. Make a dressing by whisking…
Ingredients for Sweet Potato and Cauliflower Salad:
1 1/2 lb Sweet potatoes
1 small head Cauliflower
7 tbsp extra-virgin Olive oil
1 tsp Kosher Salt
1/2 tsp Black pepper
2 tbsp Sherry vinegar
7 cups torn Lettuce
1 cup torn Arugula
2/3 cup Pomegranate seeds
This Sweet Potato Gratin is a firm favorite at Thanksgiving in my house. It is so simple to prepare – I usually prepare it in advance and simply bake it in the oven just before I want to serve it. For this recipe, I start by making a sauce from…
Ingredients for Sweet Potato Gratin:
1 tsp Unsalted butter
1 cup Half-and-half cream
2 Garlic clove
1 tbsp Fresh thyme
1 tsp Kosher Salt
1/2 tsp Black pepper
⅛ tsp Ground nutmeg
2¾ lbs Sweet potatoes
½ cup Parmesan cheese

TO GARNISH:
1 tbsp Parsley
This Easy Vegan Sheet Pan Dinner is a light and fresh meal that you can prep in only 10 minutes and takes another 30 minutes to cook. Serve this baked one-pan meal as it is or if you are feeling hungry, serve with rice or quinoa. Start by preparing the…
Ingredients for Easy Vegan Sheet Pan Dinner:
1 crown (½ lb) Broccoli
1 Red onion
2-3 (1½ lb) Sweet potatoes
3-4 (2 lbs) Red potatoes
1 Red bell pepper
1 (15-oz) can Chickpeas
4 tbsp Olive oil
2 tsp Garlic powder
2 tsp Old bay seasoning
1 tbsp Dried Italian seasoning
1 tsp Kosher Salt
1 Lemon
If you love burgers, then you will adore these Pork & Apple Burgers! They are like sausage burgers and they make a great alternative to beef burgers. These burgers are really quick and easy to make which makes them a perfect midweek meal. They taste super delicious too. Start by…
Ingredients for Pork & Apple Burgers:
300 g Sausages
4 wholemeal Hamburger buns
4 tsp Onion marmalade
1 Apples
2 handfuls Arugula
2 tsp Mayonnaise
1 tsp English mustard
1 Sweet potatoe
Serve these Roasted Sweet Potatoes and Brussels Sprouts as a Thanksgiving side dish this year and watch your family's faces light up! Gone are the days of over-cooked boiled Brussels sprouts – roasting is the only way to cook these little cabbage balls. This is a very handy side dish…
Ingredients for Roasted Sweet Potatoes and Brussels Sprouts:
1 lb Brussels sprouts
1 large Sweet potatoes
2 cloves Garlic
⅓ cup Olive oil
1 tsp Cumin
¼ or ½ tsp Garlic salt
1 teaspoon salt Salt
to taste Ground pepper
1 tbsp Red wine vinegar
½ tsp Dried thyme
This Vegan Black Bean and Sweet Potato Salad serves well as a fresh and filling salad on its own, or as a side dish to anything of your choice. The vegetables are fresh and the flavor is fantastic. A recipe doesn't get better than this one. It's salty, sweet, sour…
Ingredients for Vegan Black Bean and Sweet Potato Salad:
1 (14.5 ounce) can Black beans
1 pound Sweet potatoes
½ Red onion
½ cup Cilantro
3 tbsp Olive oil
½ tsp Cumin
¼ tsp Red pepper flakes
Salt
Black pepper
2 tbsp Lime juice
These Sweet Potato Rounds with Herbed Ricotta, Cranberries and Walnuts are a fantastic healthy holiday appetizer. They are a perfect recipe for any vegetarian guests who you are feeding this festive season! They are a great party snack to try this year too.
Start by making the herbed ricotta. Place the sweet potato slices in a large mixing bowl and drizzle with oil. Sprinkle with sea salt and…
Ingredients for Sweet Potato Rounds with Herbed Ricotta:
1 lb Sweet potatoes
1 tbsp Olive oil
1 pinch Cinnamon

FOR HERBED RICOTTA:
1 cup Ricotta cheese
1 tsp Rosemary
1 tsp Basil
1 tsp Honey
1/8 tsp Sea salt
FOR SERVING:
1 cup Walnuts
¾ cup Cranberries
Honey
This Sweet Potato Crunch Casserole recipe is extra special because it has the creaminess of sweet potato but is crunchy thanks to a pecan nut topping. Pecans are my favorite nuts – as well as being delicious and buttery, they are a great source of protein and fiber. They are…
Ingredients for Sweet Potato Crunch Casserole:
2 cans Sweet potatoes
1 cup Brown sugar
1/2 cup Butter
1/2 cup Milk
2 Eggs
1 tsp Salt
1 tsp Vanilla extract
1/2 tsp Cinnamon
1 cup Pecans
1 cup Brown sugar
1/3 cup Butter
1 cup All-purpose flour
These Sweet Potato Cookies with Maple Glaze are so yummy – I love them and I know you will too! Yes, sweet potato sounds like a weird ingredient to add to cookies, but it really works! The best thing about these cookies is the maple glaze on top. To make…
Ingredients for Sweet Potato Cookies with Maple Glaze:
FOR COOKIES:
2¼ cups All-purpose flour
1 tsp Baking soda
1 tsp Cinnamon
½ tsp Kosher Salt
¼ tsp Ground nutmeg
1 cup (2 sticks) Butter
¾ cup Brown sugar
½ cup Granulated sugar
¾ cup Sweet potato purée
1 Large eggs
2 tsp Vanilla extract
1½ cups Pecans

FOR MAPLE GLAZE
1 cup Powdered sugar
2 tbsp Maple syrup
1 tbsp Milk
1 pinch Kosher Salt
¾ cup Pecans