1 cup

Half-and-half cream

1/2 tsp

Black pepper

divided

2¾ lbs

Sweet potatoes

peeled and thinly sliced

½ cup

Parmesan cheese

grated

To garnish:
Sweet Potato Gratin
This Sweet Potato Gratin is a firm favorite at Thanksgiving in my house. It is so simple to prepare – I usually prepare it in advance and simply bake it in the oven just before I want to serve it. 
For this recipe, I start by making a sauce from cream, garlic, thyme, nutmeg, salt and pepper. As the sauce cooks, season potatoes with salt and pepper in a large bowl. Layer the potatoes into a prepared dish and pour the cream sauce over the potatoes. Cover the dish tightly with foil and bake until the potatoes are tender. Remove the foil and sprinkle with cheese. Return to the oven until the top is golden brown. Garnish the gratin with parsley if desired.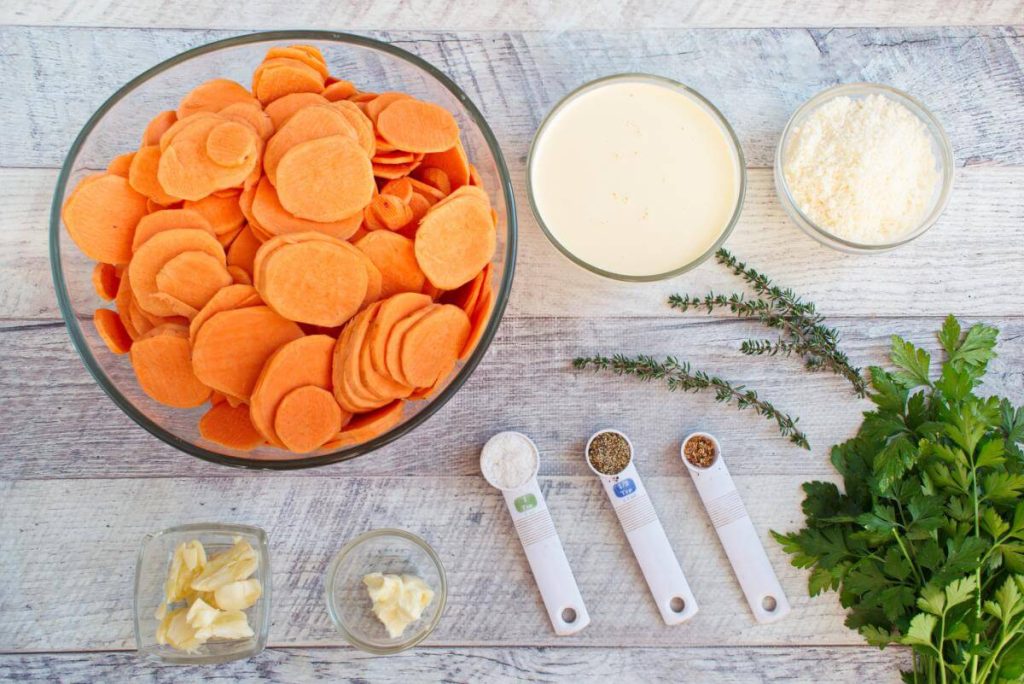 To make my Sweet Potato Gratin, you will need the following ingredients:
Steps to make Sweet Potato Gratin
Heat oven and prepare dish

1

Make cream sauce

15

Bring 1 cup of half-and-half cream, 2 cloves of garlic, 1 tablespoon of fresh thyme, ⅛ teaspoon of ground nutmeg, 1/2 teaspoon of kosher salt, and ¼ teaspoon of ground black pepper to a boil in a small saucepan over medium heat. Reduce the heat to low and simmer for about 15 minutes until the garlic is tender. Remove from heat.

Prepare sweet potatoes

1

Place potato slices in dish

2

Add cream sauce

1

Bake

60

Serve

1