Top 10 Tomato Side Dish Recipes
Summer Dinners Just Got Scrumptious!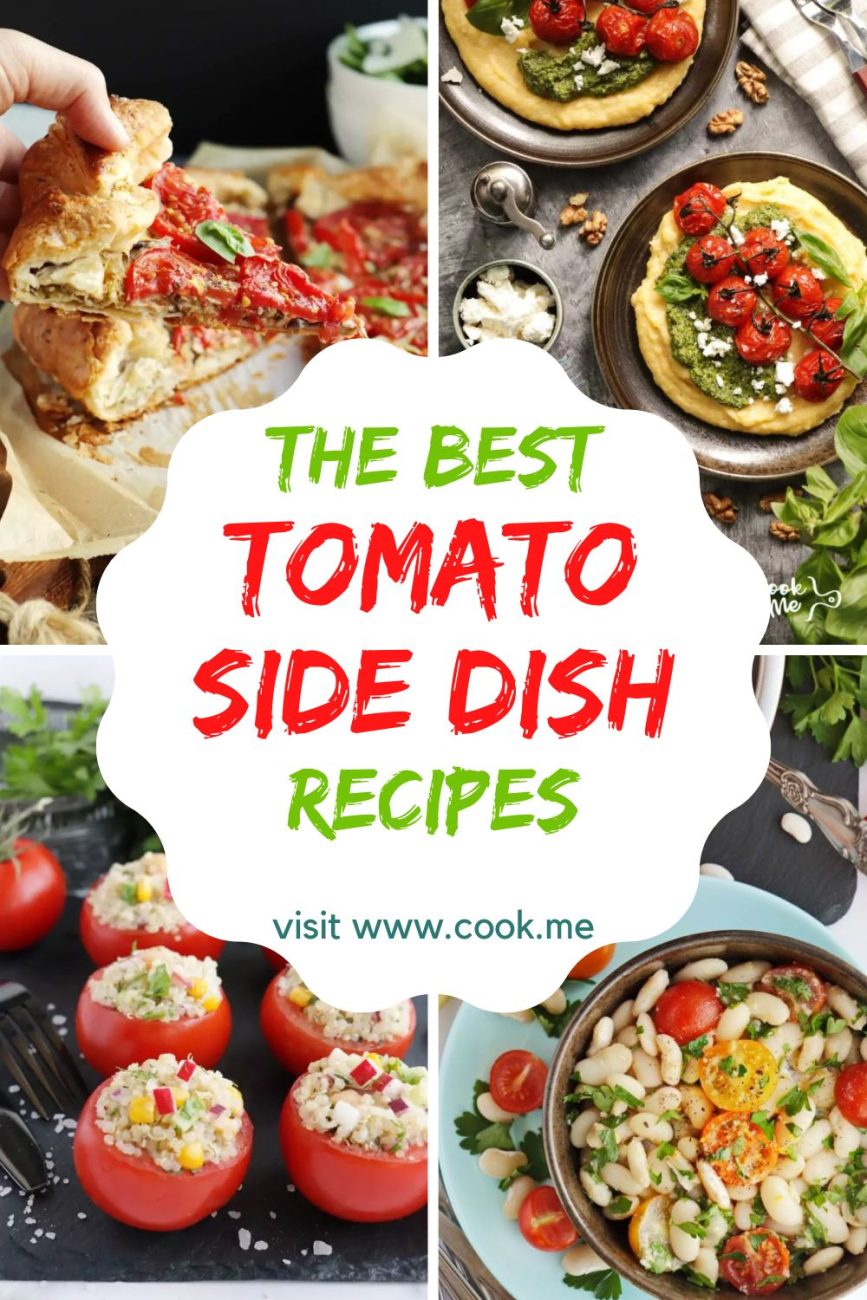 This Italian-inspired Polenta with Pesto and Roasted Tomatoes is the ultimate answer to lunch or light dinner. Creamy and cheesy polenta topped with oven-roasted tomatoes and homemade green pesto. Finish it off with a sprinkle of crumbled feta cheese and freshly cracked black pepper for extra flavor. Yum! Start out…
Ingredients for Polenta with Pesto and Roasted Tomatoes:
7 oz Cherry tomatoes
3 tbsp Olive oil
¼ cup Walnuts
1 cup Parsley
Basil
1 clove Garlic
Salt
Black pepper
½ cup Whole milk
2 ⅓ cups Vegetable broth
⅔ cup Polenta
¼ cup Feta cheese
Ingredients for The Best Stewed Tomatoes Ever:
10 Tomatoes
2 tsp Salt
½ tsp Sugar
1 tsp Parsley
¼ cup Green pepper
Ingredients for Zucchini and Tomato Gratin:
4 Zucchini
4 large Tomatoes
1 large clove Garlic
4 ounces Mozzarella
1/3 cup Parmesan cheese
1 tbsp fresh Basil
2 tbsp Olive oil
Salt
Black pepper
This Quinoa and Chickpea Stuffed Tomatoes recipe is your next vegan and gluten free 'must-try' recipe! A fresh design of quinoa salad with chickpeas, cucumbers, corn, red onion, garlic and fresh herbs, stuffed inside large, juicy tomatoes, it's a summer dream! Enjoy it as a meal on it's own or…
Ingredients for Quinoa and Chickpea Stuffed Tomatoes:
FOR THE TOMATOES:
½ cup Quinoa
1 (15 ounce) can Chickpeas
8 large Tomatoes
½ cup small Cucumber
½ cup Corn kernels
¼ cup Red onion
2 small Radishes
1 clove Garlic
1 tbsp Fresh dill
1 tbsp fresh Parsley
½ Lemon
to taste Salt
to taste Black pepper

FOR THE DRESSING:
1 tbsp plus 1 tsp Olive oil
2 tsp Red wine vinegar
½ tsp Dijon mustard
¼ tsp Salt
⅛ tsp Black pepper
¼ tsp Dried oregano
This White Bean and Cherry Tomato Salad is a great summer salad. When I make this salad, I tend to omit the anchovy and Parmesan cheese, but I learned this recipe from a friend who swears by including these ingredients. I will leave it up to you! I often make…
Ingredients for White Bean and Cherry Tomato Salad:
FOR THE SALAD:
1 (15-ounce) can White beans
1 pint Cherry tomatoes
1/3 cup Parsley

FOR THE DRESSING:
1/4 cup Olive oil
3 cloves Garlic
1 3-inch sprig Rosemary
3 fillets Anchovy
1/4 cup Parmesan cheese
3/4 tsp Kosher Salt
1/4 tsp Black pepper
1 tsp Lemon zest
1/4 cup Lemon juice
This Greek Tomato Salad is a true classic. One of my favorite things about travelling in Greece was the food. Fresh, colorful salads landed on every table. The smell of fresh oregano is carried by the light sea breeze. Meals in Greece usually feature the most famous Greek ingredient in…
Ingredients for Greek Tomato Salad:
4 Tomatoes
1 Cucumber
1/2 Red onion
1/2 cup Kalamata olives
1/4 tsp Basil
1/4 tsp Oregano
1/3 cup Feta cheese
1 bottle Greek salad dressing
1/8 tsp Black pepper
1 sprig Basil
I make this Spinach, Tomato and Feta, Egg White Omelet for breakfast, almost daily. It's high in protein and fresh with a salad variety of spinach, tomato and feta filling. I prefer to eliminate the added cholesterol from the yolk of the egg and so this is why I have…
Ingredients for Spinach, Tomato and Feta, Egg White Omelet:
3 Egg whites
Salt
Black pepper
1/4 cup Spinach
6 Cherry tomatoes
2 tbsp Feta cheese
Cooking spray
This Crisp Polenta with Roasted Cherry Tomatoes tastes incredible and makes for an elegant vegetarian side dish. Fried polenta squares sprinkled with goat cheese and topped with roasted cherry tomatoes. Roasting cherry tomatoes until they burst condenses their flavor and brings forward their sweetness. Fresh goat cheese adds tang and…
Ingredients for Crisp Polenta with Roasted Cherry Tomatoes:
4 ¼ cups Water
3 ¼ tbsp Olive oil
½ lb Instant polenta
Kosher Salt
Black pepper
12 oz Cherry tomatoes
4 sprigs Fresh thyme
2 oz Goat Cheese
This Healthy Grilled Corn Caprese Quinoa Salad has all the flavors of a classic caprese with added quinoa and corn. I love the crunch that the grilled corn brings to this dish. Caprese salad combines fresh mozzarella cheese, basil, and tomatoes to make one of the most delicious salads ever….
Ingredients for Healthy Grilled Corn Caprese Quinoa Salad:
1/2 cup Quinoa
2 Ears of corn
1 pint Cherry tomatoes
2 Green onion
4 ounces Mozzarella
1/4 cup Basil
2 tbsp Balsamic vinegar
2 tsp Lemon juice
2 tsp Maple syrup
1 tsp Dijon mustard
6 tbsp Olive oil
to taste Salt
to taste Black pepper
In this scrumptious Italian Eggplant Tomato Galette recipe, the roasted summer eggplants are layered with fresh tomatoes and mozzarella cheese for a delicious bite, all nestled into a flaky puff pastry. To top things off, garnish with fresh basil leaves. Add a few grinds of black pepper and serve with…
Ingredients for Italian Eggplant Tomato Galette:
1 tbsp Olive oil
1 ½ tbsp Garlic
1 Eggplants
2 tbsp Dried Italian seasoning
1 sheet Frozen puff pastry
⅓ cup Mozzarella
1 Tomatoes
Salt

FOR EGG WASH:
1 Eggs
½ tbsp Milk

FOR GARNISH:
Basil