For black lentils:

¾ cup

Black beluga lentils

¼ cup

White balsamic vinegar

Flaky sea salt

for finishing, to taste

For Lemon Yogurt Sauce:
Black Lentils with Spinach
Looking for a healthy weeknight meal that delivers on flavor and texture? Try these Black Lentils with Spinach! This satisfying meatless main dish is ready in about half an hour and easy to make. It's a powerhouse of good-for-you ingredients like beluga lentils and spinach. Small black legumes that resemble beluga caviar (hence the name) are rich in protein, high in fiber, and packed with nutrients. Serve with homemade lemon yogurt sauce and a bunch of freshly ground black pepper. This truly glorious weeknight meal is cozy, healthy, and so delicious.
Start with the lentils. Put them in a pot with a pinch of salt and a good amount of water and cook until tender. Drain whatever liquid you don't need. In the meantime, heat the olive oil in a large skillet over high heat. Add the sliced onions and a sprinkle of salt. Sauté the onions slowly for the entire time you are cooking the lentils. Then add the white balsamic vinegar and reduce until almost syrupy. Next, stir in the cooked lentils and add the baby spinach. Let the spinach sit for two minutes while you make the lemon yogurt sauce. Finally, stir the leaves gently into the lentils. Serve and enjoy!
To make the Black Lentils with Spinach, you will need the following ingredients: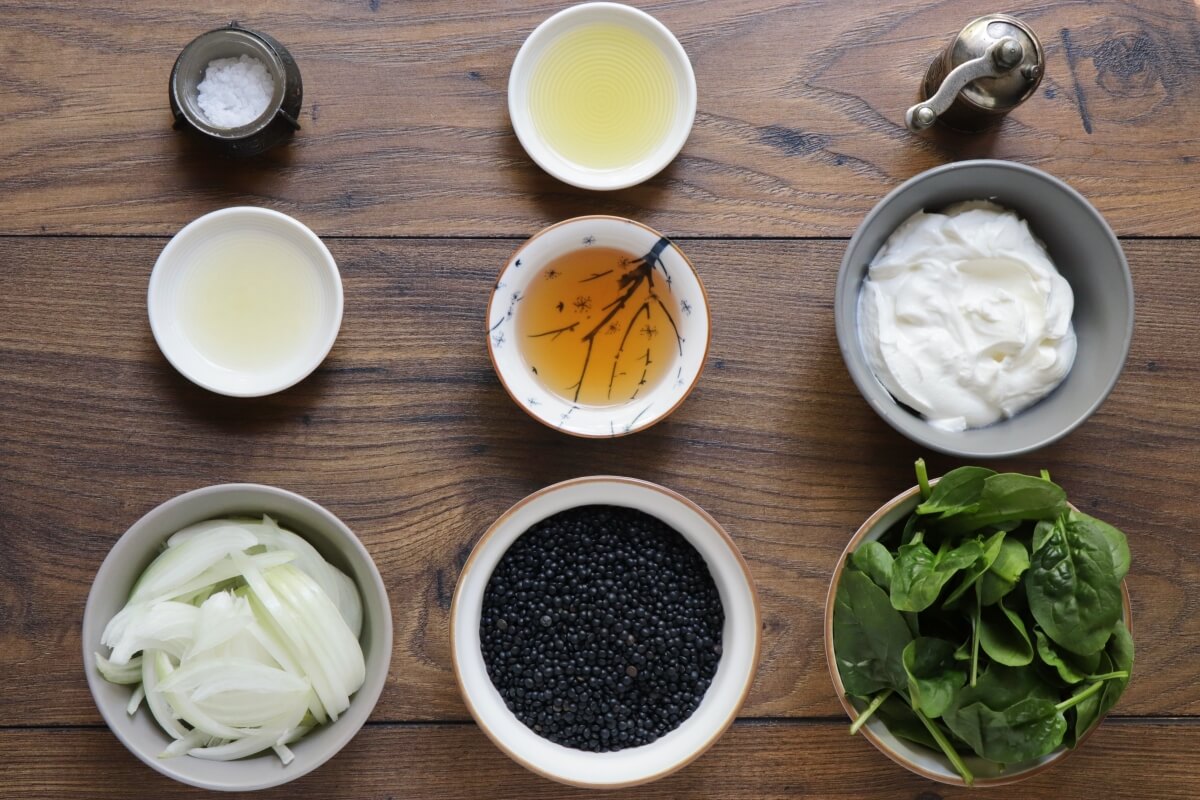 Steps to make Black Lentils with Spinach
Cook lentils

25

Sauté onions

25

In the meantime, in a large skillet over high heat, heat 2 tablespoons olive oil. Add the sliced onions and a pinch of salt and stir. Cover the pan with a lid and immediately reduce the heat to low. Cook the onions slowly for the entire time you are cooking the lentils. Occasionally open the lid on the onions, allowing any water trapped in the lid to drip back into the pan, and stir the onions.

Add balsamic vinegar

1

Add black lentils

1

Add spinach

2

Prepare lemon yogurt sauce

1

Serve