For the tahini sauce:

For the eggplant:

2 (about 12 ounces each)

Eggplants

3/4 tsp

Kosher Salt

divided

1/4 cup

Parsley

chopped fresh flat-leaf

1 tbsp

Tahini

(roasted sesame seed paste)

1/4 tsp

Black pepper

freshly ground

1 (15-ounce) can

Chickpeas

no-salt-added (garbanzo beans), rinsed and drained

For the relish:

1 cup

Tomatoes

chopped seeded

1/2 cup

Cucumber

chopped seeded peeled

1/2 cup

Red onion

vertically sliced

1/2 cup

Parsley

coarsely chopped fresh flat-leaf

1 tbsp

Olive oil

extra-virgin
Vegetarian Falafel-Stuffed Eggplant
I adore falafel and I adore eggplant, so you can imagine how much I love this Falafel-Stuffed Eggplant recipe! In my book, you can't beat Middle Eastern cuisine for freshness and flavor. Falafel usually comes as a deep fried ball or patty of chickpeas and herbs – crunchy on the outside and fluffy and warm within. In this recipe, rather than deep-frying I stuff the eggplant with the falafel mix and bake it in the oven for a healthier home cooked meal. 
It's quite simple to make these stuffed eggplants, despite the long list of ingredients. I start by whisking up a quick tahini sauce. Then I prepare the eggplant and the falafel mixture. I load that mixture onto eggplant halves and bake them for a delicious meat free meal, packed with Middle Eastern flavor!
To make my Falafel-Stuffed Eggplant, you will need the following ingredients: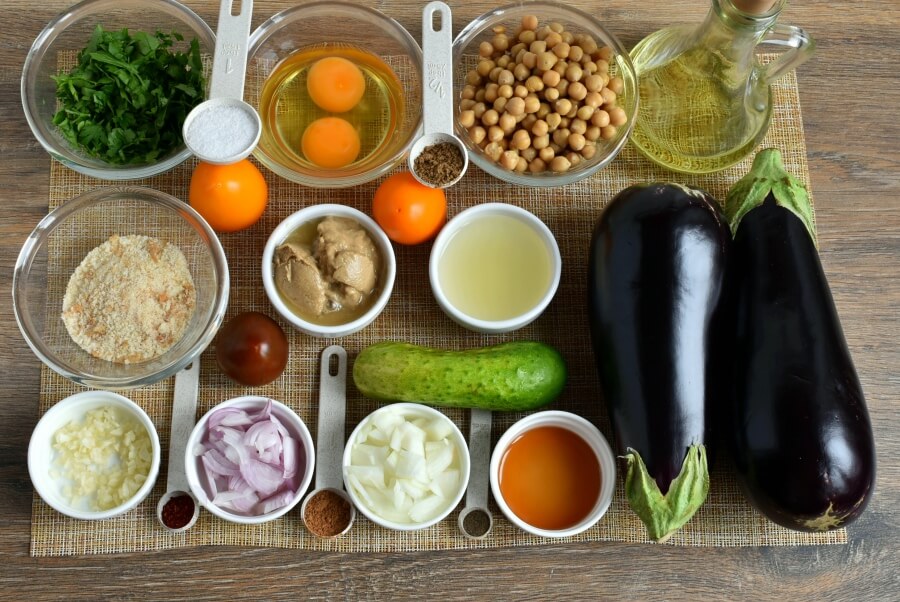 So, how do you make Falafel-Stuffed Eggplant?
Steps to make Vegetarian Falafel-Stuffed Eggplant
Heat the oven and prepare a baking sheet

5

Make the tahini sauce

2

Prepare the eggplant

3

Bake the eggplant

10

Make the falafel filling

5

Stuff the eggplant

3

Bake

25

Prepare the relish

2

Serve