1

Onion

diced (about 1 cup)

1 (30 oz)

Potatoes

bag frozen shredded hash brown potatoes, slightly thawed

1 (10.5 oz) can

Cream of chicken soup

condensed

¼ cup

Parmesan cheese

grated

2 cups

Cheddar cheese

shredded sharp

1 ½ cups

Crushed cornflakes
Funeral Potatoes (Utah Potato Casserole)
This Funeral Potatoes recipe is a delicious, garlicky, cheesy potato casserole with the added crunch of cornflakes! Once you get past the morbid name – Funeral potatoes is a dish which is traditionally served after a funeral in Utah – you will be surprised at how much your thanksgiving guests will love this side dish.
It's easy to prepare in advance too. Start by frying the onion and garlic before mixing them with hash brown potatoes, condensed soup, sour cream, Parmesan cheese, Cheddar cheese, salt, pepper. Place the mixture in a baking dish and top with a crunchy topping made from cornflakes, Cheddar and melted butter. Simply delicious!
To make my Funeral Potatoes, you will need the following ingredients: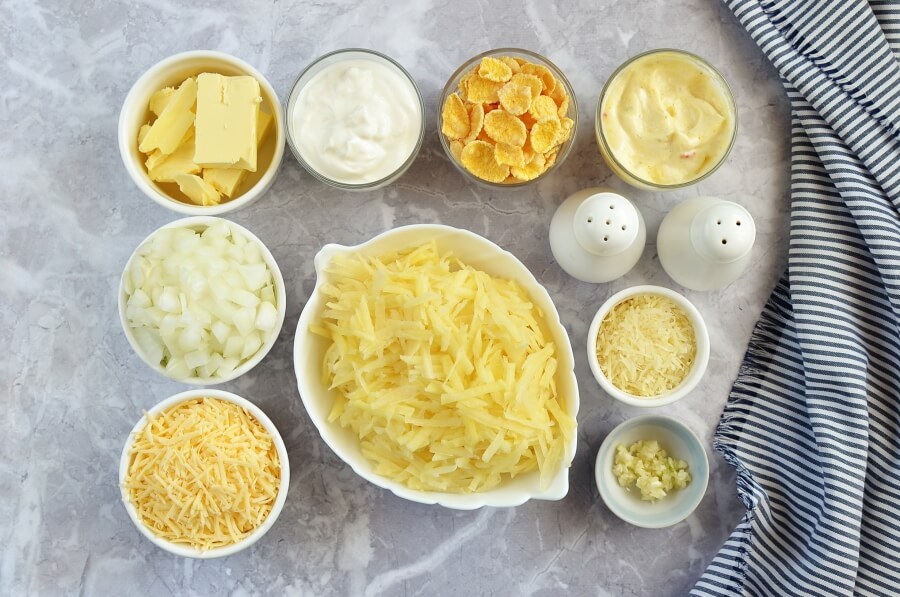 So, how do you make Funeral Potatoes?
Steps to make Funeral Potatoes (Utah Potato Casserole)
Heat the oven

10

Preheat the oven to 350 °F.

Cook the onion and garlic

8

Add to the dish

5

Place the mixture in a dish

2

Make a crunchy topping

3

Bake

1h

Serve