3 cups and 2 tbsp

Bread flour

strong

¼ cup Golden

Caster sugar

¼ oz sachet

Active dry yeast

3 tbsp

Muscovado sugar

light

4

Apricots

fresh, stoned and chopped into small chunks

to taste

Icing sugar

to decorate

to taste

Flaked almonds

toasted, to decorate
Glazed Apricot Breakfast Bread
A few years ago, I tasted Glazed Apricot Breakfast Bread for the first time and I just knew I had to learn how to make it. I was in a hotel in Paris and every morning, the breakfast buffet table would be heaving under the weight of all the freshly baked pastries, jams, fresh fruit and French cheeses. Of all the food on offer, my favorite by far was a type of Danish pastry dotted with fresh apricots and drizzled on top with icing sugar.
This recipe is not the simplest thing to make, but it sure is the tastiest! It's bound to impress any guests that come to stay. Make sure you factor in time for proving the dough!
To make Glazed Apricot Breakfast Bread, you will need the following ingredients: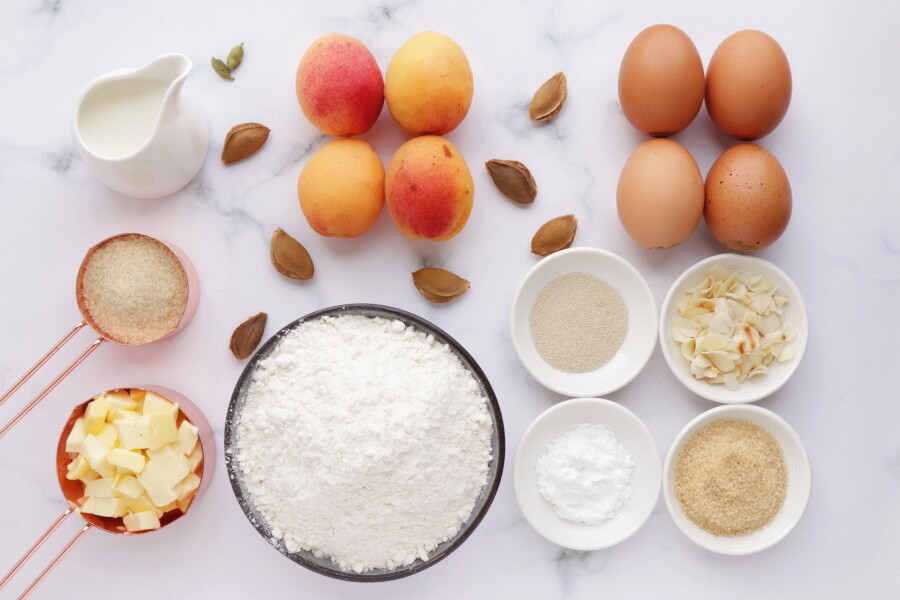 So, how to make Glazed Apricot Breakfast Bread?
Steps to make Glazed Apricot Breakfast Bread
Make dough

5

Let the dough rise

1h

Add butter

5

Knead and roll

2

Combine the muscovado and cardamon seeds

2

Place the apricot chunks on the dough

2

Cut the dough and plait

2

Place the dough to the fridge

3h

Heat the oven

5

Turn on the oven to 355 °F.

Brush the bread with egg

2

Bake

30

Allow to cool and then ice

20

Serve