6

Eggplants

baby, halved lengthwise

½ pound

Ground lamb

85%-lean

1

Onion

small , diced (½ cup)

1

Red bell pepper

diced (1 cup)

1 tbsp

Ginger

fresh , minced

1 ½ cups

Brown rice

cooked

¾ cup

Greek yogurt

nonfat plain
Gluten Free Lamb Stuffed Eggplant
This Gluten Free Lamb Stuffed Eggplant uses so many different spices and has so many different flavors, it's delicious and exciting all in the same mouthful.
Roasted Middle Eastern eggplant shells, baked and stuffed with a flavorsome ground lamb and cooked rice and topped with a dollop of plain Greek yogurt, giving you the perfect dinner serving.
To make Lamb Stuffed Eggplant, you will need the following ingredients: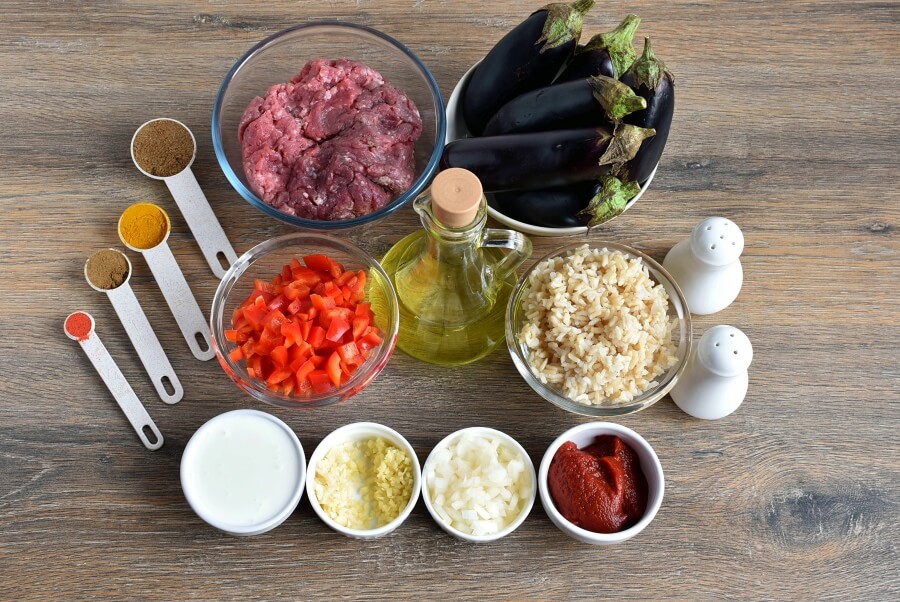 So, how to make Lamb Stuffed Eggplant?
Steps to make Gluten Free Lamb Stuffed Eggplant
Preheat oven and prepare baking sheet

5

Prepare eggplant

3

Bake eggplant

20

Cook onions and pepper

5

Add ginger and garlic

1

Add lamb and seasoning

5

Add tomato paste

1

Add rice

1

Remove eggplant flesh

2

Fill eggplant shells

2

Bake

15

Serve