1 (2 ½- to 3-lb) whole

Chicken

1 tsp

Kosher Salt

plus more to taste

1

Carrots

cut crosswise into quarters

1 stalk

Celery

cut crosswise into quarters

1

Shallots

halved lengthwise

¼ cup (2 fl oz)

Dry white wine

1 tbsp

Unsalted butter

cold

2 tbsp

Parsley

finely chopped fresh flat-leaf

For serve:
Griddled Chicken with White Wine Jus
This Griddled Chicken with White Wine Jus is a delicious choice for a weekend dinner and a great way to cook chicken. Placing a second heavy skillet to weigh down the chicken helps keep it flat, so it browns and cooks evenly. The end result is a mouthwatering griddled chicken sat on a bed of buttery polenta with swirls of flavorful homemade sauce. This fancy-feeling meal is cozy enough for a date night at home.   
The recipe is not difficult to prepare, but it cannot be rushed. For the most tender and juicy meat with perfectly crisp skin, cook at moderate heat so that all the fat gets rendered without burning the meat. The recipe serves 4 or 2 really hungry people. Enjoy! 
To make the Griddled Chicken with White Wine Jus, you will need the following ingredients: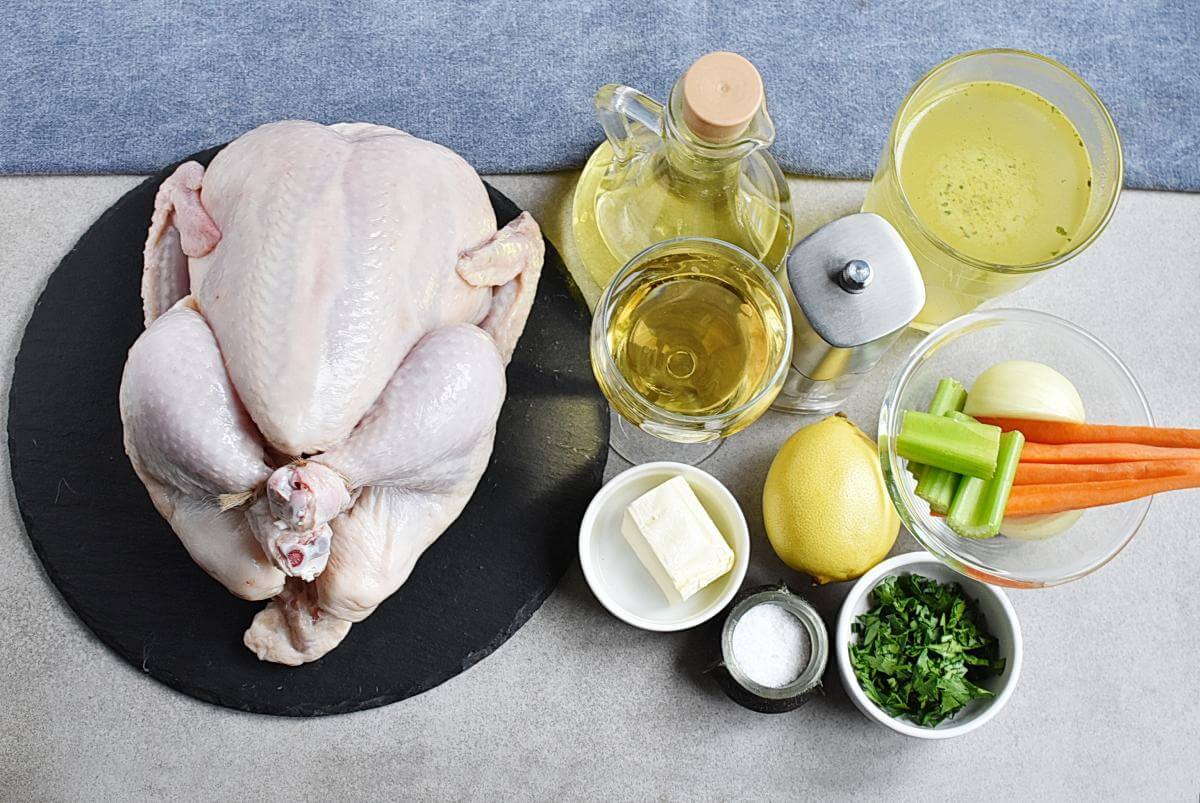 Steps to make Griddled Chicken with White Wine Jus
Prepare chicken

3

Place a 2 ½- to 3-pound chicken, breast side up, on a clean cutting surface. Remove and discard giblets from the chicken cavity, if any. Use a boning knife to cut on either side of the breastbone, cutting along the ribs to remove the bones from the breast halves without detaching them from the chicken.

Remove backbone

2

Cut off chicken wings

2

Season chicken

1

Cook chicken pieces

10

Add carrot, celery, and shallot

3

Add wine

2

Add chicken stock

25

Strain

2

Cook chicken

20

Meanwhile, heat the remaining 2 tablespoons olive oil in a 12-inch cast-iron skillet over medium-high heat. Place the chicken halves, skin side down, in the skillet. Sprinkle the flesh side of each chicken half evenly with ½ teaspoon black pepper. Place a second heavy skillet on top of the chicken and cook, undisturbed, until the chicken is mostly opaque in color and skin edges are lightly browned, about 20 minutes.

Remove top skillet and continue cooking

20

Remove the top skillet from the chicken and continue cooking until the skin is golden and releases from the skillet for about 5-8 minutes. Flip the chicken halves and cook until a thermometer inserted into the thickest part of chicken reads 155 °F, about 1-4 minutes. Remove from the skillet and leave to rest for 10 minutes.

Prepare sauce

3

Return the stock mixture to the saucepan over medium-low heat and add 1 tablespoon cold butter. Cook, whisking constantly, until melted for about 2 minutes. Stir in 2 tablespoons finely chopped parsley and ½ teaspoon lemon juice and season with salt to taste. Keep the sauce warm over low heat until ready to serve.

Serve