2

Eggplants

medium-sized, halved

8 cups

Vegetable stock

or 1 cup chopped fresh mushrooms and 8 cups water

2 tbsp

Basil

fresh, chopped

1 tbsp

Thyme

fresh, chopped or ½ tbsp dried oregano

6 tbsp

Pesto sauce

prepared

2 tbsp

Light cream

sour cream or yogurt
Healthy Eggplant Soup
Healthy Eggplant Soup! I usually prefer to cook big, fancy dinners but sometimes I enjoy experimenting with simple and healthy meal options too. This easy eggplant soup quickly became a popular favorite in my kitchen this winter.
I first started enjoying eggplant after visiting the Mediterranean where they use this healthy vegetable in every menu! This recipe is healthy and easy and meets all the kitchen goals!
To make Healthy Eggplant Soup, you will need the following ingredients: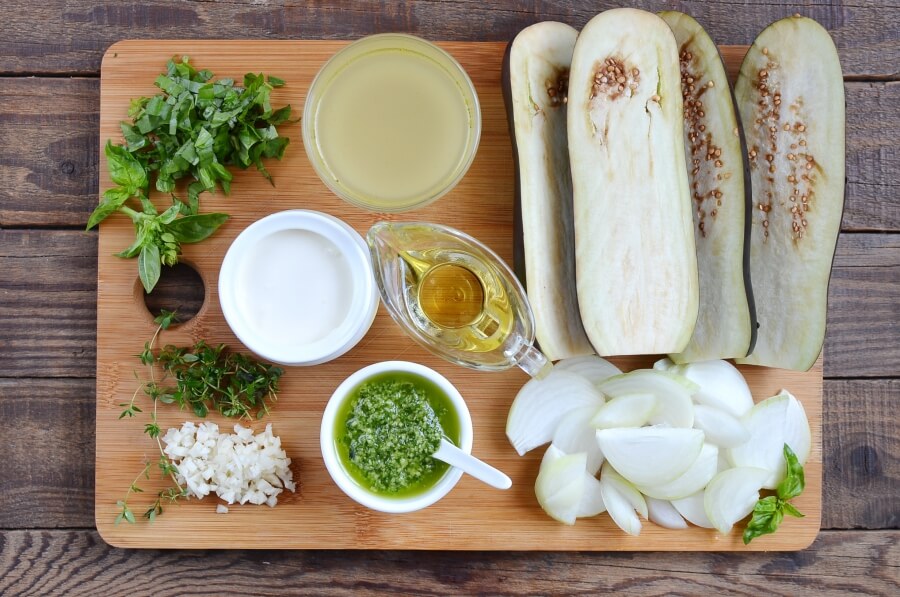 So, how to make Healthy Eggplant Soup?
Steps to make Healthy Eggplant Soup
Grill eggplant

25

Reserve flesh

10

Sauté garlic and onions and mushrooms

8

Add stock and eggplant

10

Add seasoning

2

Blend vegetables

5

Reheat soup

5

Add sour cream

5

Serve

2