1 cup

Green peas

frozen, thawed

2 small

Zucchini

sliced into half-moons

1 cup

Basil

fresh, coarsely chopped

2 tbsp

Parmesan cheese

shredded

2 tbsp

Olive oil

extra-virgin, divided

4 cups

Chicken stock

unsalted
Minestrone Verde
Sometimes you think that it may be too hot for soup, but it's never too hot for this Summer, fresh Minestrone Verde.
I've included steps to prepare a herbed basil pesto too, which I use for garnishing this soup, but you can also use for other recipes, if you wish.
This soup has an array of green vegetables with flavors from sautéed leeks, zucchini, baby spinach and peas, all in a chicken broth soup with some tortellini pasta to complete the bowl. This recipe is by far my personal favorite soup!
To make Minestrone Verde, you will need the following ingredients: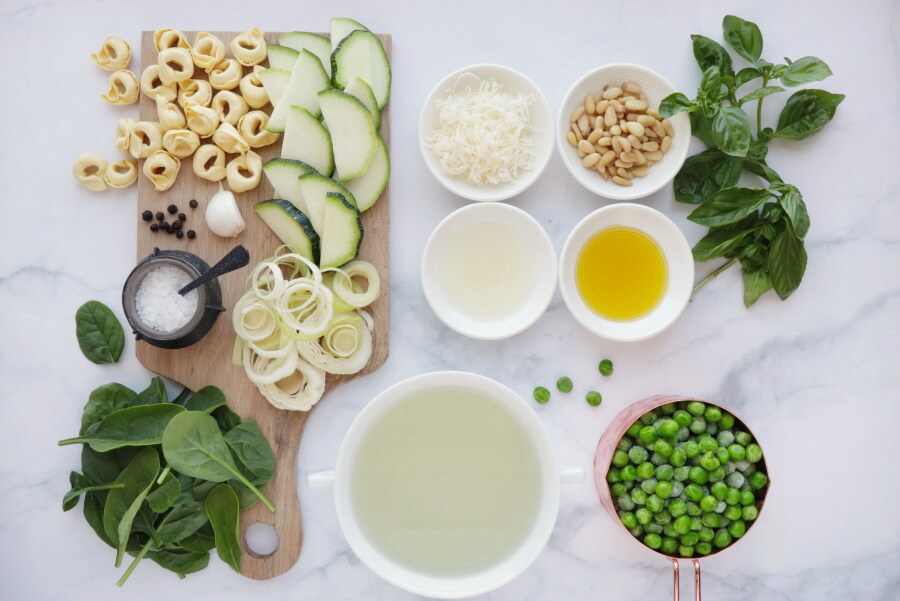 So, how to make Minestrone Verde?
Steps to make Minestrone Verde
Prepare basil pesto

5

Cook leeks

6

Add zucchini

4

Add chicken stock

10

Cook tortellini

8

Prepare soup

1

Season soup

1

Serve