6

Green onion

white and green parts divided, chopped

¼ tsp

Black pepper

or to taste

1 (15-oz) can

Cannellini

drained and rinsed

6 cups

Chicken stock

no sodium added

2 cups

Green beans

chopped

3 cups

Chicken

cooked, chopped, from a rotisserie chicken

1 tbsp

Lime juice

or lemon juice

For topping:
Summer Chicken Vegetable Soup
Chicken soup is not only for cold nights. This delicious Summer Chicken Vegetable Soup takes full advantage of the season's fresh produce. Packed with corn, green beans, zucchini, and fresh garden herbs, every spoonful of this soup is full of summer flavors. Simple, healthy, and filling, this easy chicken soup is perfect for a cozy summer dinner.
Heat a large Dutch oven and add the olive oil. Once hot, add the bell pepper and cook until softened. Add the white parts of green onions, garlic, smoked paprika, and salt and black pepper. Cook, stirring, until fragrant. Then add chicken stock. To make this soup extra flavorful, make your own chicken stock. I especially love this slow cooker chicken stock recipe because it's mostly hands-off and easy. Add the green beans and cook for about 15 minutes, then add the corn, chicken, cannellini beans, and zucchini. Cook for another 2 to 5 minutes. Finally, stir in the lime juice, fresh dill, and green parts of the green onions. Enjoy your bowl of soup with a dollop of sour cream or yogurt and crusty homemade bread to round out the meal.
To make the Summer Chicken Vegetable Soup, you will need the following ingredients: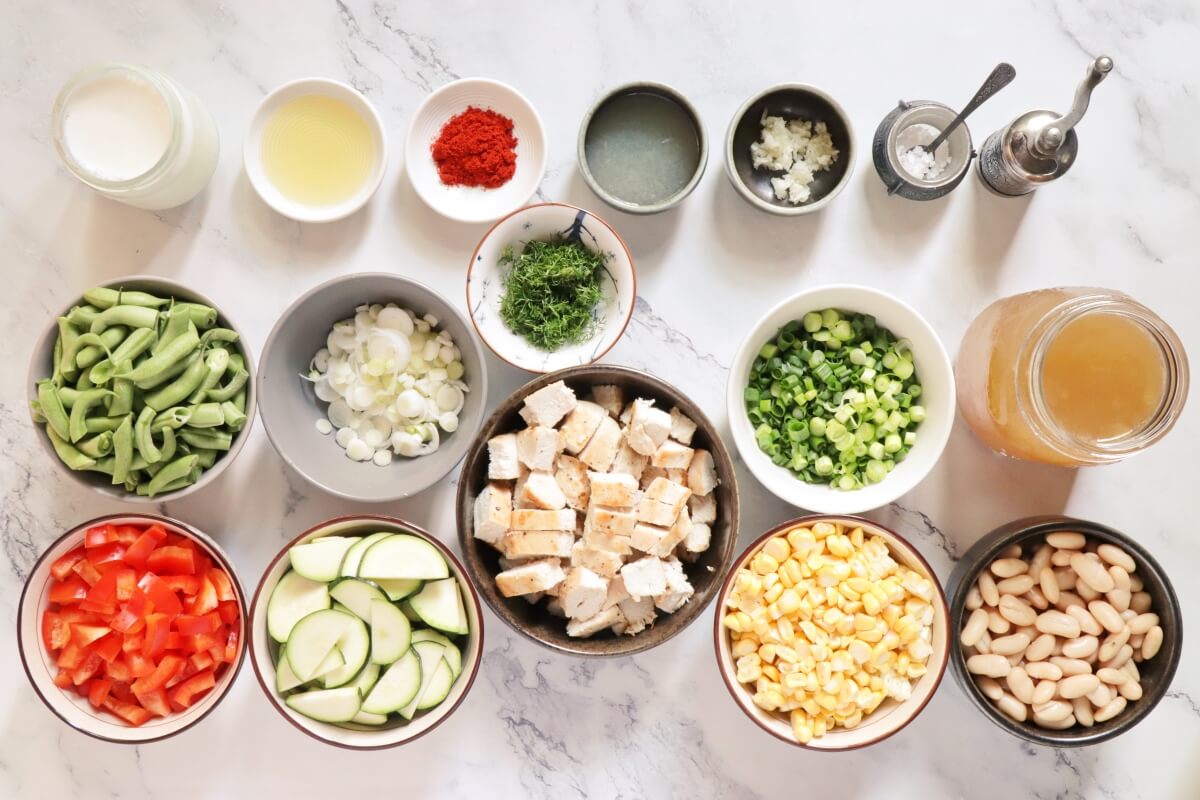 Steps to make Summer Chicken Vegetable Soup
Saute bell pepper

4

Add onions, garlic, and seasonings

2

Add chicken stock

1

Add green beans

20

Add corn, chicken, cannellini beans, and zucchini

2

Add remaining ingredients

1

Serve