4 lbs of

Tart Apples

e.g. Granny Smith, chopped into big pieces, including the core

3 cups

Spearmint leaves

fresh, chopped

1

Lemon

only juice, or 1/2 cup white vinegar

3 1/2 cups

Sugar

7/8 cups for each cup of juice
Mint Jelly (food color free)
Homemade Mint Jelly (food color free) is a necessity that every home needs. This is an easy to follow, simple recipe, using the tart of green apples and fresh mint leaves. It's the perfect mix of sweet, sour and fresh.
Who doesn't love a delicious, juicy roast lamb with an accompaniment of mint jelly. For generations, people have been enjoying this speciality at Christmas and Thanksgiving and now you can make your homemade too.
To make Mint Jelly, you will need the following ingredients: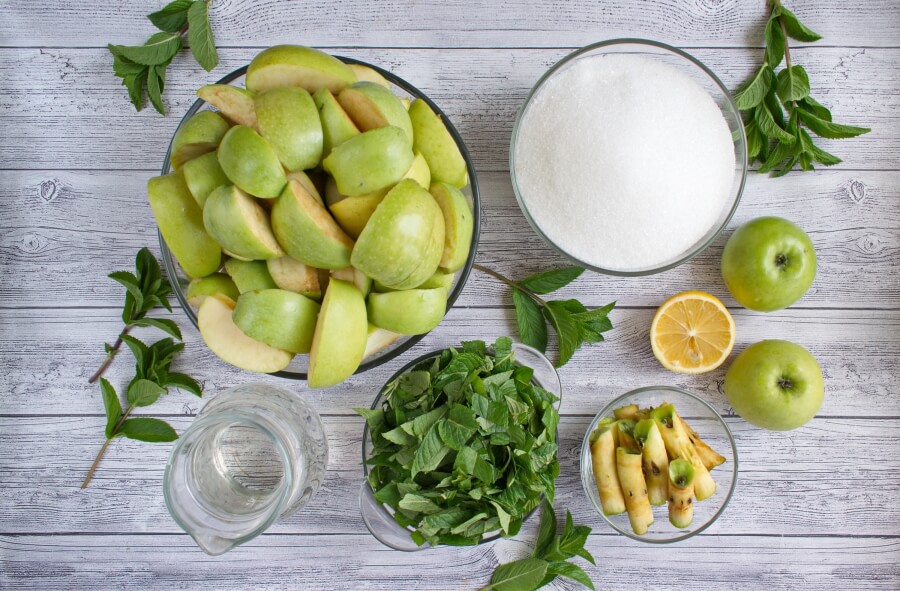 So, how to make Mint Jelly?
Steps to make Mint Jelly (food color free)
Cook apple and mint in water

30

Add lemon juice and simmer

5

Mash apple pieces

2

Strain apple mash in sieve or with cloth

4h

Measure juice, add sugar, heat until sugar is dissolved

5

Simmer until set point

25

Bring to a boil and reduce the heat to medium or medium high, so that you maintain a strong simmer. Cook for about 20-25 minutes while using a spoon to skim off the scum at the surface. Continue to boil until a digital thermometer reads 8-10 °F above the boiling point. There may be additional time needed for cooking depending on the amount of water, sugar, and apple in the mix. Another way to test if your jelly is ready is to put a half teaspoonful of the jelly on a chilled plate, allow the jelly to cool and set for a few seconds, push it with your fingertips and if it wrinkles up, it's ready.

Pour into canning jars and seal

5