2 2/3 cups

Coconut flakes

1/2 cup

Condensed milk

sweetened

1/4 cup

Almonds

finely chopped, toasted

2 cups (12 ounces)

Chocolate chips

semisweet

Colored sprinkles

or coarse sugar, optional
Coconut Bonbons
These Coconut Bonbons make great homemade gifts for the people in your life who have everything! A bonbon is a sweet which is coated in chocolate. In the past, it was a French tradition to visit friends and relatives on New Year's Day with gifts of bonbons. In the lead up to Christmas and New Year, the sweet shops of Paris would be filled with people buying jars and boxes of bonbons. "Bon" is the French word for good, so if "bonbon" was translated to English it would be "goodgood"! And that's exactly what this recipe is: good, good! I make jars of these each year and give them as gifts for my friends and family. Maybe I have some French ancestry waiting to be discovered!
It's not difficult to make these coconut bonbons, but you will need to factor in the refrigeration times. I make these in three stages. First I combine the coconut, sugar, milk, almonds, butter and vanilla and chill. Then I roll these into bonbon sized balls and chill again. Finally I cover them in a chocolate coating and refrigerate for a final time until they are set. Et voilà – perfect French style coconut bonbons.
To make Coconut Bonbons, you will need the following ingredients: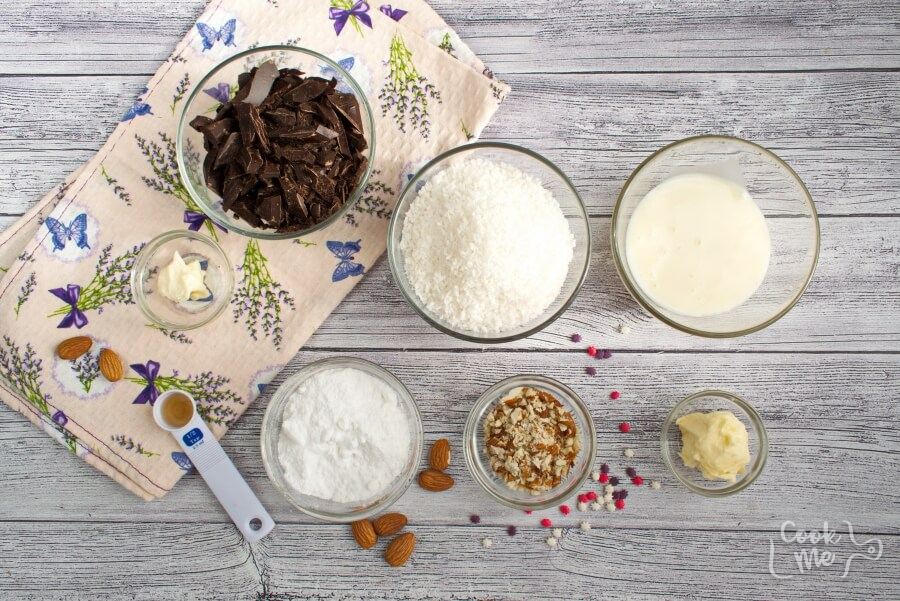 So, how to make Coconut Bonbons?
Steps to make Coconut Bonbons
Prepare the coconut filling

2

Chill

2h

Roll into balls

5

Chill

1h

Prepare the chocolate coating

5

Coat the coconut balls

10

Top with sprinkles or sugar

1

Chill for a final time

20

Serve