10 oz

Pizza crust dough

refrigerated

1/4 cup

Parmesan cheese

grated

1/2 tsp

Garlic powder

or to taste

1/8 tsp

Black pepper

or to taste
Quick and Easy Spinach Bread
Oozing with cheese and deliciously garlicky, this Quick and Easy Spinach Bread is an easy peasy way to make a yummy bread side to accompany your main meal. I have to admit it's not exactly bread, more like a kind of pizza roll, but it does the same job!
I use pizza crust dough to take all the complexities out of making your own bread. Simply roll it out, add the fillings and roll it back up again. It will go wonderfully crispy and golden on the outside as it bakes, leaving the spinach and mozzarella to melt together on the inside. Of course you can experiment with your own ingredients. Why not try an Italian version with ricotta, sundried tomatoes, and olives? Or a Spanish goats cheese and capsicum roll?
To make Quick and Easy Spinach Bread, you will need the following ingredients: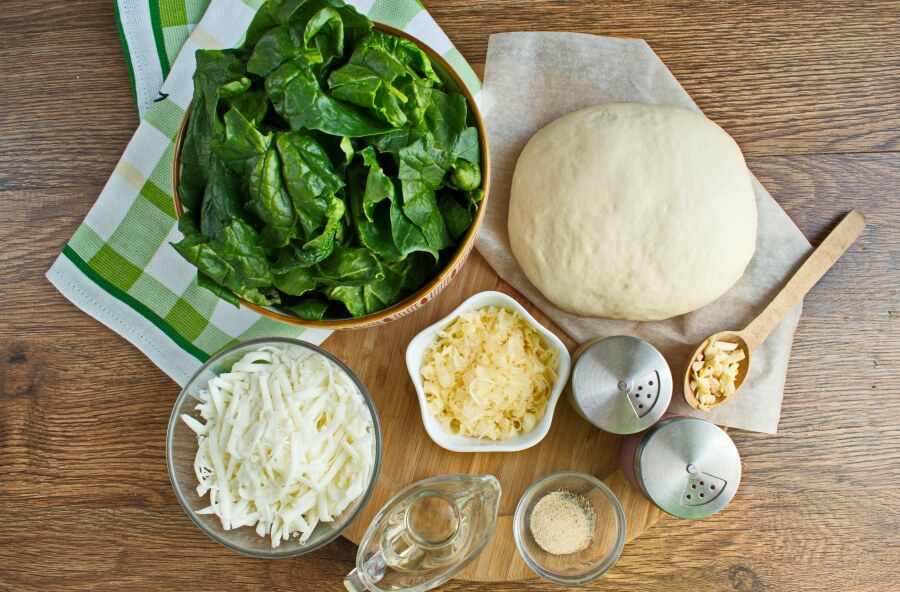 So, how to make Quick and Easy Spinach Bread?
Steps to make Quick and Easy Spinach Bread
Heat the oven and prepare a baking tray

5

Preheat the oven to 375°F.

Fry the garlic

1

Fry the spinach

2

Season and add the Parmesan

2

Roll out the dough

1

Fill the dough

1

Roll the dough

1

Bake the loaf

25