1

Capsicum

small red, diced

2 tbsp

Olives

pimento-stuffed green, sliced

1 tbsp

Shallots

finely diced

1/4 tsp

Black pepper

or to taste

1

Lemon

sliced into wedges
Savory Spanish Potato Salad
My Savory Spanish Potato Salad is a great option for a light lunch, side dish, or picnic. What makes a Spanish Potato Salad, Spanish?
Well, it's loaded with tasty Mediterranean ingredients for a start. Capsicum, pimento-stuffed green olives, garlic, shallots, and parsley all add wonderfully summery flavors and crunchy textures to this salad. I use red potatoes for this dish as I find them to be firmer and less soggy than other varieties. They hold well when tossed with all the other ingredients and take on a lovely coating of the vinaigrette, rather than going mushy from it.
Olive oil and red wine vinegar are all you need to dress this easy salad. Buen provecho!
To make Savory Spanish Potato Salad, you will need the following ingredients: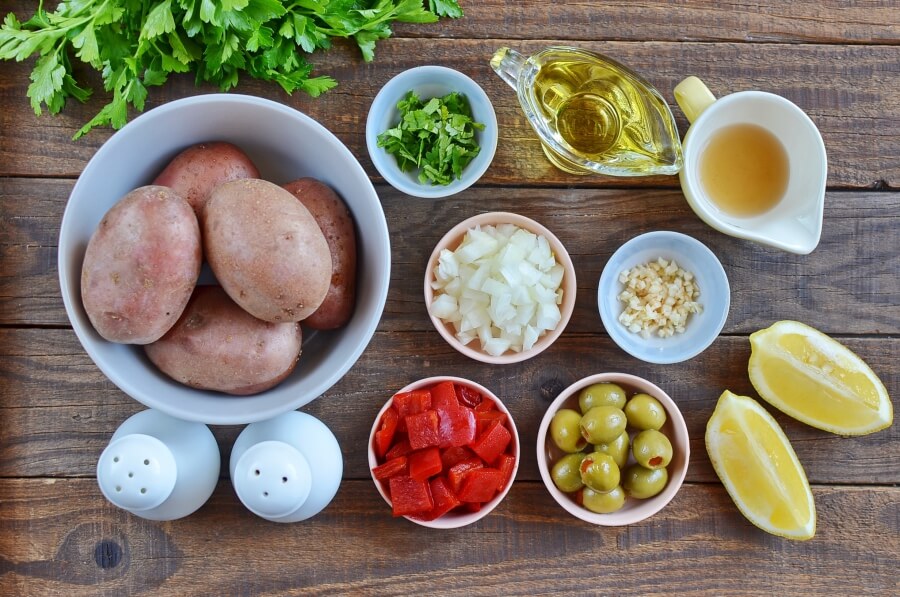 So, how to make Savory Spanish Potato Salad?
Steps to make Savory Spanish Potato Salad
Cook the potatoes

20

Cut the potatoes

3

Make the vinaigrette

1

Dress the potatoes

2

Add the vegetables to the salad

3

Serve

1