1 ¼ cups

Whole wheat flour

⅔ cup

Cheese

parmesan-asiago cheese blend (any other cheese works also)

2 stalks

Scallions

finely chopped

3 sprigs

Basil

fresh , finely chopped

1 cup

Baby spinach

(about 1 large handful), chopped

⅓

Bell pepper

large orange , finely diced (any other pepper works also)
Savory Veggie Waffles
These Savory Vegetable Waffles can be served for breakfast, lunch or dinner! I pack so many veggies into these waffles. The usual veggies I add are spinach, peppers, basil, and scallions but you could add any of your favorites instead!
Make the waffle batter by adding the dry ingredients to the wet ingredients and mixing them together. Fold in the cheese and veggies until you have a thick batter. Spoon the waffle batter into your waffle iron and cook according to your desired color and crispness. Serve plain or with maple syrup depending on your taste. 
To make Savory Vegetable Waffles, you will need the following ingredients: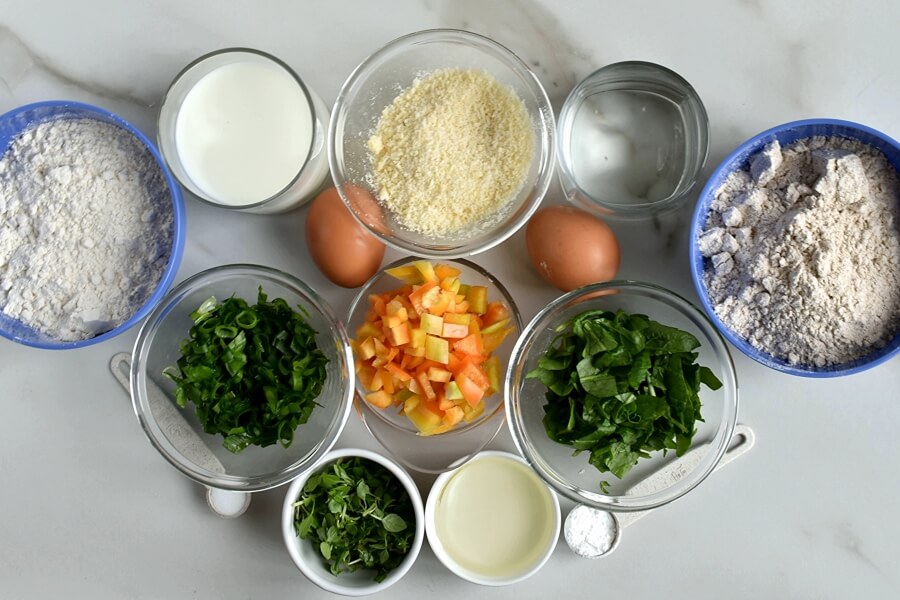 So, how to make Savory Vegetable Waffles?
Steps to make Savory Veggie Waffles
Mix dry ingredients together

2

Whisk wet ingredients

2

Combine the dry and wet ingredients

2

Add the cheese and veggies carefully

2

Heat a waffle iron

2

Add batter to the waffle iron

20

Serve