2 pounds

Tomatoes

halved crosswise

4 1-inch-thick slices

White bread

such as ciabatta, crusts removed and cubed

¼ tsp

Garlic

finely grated

¼ cup

Olive oil

smoked , plus more for drizzling

4 green

Grapes

seedless, thinly sliced

1 tbsp

Almonds

roasted, chopped
Smoky Salmorejo
Unbelievably flavored, this Smokey Salmorejo, cold Spanish soup is just wonderful.
A tomato gazpacho made from blended tomatoes and bread cubes, seasoned with grated garlic, sherry vinegar and smoked olive oil and garnished with thinly sliced grapes and chopped, roasted almonds that bring some sweetness to your bowl. The smokey and sweet flavors in this dish compliment each other in a very impressive ensemble.
To make Smoky Salmorejo, you will need the following ingredients: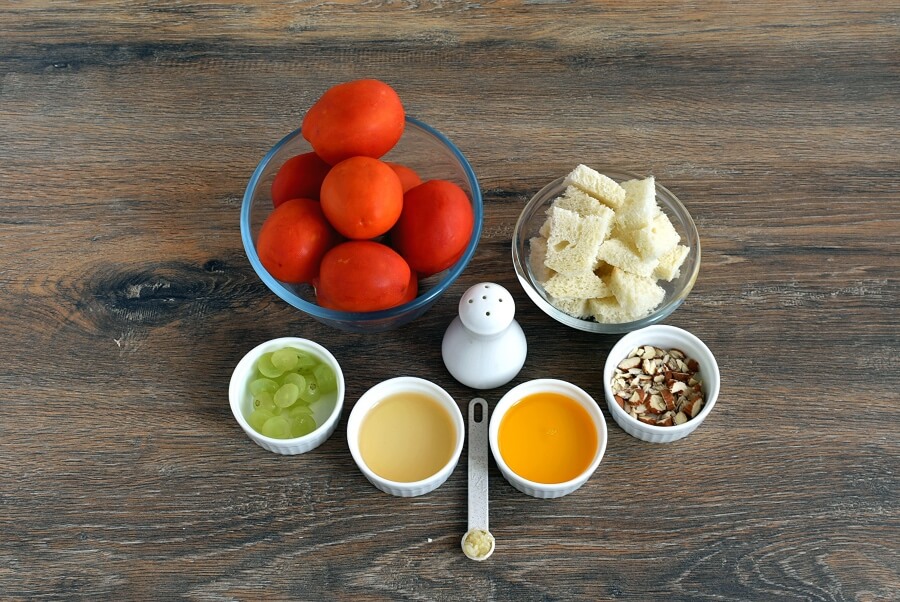 So, how to make Smoky Salmorejo?
Steps to make Smoky Salmorejo
Grate tomatoes

5

Add bread cubes

15

Pulse tomato mix

1

Add smoked oil

1

Strain Salmorejo

3

Refrigerate

1h

Serve