1 can (15.5 oz)

Chickpeas

drained and rinsed

1/3 cup

Garlic scapes

chopped

3/4 cup

Lemon juice

freshly squeezed

1/4 cup

Olive oil

extra virgin
Vegan Hummus with Garlic Scapes
I love hummus and this Homemade Vegan Hummus with Garlic Scapes recipe is one of my favorite takes on classic hummus. I can't be without a jar of it in my fridge. I eat it with carrot and cucumber sticks, on crackers, in flatbread sandwiches. It's great to beat the hunger pangs. I often add extra ingredients like roasted peppers, sun dried tomatoes or garlic scapes to classic hummus to give it an extra something.
Garlic scapes are the thin, curly, green stalks that grow from the bulbs of garlic plants. These are in abundance in my local farmer's market every Spring. I think they are delicious and bring a nice subtle garlic flavor in a dishes. In this recipe, I combine canned chickpeas with garlic scapes, tahini, lemon, water, olive oil, cumin and salt to make a creamy hummus.
To make my version of Homemade Hummus with Garlic Scapes, you will need the following ingredients: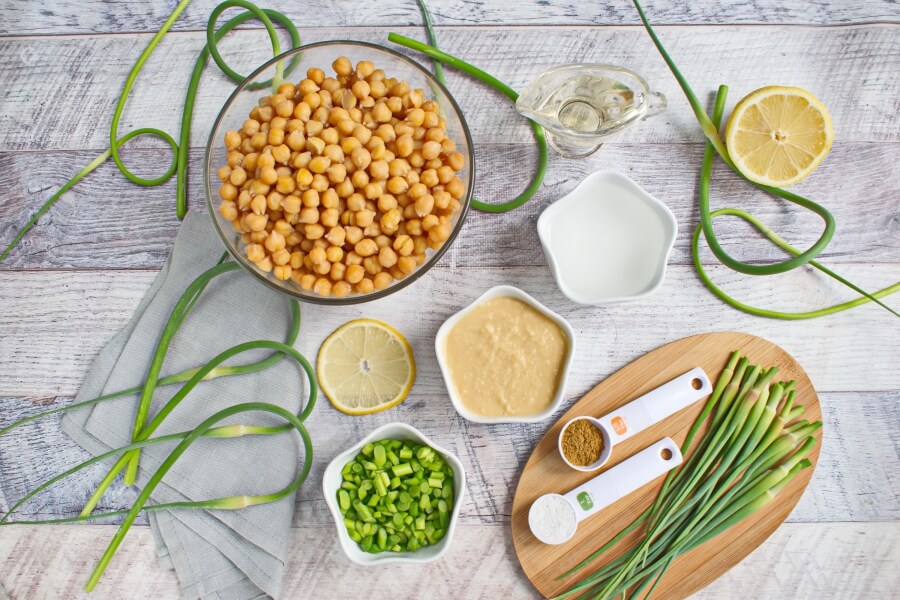 So, how do you make Homemade Hummus with Garlic Scapes?
Steps to make Vegan Hummus with Garlic Scapes
Blend the chickpeas, tahini, lemon and garlic scapes

5

Add water to loosen the mixture

5

Pour in olive oil

2

Add cumin and salt

2

Store

Serve