The Best Tomato Canning Recipes
To Preserve the Harvest from Your Garden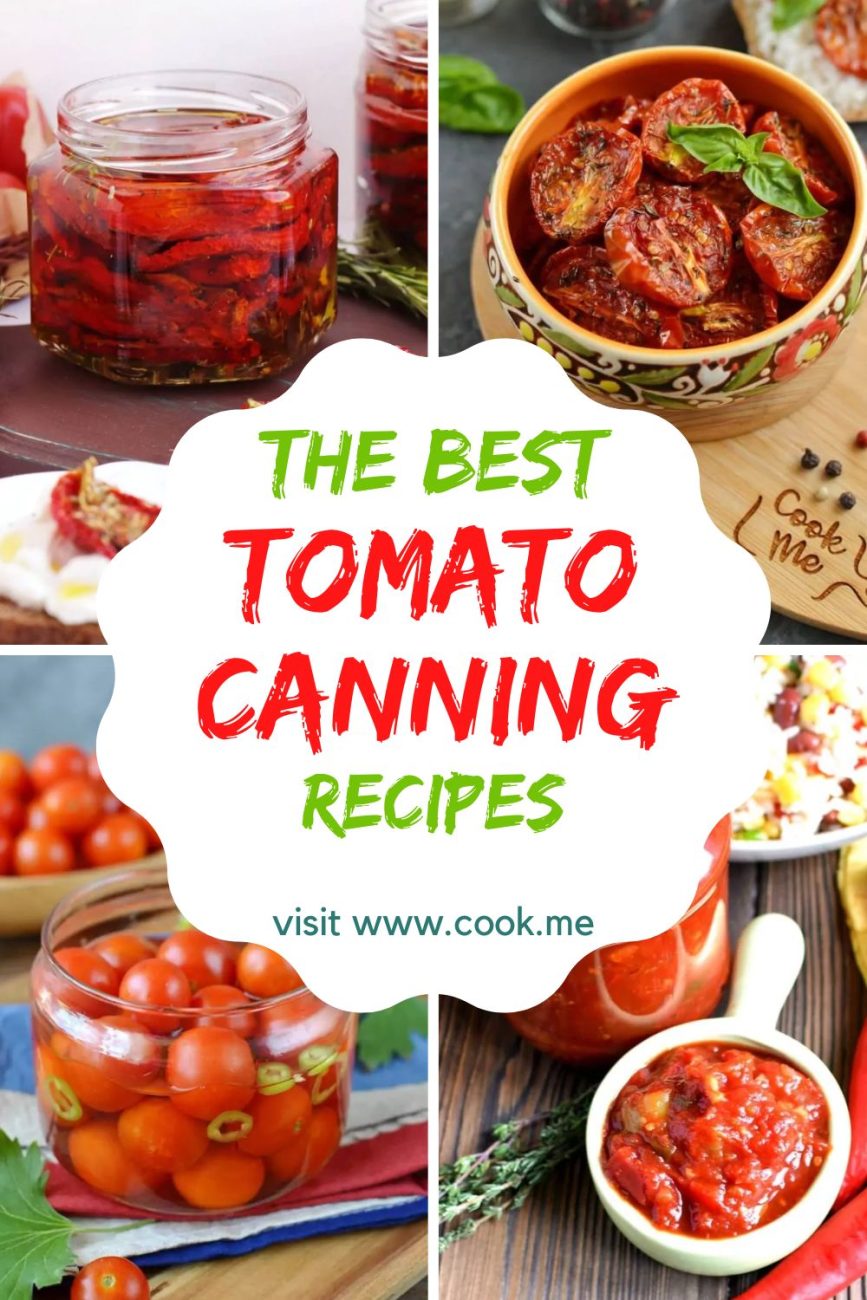 Perfectly seasoned Easy Homemade Sundried Tomatoes. I much prefer to have homemade condiments in my pantry than the store bought options which can be that much more unhealthy to what I want to provide for my family. This recipe gives options to make them, either in a dehydrator or oven….
Ingredients for Easy Homemade Sundried Tomatoes:
16 Plum tomato
1 tbsp Olive oil
1 tbsp Sugar
1 tsp Salt
1 tsp Dried basil
1 tsp Dried oregano
1 tsp Dried rosemary

FOR STORING:
Wide Mouth Canning Jars
Olive oil
Fresh herbs
Ingredients for Pickled Cherry Tomatoes :
30 Cherry tomatoes
3 tbsp Fish sauce
6 tbsp Rice vinegar
½ tsp Sugar
1 Thai chili
Ingredients for Canned Whole Tomatoes:
15 pounds Roma Tomatoes
¾ cup Lemon juice
6 quart-size jars
I promised you some more Homemade condiment recipes and this Tomato Purée is definitely a must-have! All you need are fresh, ripe tomatoes, some lemon juice and your storing jars. Use your tomato puree as a base to so many delicious pasta sauces, stews and soups. The secret to making…
Ingredients for Tomato Purée:
1 ½ pounds fresh, ripe Tomatoes
¼ tsp Citric acid

FOR STORING:
1 pint jar, lid, and ring for every 1 ½ pound of tomatoes
Canning Roasted Tomatoes is one of my favorite things to do with my summer tomato harvest. It means I can enjoy my home-grown tomatoes for longer than the usual harvest season. This recipe is for one pint of roasted tomatoes but believe me when I say that I make at…
Ingredients for Canning Roasted Tomatoes:
2 lb Tomatoes
1 tbsp Lemon juice
In just 3 simple steps, you can have your own Chunky Ketchup. This recipe is the answer to never running out of ketchup. Every house in the United States loves ketchup, that's a guarantee, and so why not make your favorite sauce for yourself, and let it never run out!…
Ingredients for Chunky Ketchup:
4 cups Tomatoes
1 Onion
1 Green pepper
1 cup Sugar
1 can Tomato paste
1 tbsp Salt
¼ cup White vinegar
The pantry list keeps growing with these Canning Chopped Tomatoes. A recipe with no added sugar or any flavors and preservatives, giving you the most natural and nutrient rich canned chopped tomatoes. With simple steps of tomatoes boiling in their own juices, I have included the guide to homemade canning…
Ingredients for Canning Chopped Tomatoes:
10 pounds Tomatoes
6 tbsp Lemon juice
I have said it before, I am on a mission to create a completely homemade pantry and this Mild Tomato Salsa definitely made it to my list. With so many complementary flavors of tomatoes, green and sweet red peppers, onions, celery, tons of garlic, jalapeño chili, seasonings and hot pepper…
Ingredients for Mild Tomato Salsa:
10 ½ pound Tomatoes
4 Green bell pepper
1 Red bell pepper
3 Onion
1 stick Celery
15 cloves Garlic
4-5 Jalapeño pepper
2 cans (12 ounces each) Tomato paste
1¾ cups White vinegar
½ cup Sugar
¼ cup canning Salt
¼ – ½ tsp Hot pepper sauce
Rustic, oven baked, Semi-Dried Tomatoes are the best salad topping or even served as a table side snack, that you'll soon find addictive! Simple to prepare and then just left to dry out in your kitchen oven. I use small cherry tomatoes, keeping them the same size where possible, brushed with olive oil and seasoned with fine salt and an array of optional dried herbs including thyme, basil and oregano, ….
Ingredients for Semi-Dried Tomatoes:
1¼ lb (570 g) Tomatoes
⅛ tsp Salt
¼ tsp Dried thyme
2 tsp Olive oil
Olive oil