TOP 10 Candy & Fudge Recipes
Sweet Treats for Every Occasion and Holiday!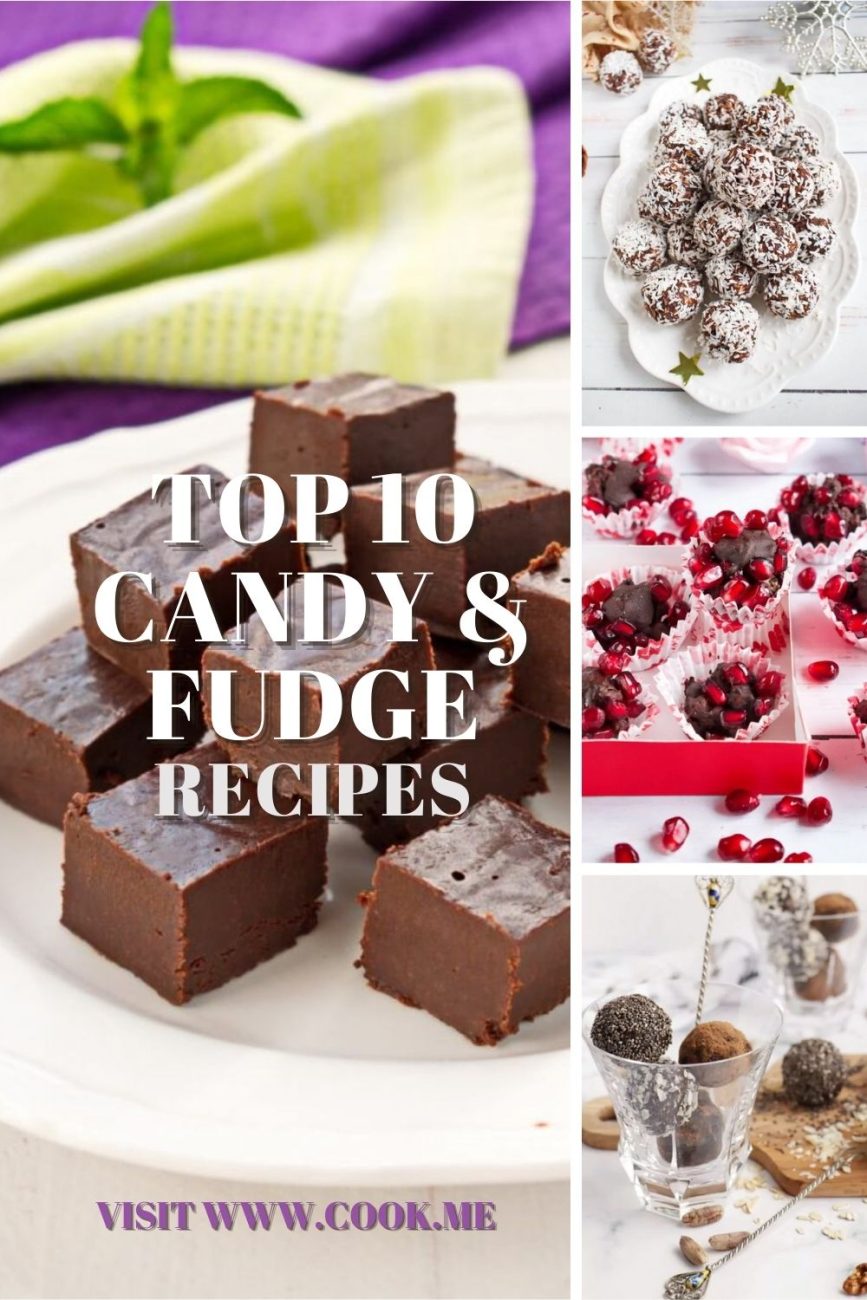 These Chocolate Hazelnut Cake Balls are a must-try for any chocolate lover. Bite-sized cake balls made of crumbled chocolate cake mixed with chocolate hazelnut spread and chopped hazelnuts, and dipped in dark chocolate. Yes, you need only four ingredients! The process is not very difficult. You will…
Ingredients for Chocolate Hazelnut Cake Balls:
1 Chocolate cake
½-1 cup Chocolate hazelnut spread
½ cup Hazelnuts
8 oz Dark chocolate
FOR TOPPING:
½ cup Hazelnuts
This Chocolate Covered Cherry Fudge is a delicious Valentine's Day idea. I adore fudge. It's rich and sweet and so delicious. The texture is always so fudgy too! The cherries in this recipe do a great job of cutting through some of that rich creaminess.    To make this sweet treat,…
Ingredients for Chocolate Covered Cherry Fudge:
7 oz Condensed milk
9 oz Chocolate chips
⅓ cup Cherries
¼ tsp Almond extract
Chocolate Turron for Christmas is traditionally Spanish sweet candy that is mostly found in stores and eaten at Christmas time. We would compare something similar to a harder version being nougat or something softer like peanut butter, Turron is …
Ingredients for Chocolate Turron for Christmas:
8 ounces (227 g) Semisweet chocolate
8 ounces (227 g) Dark chocolate
2 1/2 ounces (70 g) Vegetable shortening
2.8 ounces (80 g) Puffed rice cereal
3 ounces (85 g) Almonds
This Two-Ingredient Marshmallow Fudge is a super simple sweet treat or dessert for Valentine's Day. You just need two ingredients to make this recipe – chocolate chips and marshmallows. I use dark chocolate chips, but you can use semi-sweet for a sweeter fudge. You can also substitute the marshmallows…
Ingredients for Two Ingredient Marshmallow Fudge:
1 (11'oz) bag Chocolate chips
10 oz Marshmallows
The Perfect Newfoundland Snowballs recipe is here! My favorite sweet treat when I was a kid was a snowball. If you're not familiar, snowballs are soft chocolate treats which are covered in desiccated coconut. They are sweet and sticky and children love them!  To make these snowballs, start by boiling…
Ingredients for The Perfect Newfoundland Snowballs:
3 cups Sugar
1/3 cup Unsalted butter
1 cup Milk
3 cups large Rolled oats
1 cup Shredded coconut
12 tbsp Cocoa powder
1½ cups extra Shredded coconut
This is a moreish Bavarian Mint Fudge recipe which makes a delicious sweet treat or homemade gift. This is one of my family's oldest and most treasured recipes. It has been loved through the generations and now I am passing it on to you. I make batches of this every…
Ingredients for Bavarian Mint Fudge:
1 tbsp Butter
12 ounces Semisweet chocolate
12 ounces Milk chocolate
1 can (14 ounces) Condensed milk
1 tsp Peppermint extract
1 tsp Vanilla extract
1 ½ tsp Butter
These Dark Chocolate Walnut Pomegranate Clusters are a total match made in heaven of little love bites. There aren't any better ingredients to add to this recipe with bitterness from the creamy dark chocolate, sweetness from the pomegranate seeds and rich, crunchy and chunky flavors and textures from the walnuts….
Ingredients for Dark Chocolate Walnut Pomegranate Clusters:
8 ounces Dark chocolate
¾ cup Walnuts
¾ cup Pomegranate seeds
Vegan Green Tea Fudge! With the new matcha craze, I have come up with this Green Tea Fudge recipe and now you have to try it. Made from coconut butter, cream of coconut milk, coconut oil, matcha green tea powder, vanilla extract and some maple syrup for sweetening, this healthy…
Ingredients for Vegan Green Tea Fudge:
1 cup Coconut butter
⅓ cup Coconut cream
2 tbsp Coconut oil
2 tbsp Matcha powder
1½ tbsp Vanilla extract
½ cup Maple syrup
I love a good healthy treat and these Walnut Bliss Balls with Chia, Coconut and Carob are the perfect winner! Ready in just minutes, I use walnuts, oats, dates and carob powder, processed and rolled into balls and dipped in coconut flakes, carob powder and chia seeds. In my house,…
Ingredients for Walnut Bliss Balls with Chia, Coconut and Carob:
FOR THE BALLS:
1 cup Walnuts
½ cup Oats
1½ cups Dates
2 tbsp Carob powder
1 dash Salt
½ tsp Vanilla extract

FOR THE COATINGS:
1 tbsp Coconut flakes
1 tbsp Carob powder
1 tbsp Chia seeds
This Strawberry Fudge makes a perfect Valentine's Day treat – I make some of this fudge every year. It's such a great recipe because you can make it in advance and store it for up to three weeks in the refrigerator or three months in the freezer. You can make…
Ingredients for Strawberry Fudge:
24-28 oz White chocolate
11.75 oz Strawberry sauce
1 tsp Lemon juice
1 pinch Salt