Top 10 Chocolate Dessert Recipes
Chocolate lovers, these are for you!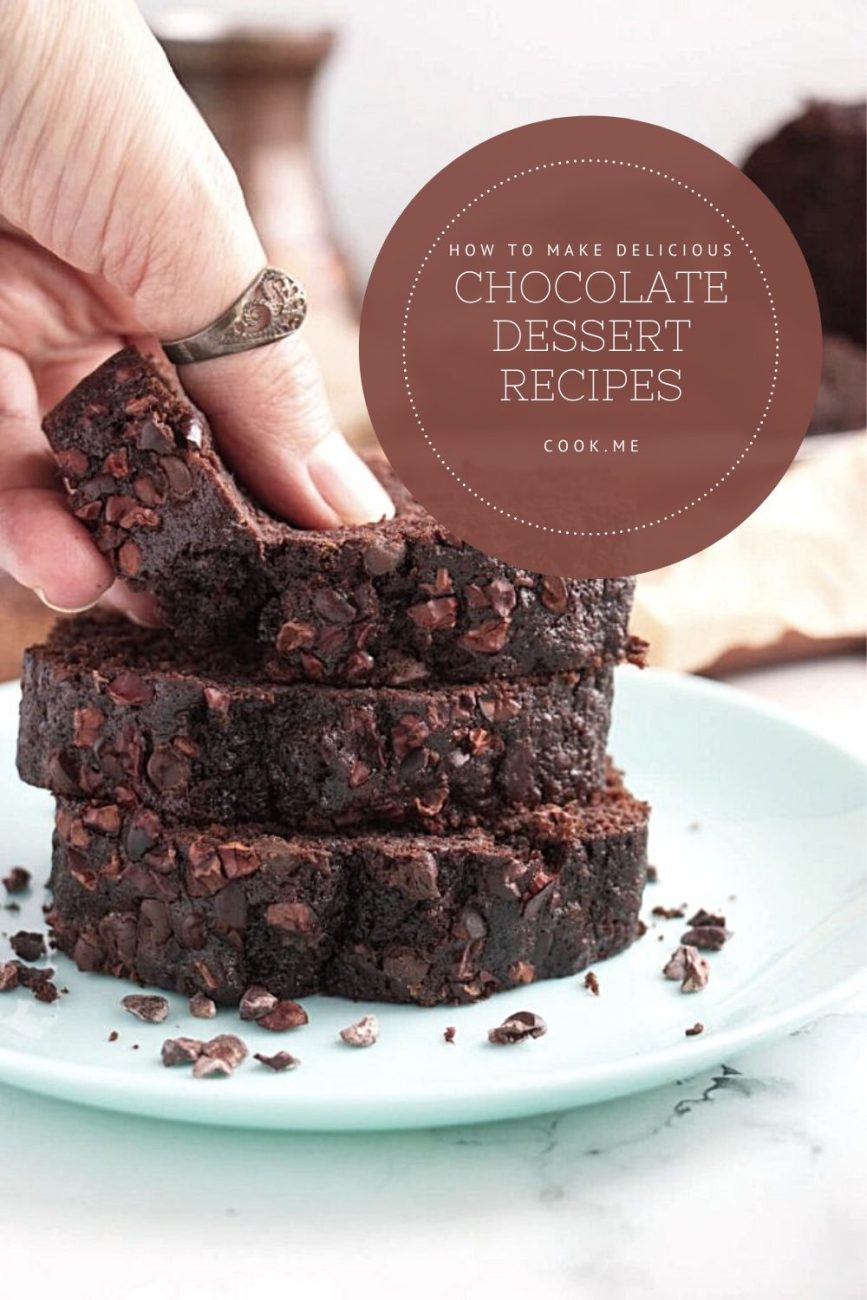 This Chocolate Avocado Pudding is a rich decadent dessert made with one of nature's most nutritious ingredients: avocado. The avocado gives this recipe a creamy, velvety texture – just make sure your avocado is fully ripe before using! If you choose dairy-free, vegan chocolate chips, this dessert will be…
Ingredients for Chocolate Avocado Pudding:
¼ cup Chocolate chips
2 Avocado
2 tbsp Cocoa powder
¼ cup Non-dairy milk
2 tbsp Maple syrup
1 tsp Vanilla extract
1 pinch Salt
This Chocolate Crazy Cake recipe is hands down one of the best chocolate cakes I have ever tasted. The best thing about it? If you use coconut oil for the frosting, this cake is completely dairy free, meaning it is a great recipe to make for someone who is allergic to dairy. To make this cake, start by mixing the dry …
Ingredients for Chocolate Crazy Cake:
FOR THE CAKE:
3 cups All-purpose flour
2 cups Cane sugar
1 tsp Sea salt
6 tbsp Cocoa powder
2 tsp Baking soda
½ tsp Ground ginger
¾ cup Coconut oil
2 tsp Vanilla extract
1 tbsp Coffee
2 cups Water
2 tbsp Apple cider vinegar

FOR THE FROSTING:
3½ cups Organic powdered cane sugar
1¼ cup Cocoa powder
¼ cup Coconut oil
1 tsp Vanilla extract
½ cup Water
1 pinch Sea salt
This is a moreish Bavarian Mint Fudge recipe which makes a delicious sweet treat or homemade gift. This is one of my family's oldest and most treasured recipes. It has been loved through the generations and now I am passing it on to you. I make batches of this every Christmas and bring it to friends homes…
Ingredients for Bavarian Mint Fudge:
1 tbsp Butter
12 ounces Semisweet chocolate
12 ounces Milk chocolate
1 can (14 ounces) Condensed milk
1 tsp Peppermint extract
1 tsp Vanilla extract
1 ½ tsp Butter
This Fresh Mint Dark Chocolate Ice Cream ticks a lot of boxes for me. I love ice cream on sunny summer day (who doesn't, right?) and I love the fresh mint and dark chocolate flavor combination. This recipe delivers on both counts! You won't believe how sublime it is! Creamy dark chocolate ice cream with the …
Ingredients for Fresh Mint Dark Chocolate Ice Cream:
2 cups Whole milk
2 cups Heavy cream
1 cup Fresh mint
1 cup Granulated sugar
7 Egg yolks
8 oz 72 % Dark chocolate
4 oz 72 % Dark chocolate
Does this Guinness Chocolate Puddings recipe contain actual Guinness as one of the ingredients? I'm so happy to share with you that, yes, they do and we are all so excited about it. The addition of alcohol to these chocolate puddings makes them the perfect winter dessert to serve and enjoy. Not too sweet and …
Ingredients for Guinness Chocolate Puddings:
150 g Unsalted butter
200 g Dark chocolate
90 g Golden Caster sugar
3 Large eggs
90 ml Guinness
Heavy whipping cream
Once you have made these Almond Rum Chocolate Truffles, mouth watering delicacies, you will be hooked and dying to make your own and before you know it, your friends will be inviting themselves around with one thing in mind! There is something extremely special about handing your friends or …
Ingredients for Almond-Rum Chocolate Truffles:
12 ounces Semisweet Chocolate
1 cup Heavy cream
1 tbsp Butter
pinch Salt
½ tsp Vanilla extract
½ tsp Almond extract
¼ cup Rum
Amaretti cookie crumbs
Everyone should have a go-to chocolate cake recipe in their repertoire and this Wellesley Fudge Cake is mine. I've made it so many times now, I don't even need to consult the recipe! I know it by heart. This cake takes its name from Wellesley College in Massachusetts where cakes were forbidden. As the story …
Ingredients for Wellesley Fudge Cake:
4 ounce Semisweet Chocolate
1/2 cup Water
1/2 cup Sugar
1/2 cup Butter
1 1/4 cups Sugar
3 Eggs
2/3 cup Milk
1 tsp Vanilla extract
2 cups All-purpose flour
1 tsp Baking soda
1 tsp Salt
8 ounce Fudge icing
These Spiced Chocolate Chestnut Cookies are the perfect dunking treat. With already one half of the cookie dunked in melted chocolate, the other half is waiting to be dunked in your tea or coffee! Using a healthier alternative to white flour, I chose to use spelt flour instead with almond butter and maple …
Ingredients for Spiced Chocolate Chestnut Cookies:
1 cup (150g) cooked Chestnuts
⅓ cup Spelt flour
1 tbsp ground Chia seeds
1 tsp ground Cinnamon
1 tsp Instant coffee powder
¼ tsp Ground cardamon
¼ tsp Ground ginger
⅛ tsp Ground cloves
pinch Cayenne pepper
pinch Salt
3 tbsp Almond butter
2 tbsp Maple syrup
6 squares of vegan Dark chocolate
Chocolate Turron for Christmas is traditionally Spanish sweet candy that is mostly found in stores and eaten at Christmas time. We would compare something similar to a harder version being nougat or something softer like peanut butter, Turron is somewhere in between. Made with almonds giving a …
Ingredients for Chocolate Turron for Christmas:
8 ounces (227 g) Semisweet chocolate
8 ounces (227 g) Dark chocolate
2 1/2 ounces (70 g) Vegetable shortening
2.8 ounces (80 g) Puffed rice cereal
3 ounces (85 g) Almonds
Have you ever tried Chocolate Salami? Famously looks like salami but tastes like the most decadent chocolate treat on the market and the best party trick to use this April Fool's Day! A Portuguese and Italian dessert invention made from dark chocolate, pistachio nuts and almonds, white chocolate, ….
Ingredients for Chocolate Salami:
½ cup Pistachio nuts
½ cup Almonds
12 ounces Semisweet chocolate
6 tbsp Unsalted butter
2 tbsp White chocolate
1 tsp Orange zest
¼ cup Butter cookies
Powdered sugar