10 Best Father's Day Recipes
Father's Day Meals that Dads actually want to eat!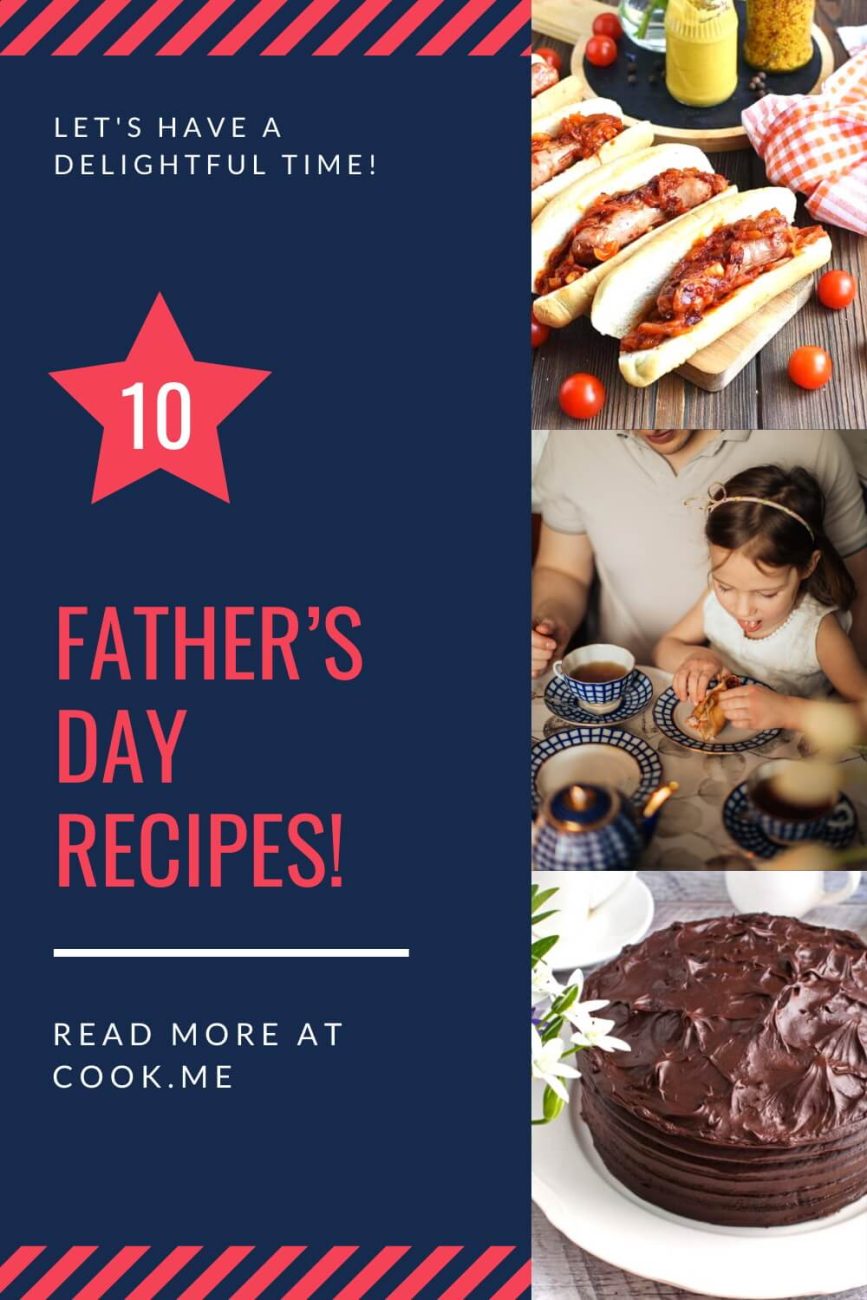 Making great Pan-Seared Flat Iron Steak is not difficult, but it's surprising how many people don't know how to cook a steak properly! The secret to great pan-seared steak? Use a very hot skillet or pan and don't be scared of a little smoke!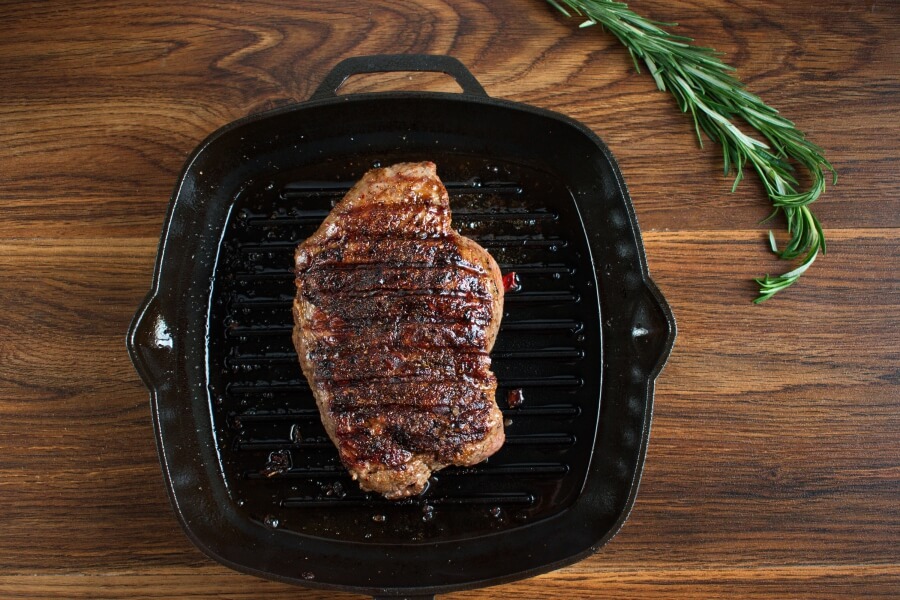 Ingredients for Pan-Seared Flat Iron Steak:
1 (1-lb) Flat iron Steak
2 tsp Montreal steak Seasoning
1/4 tsp Kosher Salt
1 tbsp Vegetable oil
I absolutely love this Meat Lover's Quiche which I could eat for breakfast, lunch or dinner! It has a rich creamy egg filling which is complemented by cooked bacon, sausage, ham, green onions and cheese. I always use a store bought pastry crust as it is so much quicker than…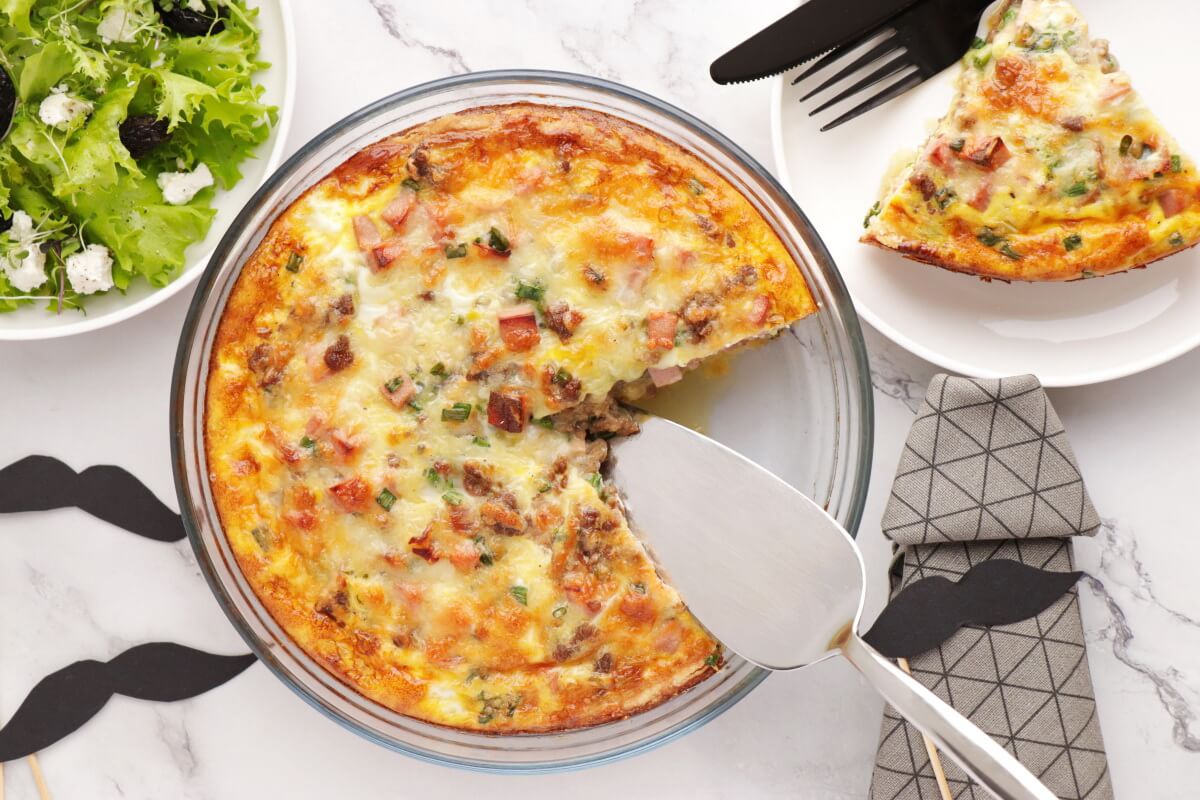 Ingredients for Meat Lover's Quiche:
1 Pie crust
6 Large eggs
½ cup Milk
¼ tsp Salt
⅛ tsp Black pepper
4 slices Bacon
Ground Sausage 1 cup
½ cup Ham
2 Green onion
1 cup Cheddar cheese
Piri-Piri Chicken is a spicy Portuguese chicken dish which is popular in all parts of the country. On my first day in Portugal, the receptionist at our hotel told us about a restaurant nearby which served the most legendary piri-piri chicken. We went along for dinner that night and the…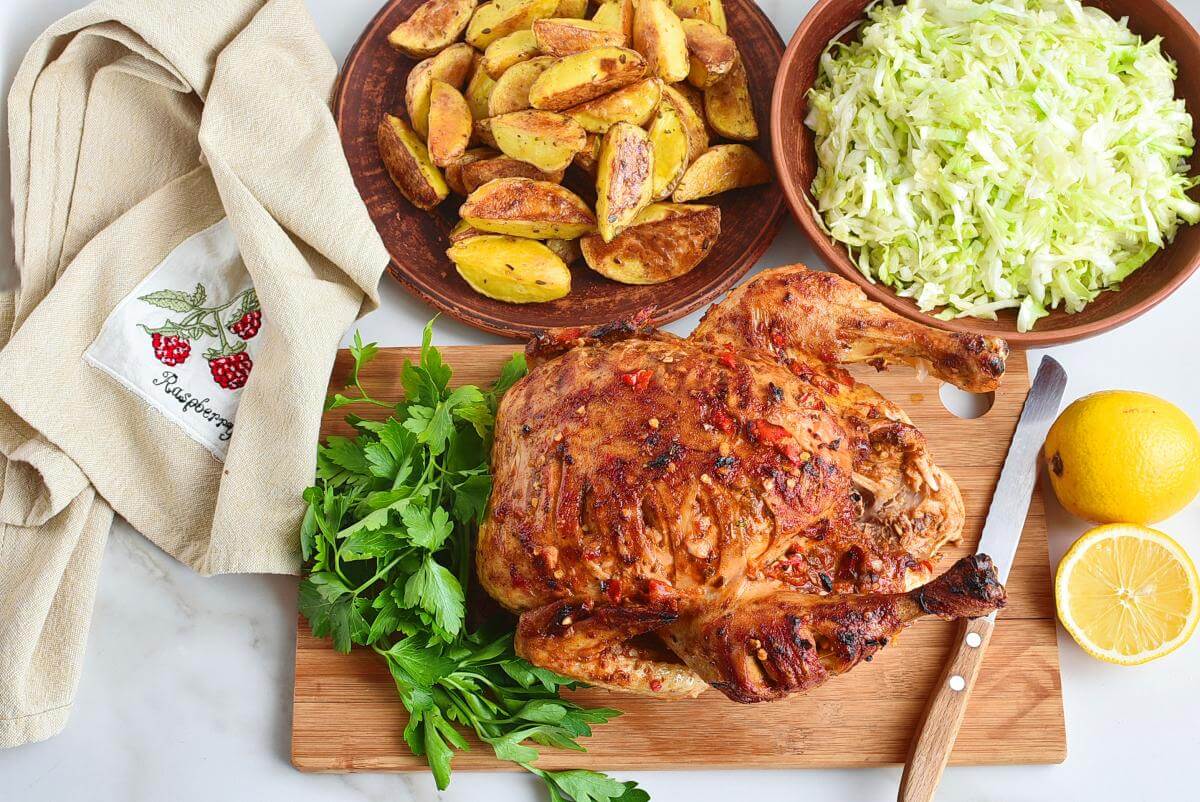 Ingredients for Piri-Piri Chicken:
1 Chicken

FOR THE PIRI-PIRI MARINADE
2 Hot chilli pepper
100 ml Red wine vinegar
6 red Chili pepper
6 cloves Garlic
2 tsp Smoked Paprika
1 tsp Dried oregano
1 tsp Dried thyme
1 tsp Caster sugar
2 Lemon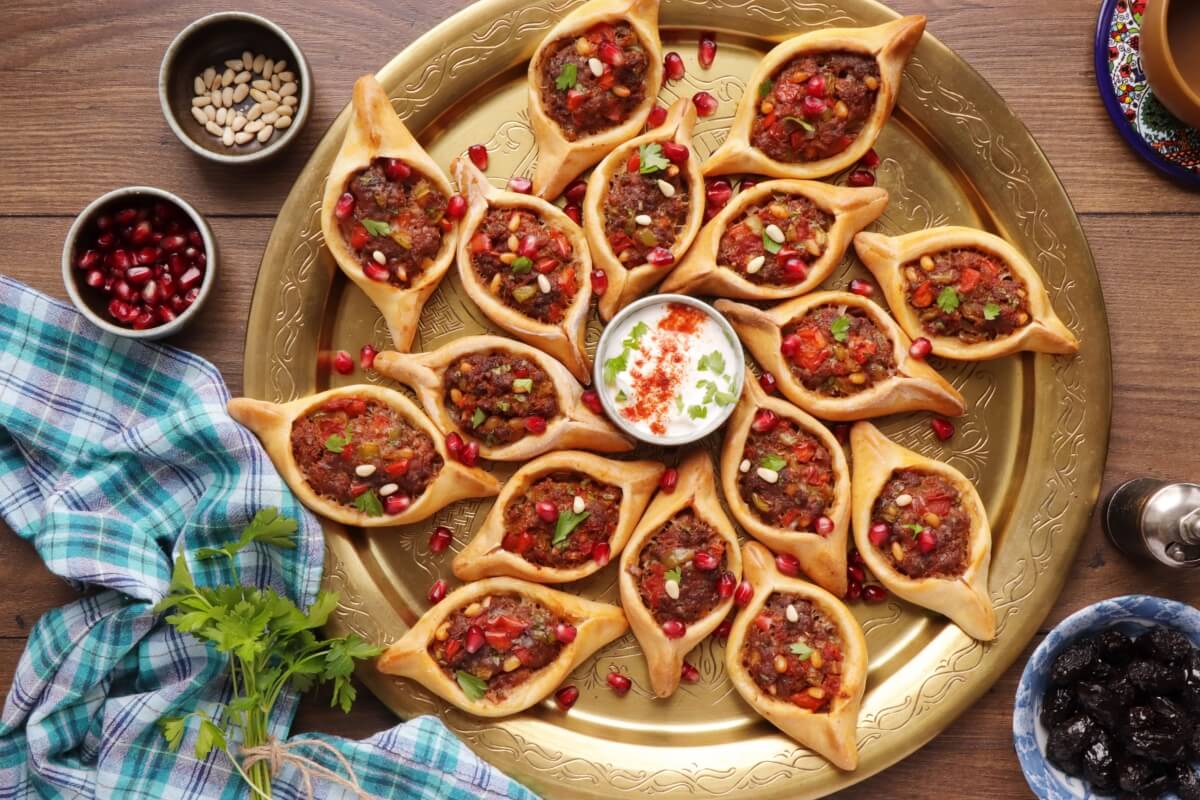 Ingredients for Middle Eastern Dumplings Stuffed with Meat:
FOR THE FILLING:
2 Shallots
1 tbsp Parsley
½ Red bell pepper
½ Green bell pepper
1 Tomatoes
11 oz Ground Beef
1 tsp Tomato paste
2 tbsp Pine nuts
1½ oz Pomegranate Arils
1 tbsp Olive oil
Salt
Black pepper
1 tbsp Ground coriander
1 tbsp Smoked Paprika
½ tbsp Cumin

FOR THE DOUGH:
All-purpose flour
1 tsp Salt
1½ fl oz Sunflower oil
7 fl oz Milk
¼ tsp Active dry yeast
This Maple Bacon Wings is the best wing recipe on the market. Trust me. Mini chicken wings, wrapped in bacon strips and coated in a sweet barbecue, maple syrup, apple cider vinegar, brown sugar and crushed red pepper flakes sauce that just opens all your taste buds and flavor senses.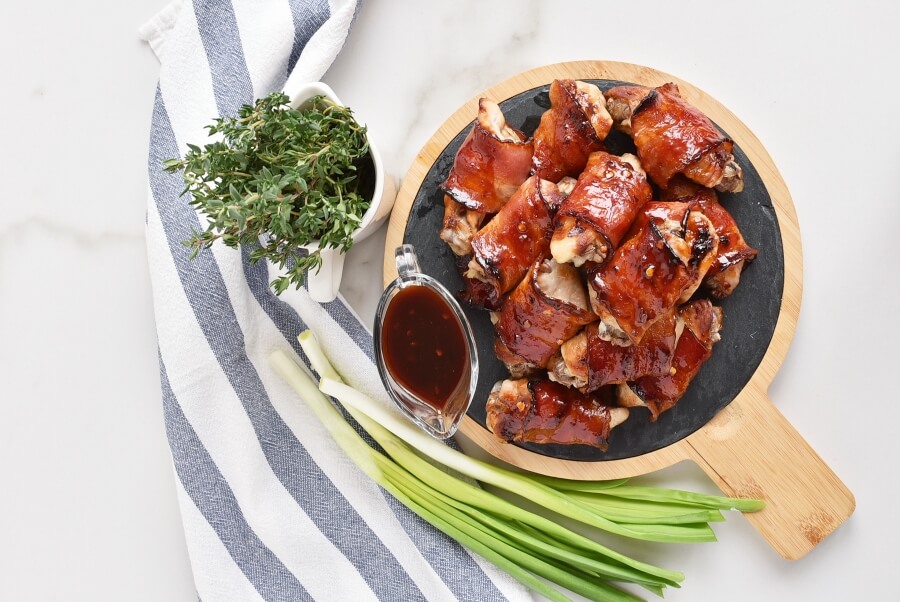 Ingredients for Maple Bacon Wings:
2 lb Chicken wings
15 slices Bacon
¼ cup Barbecue sauce
2 tbsp Maple syrup
1 tbsp Apple cider vinegar
1 tbsp Brown sugar
½ tsp Red pepper flakes
Easy Twice Baked Potatoes is one of my go-to side dishes! They are so easy to prepare and cook. I usually bake my potatoes in the oven but if you are short on time, you can use the microwave instead. Once your potatoes are baked, scoop out the flesh into…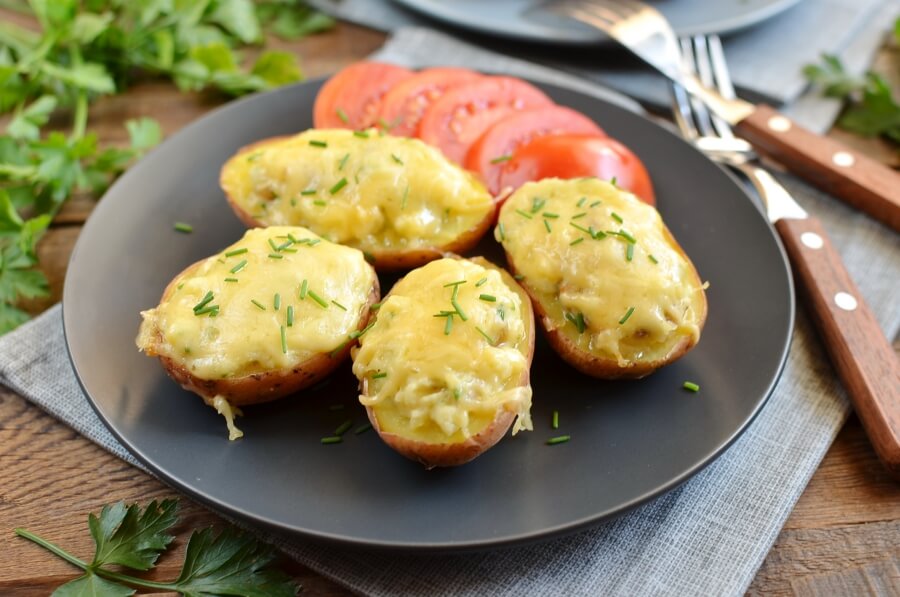 Ingredients for Easy Twice Baked Potatoes:
6 Potatoes
½ cup Milk
⅓ cup Sour cream
½ tsp Garlic powder
¼ cup Butter
1 tbsp Chives
6 pieces Bacon
1 ½ cups Cheddar cheese
Salt
Black pepper
No matter what I am cooking on the BBQ, I always throw a few of these Sweet Chili Dogs on the grill as an extra little treat. When I make these, I follow this recipe for oven cooking but I finish the sausages on the grill at the very end. The caramelized onions always go down a treat …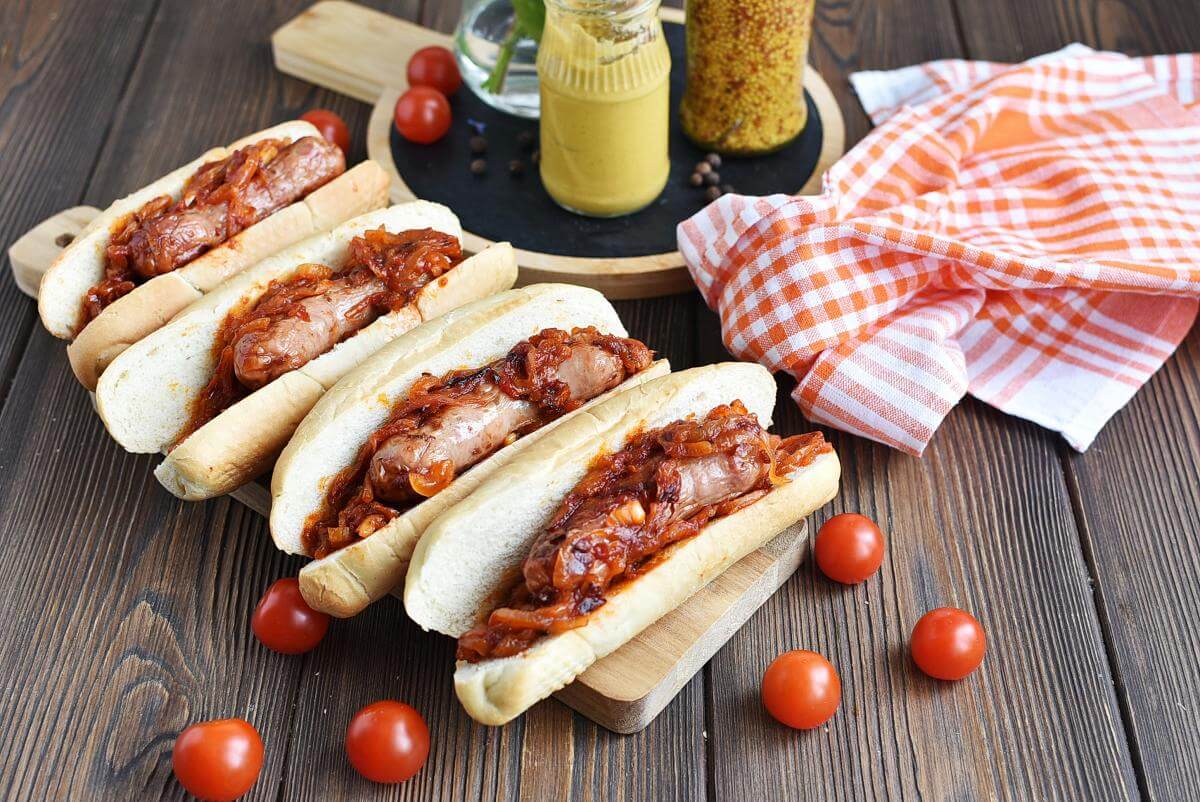 Ingredients for Sweet Chili Dogs:
4 Sausages
2 Onion
4 tbsp Sweet chili sauce
2 tbsp Tomato puree
4 Hot dog buns
Who doesn't love a good burger and these Juicy Oven-Baked Burgers definitely rate high in the homemade cooking recipes. These burgers are not just juicy but are much healthier than fried burgers, too. I also love burger that are baked in the oven as there is no oil splattered all over the counter tops.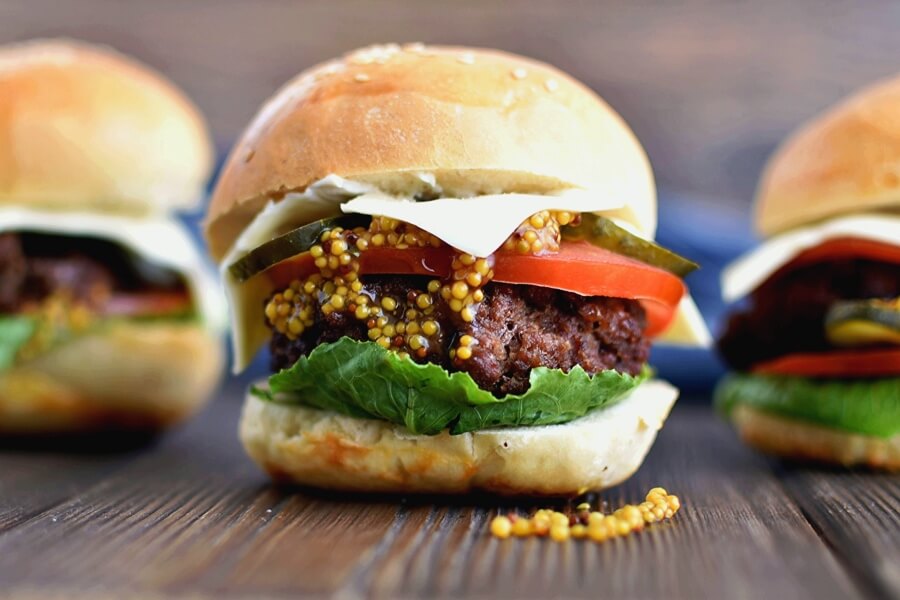 Ingredients for Juicy Oven-Baked Burgers:
FOR THE BURGERS:
1½ pounds Ground Beef
2 tsp Steak sauce
½ tsp Worcestershire sauce
1 tsp Salt
¼ tsp Black pepper
⅛ – ¼ tsp Garlic powder
⅛ to ¼ tsp Cayenne pepper
6 Hamburger buns

OPTIONAL TOPPINGS:
6 slices American Cheese
2 Tomatoes
6 leaves Lettuce
18 slices Dill pickles
We are used to seeing upside-down cakes with pineapple and cherries but this Sticky Upside-Down Banana Cake is a fantastic alternative take on the classic dessert. As it cooks, the banana caramelizes with sugar and unsalted butter and becomes a sweet, sticky delicious topping when the cake is inverted. Start…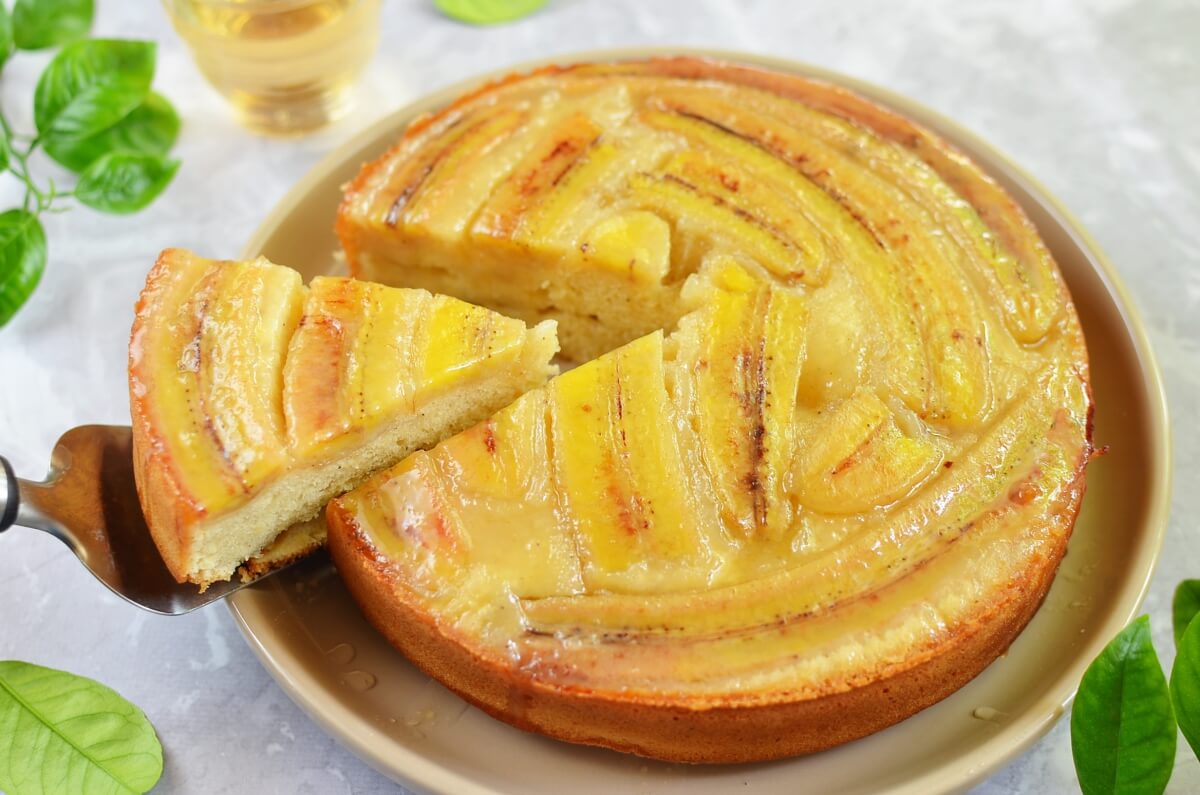 Ingredients for Sticky Upside-Down Banana Cake:
FOR THE TOPPING
80 g Unsalted butter
150 g Sugar
½ tsp Vanilla
4 large Bananas

FOR THE CAKE BATTER
240 g Plain flour
2½ tsp Baking powder
1 tsp Cinnamon
½ tsp Ground ginger
300 g Sugar
120 g Unsalted butter
3 Large eggs
150 ml Sour cream
¼ tsp Salt
These Salted Chocolate & Hazelnut Brownies are a really delicious take on traditional brownies. Chocolate and hazelnuts are a classic combination of course and the addition of salt to these brownies brings out the flavors of the ingredients. Salt stimulates the taste buds which helps to release flavors.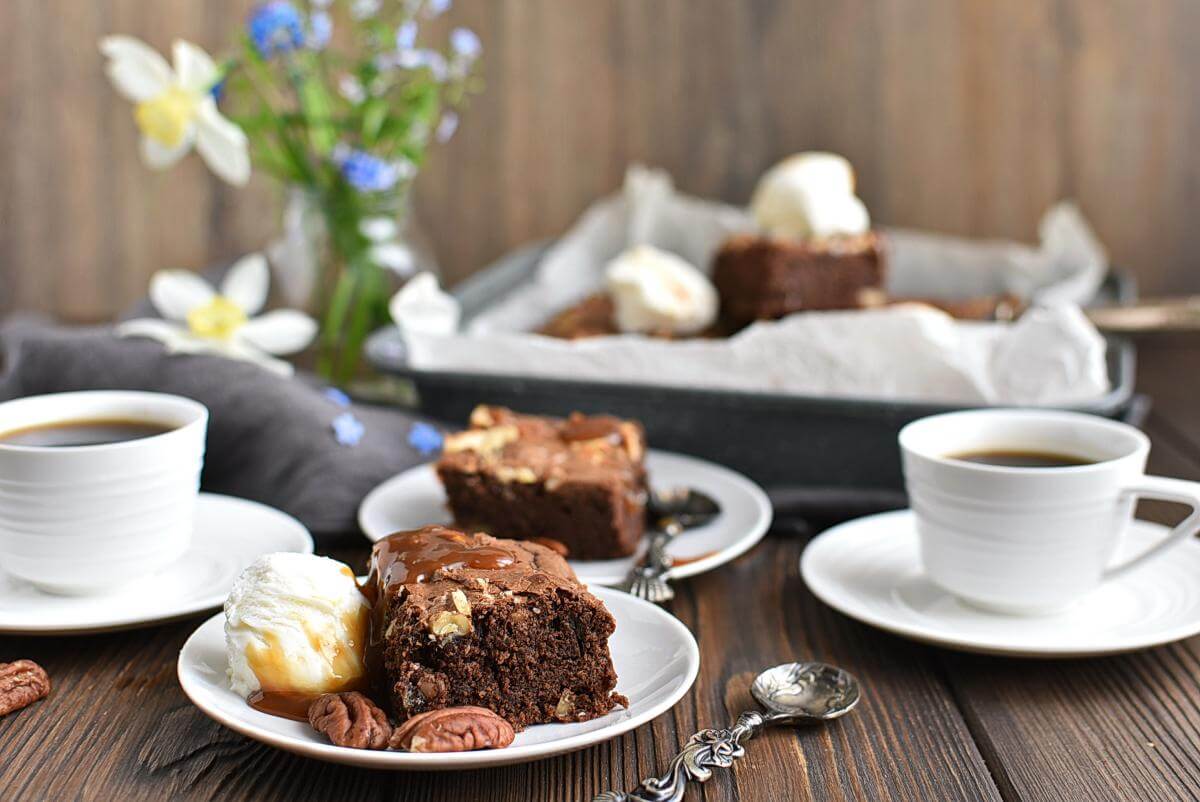 Ingredients for Salted Chocolate & Hazelnut Brownies:
100 g Salted butter
200 g 70% Dark chocolate
150 g Chocolate and hazelnut spread
3 Eggs
200 g Caster sugar
150 g Plain flour
100 g Pecans
Vanilla ice cream
Caramel sauce