Top 10 Christmas Morning Casseroles to Feed a Crowd
Make Ahead Breakfast Casseroles for Christmas Morning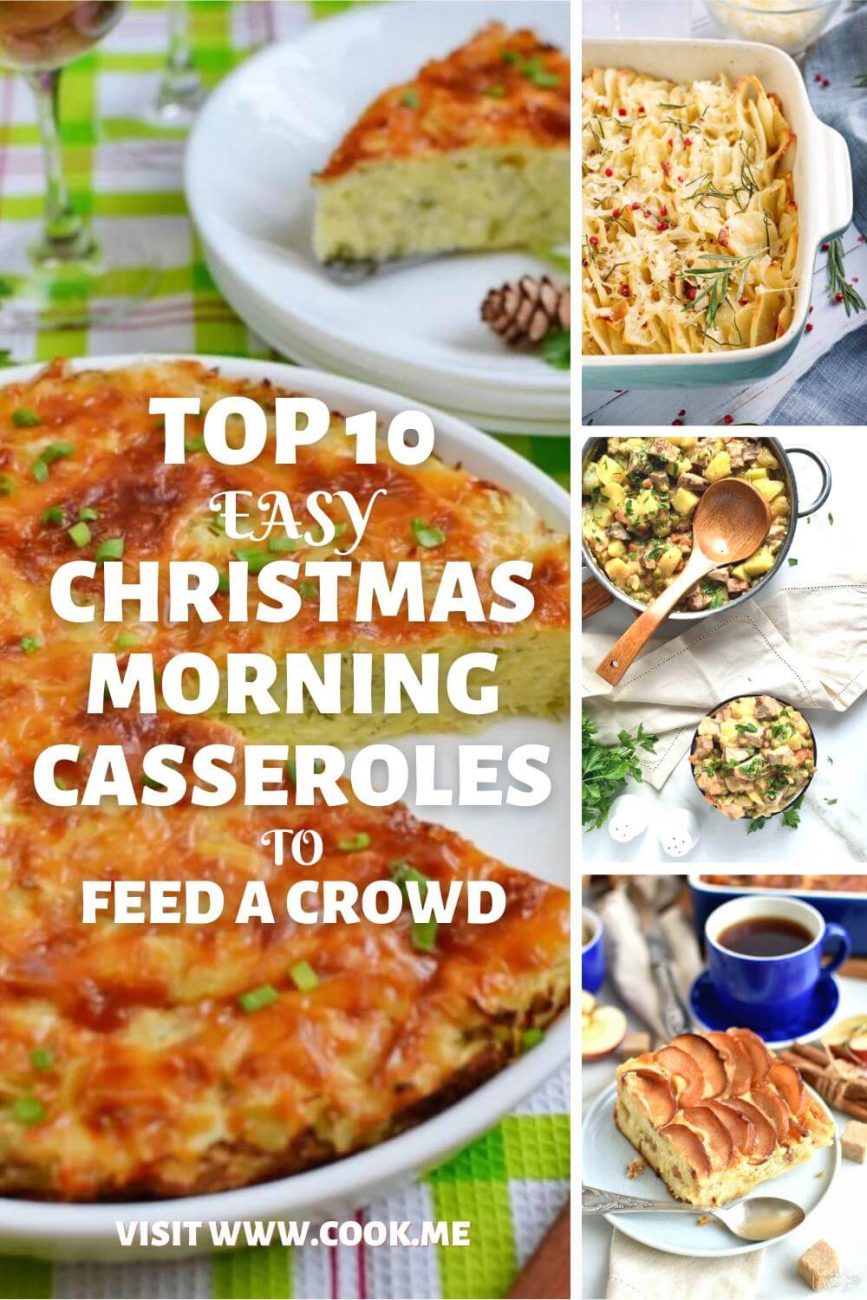 A Croque Monsieur Casserole is a fantastic way to use up leftover baked ham. I love to make this for breakfast in the days after Christmas when I am always looking for ways to use up leftovers. A croque monsieur is a traditional French sandwich which is made …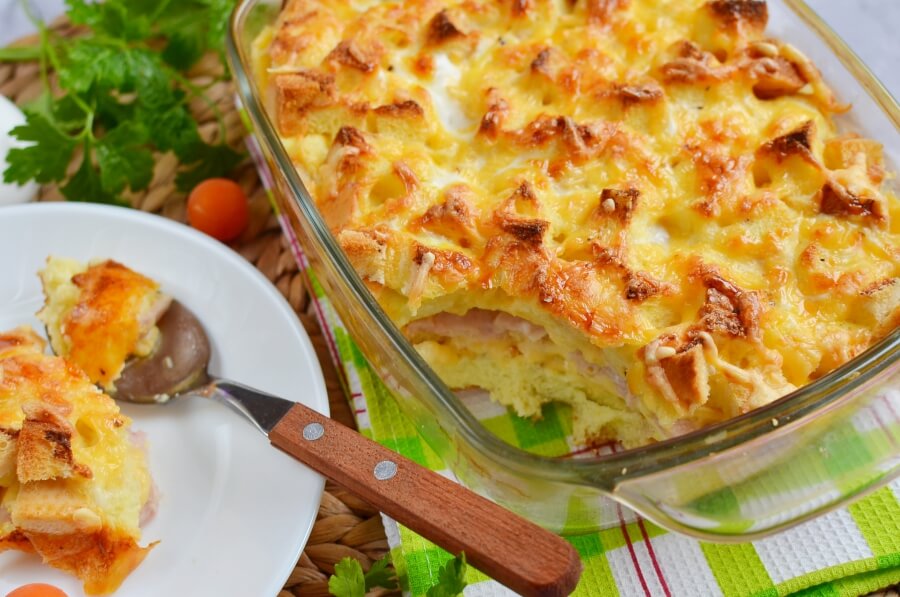 Ingredients for Croque Monsieur Casserole :
1 Baguette
2 tbsp Butter
2 tbsp Dijon mustard
9 oz Gruyère cheese
8 oz Ham
4 Eggs
1 ¼ cups Whole milk
Salt
Black pepper
I often make this Leftover Pork and Potato Hash on a Monday if we have roast pork for Sunday lunch. It is a delicious way to use up leftover pork. Sometimes I feel very uninspired when I have leftovers – I am often at a loss for what to make. When I'm feeling uninspired, I ….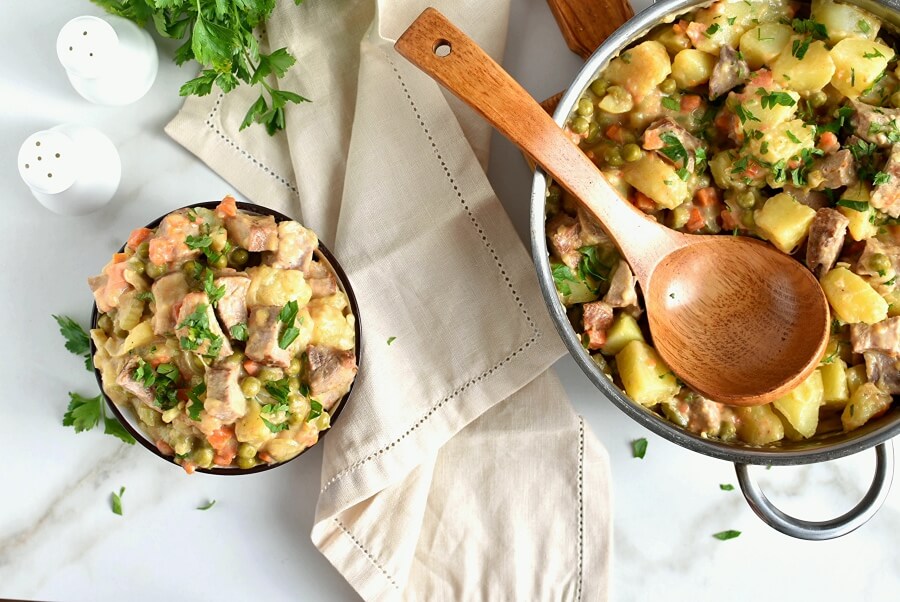 Ingredients for Leftover Pork and Potato Hash:
3 tbsp Butter
½ cup Onion
¼ cup Celery
1 (10 ½ oz) can Cream of mushroom soup
½ cup Milk
1 tsp Worcestershire sauce
dash Tabasco sauce
12 ounces Pork
2 cups Potatoes
¾ cup Green peas
1 tsp Ground paprika
Kosher Salt
Black pepper
Parsley
This Smoked Mackerel & Leek Hash with Horseradish is a delicious alternative savory breakfast. I love to make this in the week after Christmas when I am tired of turkey and craving some strong flavors. In steps oily and slightly smoky mackerel and strong fiery horse ….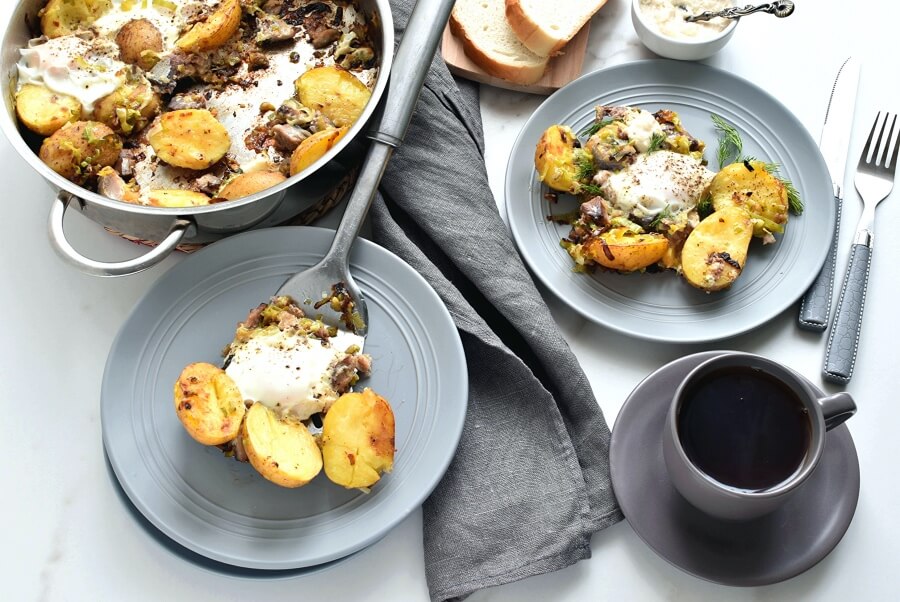 Ingredients for Smoked Mackerel & Leek Hash with Horseradish:
250g new Potatoes
2 tbsp Vegetable oil
2 large Leek
4 Eggs
100g peppered smoked Mackerel
2 tbsp creamed Horseradish
This Four-cheese cauliflower gratin is one of the best side dishes I have ever made. The whole family loves this dish which is made with not one, not two, not three but FOUR cheeses combined. This makes it a great way to use up any leftover cheese you have hanging around. …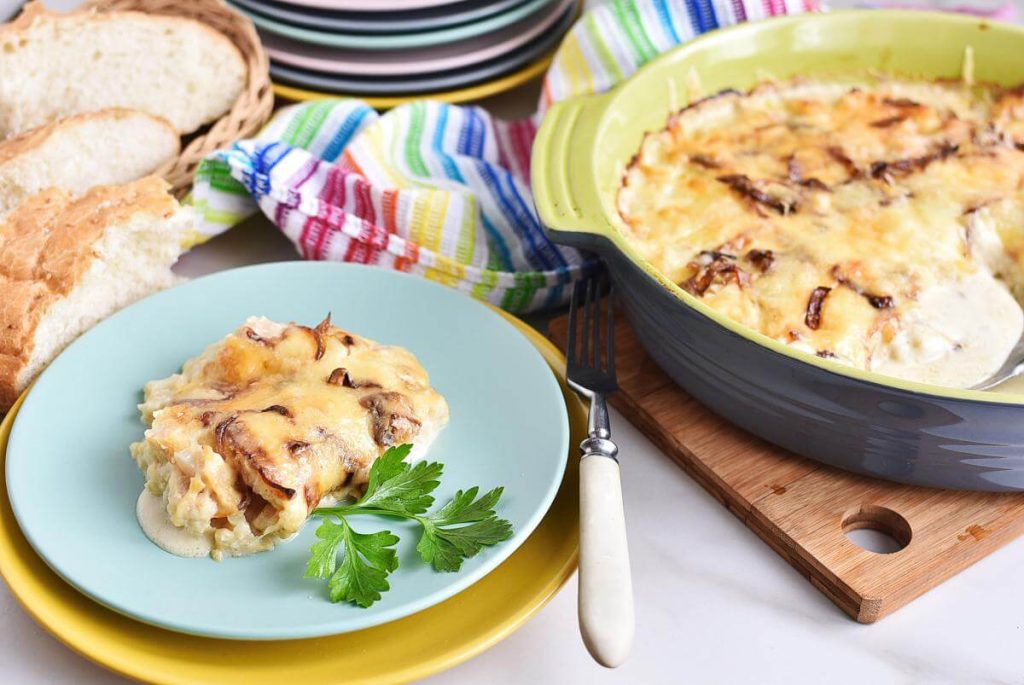 Ingredients for Four-cheese cauliflower gratin:
2 Cauliflower
125 g ball Mozzarella
200 g Cheddar cheese
30 g Onion

FOR THE SAUCE:
25 g Butter
25 g Plain flour
300 ml Whole milk
30 g English Mustard
100 g Cream Cheese
1 tsp Truffle oil
100 g Parmesan cheese
I made this Breakfast Casserole with Bacon and Hash Browns recently for my cousin and his wife who were staying with me for the weekend. They were blown away by how delicious and filling it was. It kept us going until dinner!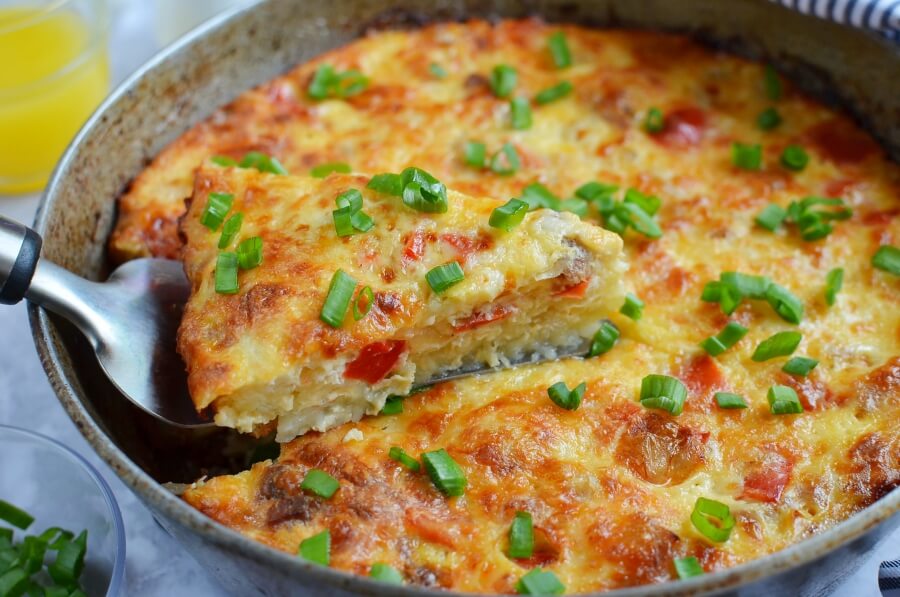 Ingredients for Breakfast Casserole with Bacon and Hash Browns:
1 lb Potatoes
5 strips Bacon
1/2 Onion
1 Bell pepper
1-2 tbsp Olive oil
6 Large eggs
1/4 cup Sour cream
1/2 tsp Salt
1/8 tsp Black pepper
1 1/2 cups Mozzarella
Tomato & Green Bean Casserole with Spicy Herb Pesto is a super healthy meal that your whole family will love. To make this casserole vegan, simply substitute Cheddar cheese with a dairy free alternative. …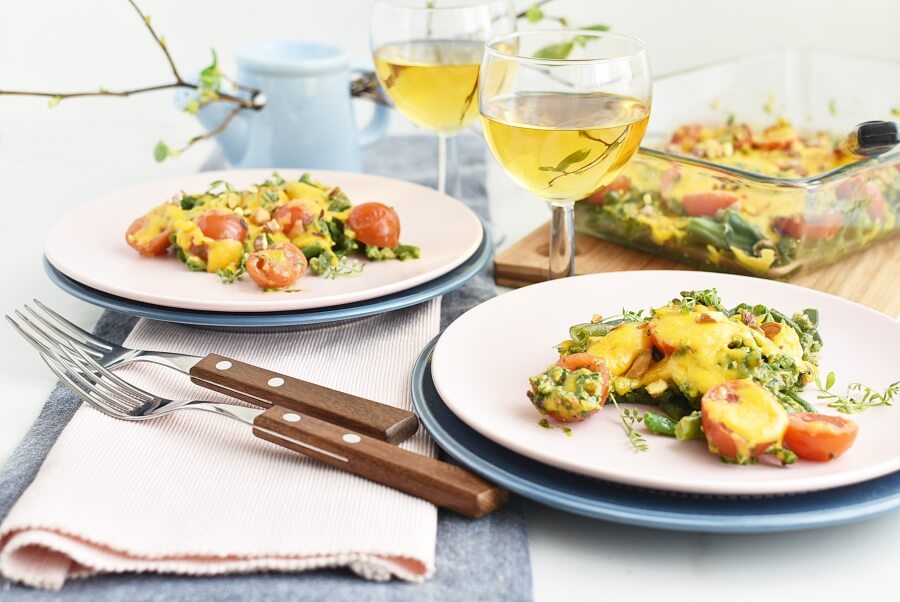 Ingredients for Tomato & Green Bean Casserole:
2 lb Green beans
½ cup Fresh herbs
½ cup Pistachio nuts
1-3 tbsp Jalapeño pepper
1 tbsp Lime juice
1 clove Garlic
¾ tsp Cumin
½ tsp Salt
¼ cup Olive oil
1 cup Cherry tomatoes
½ cup Cheddar cheese
This Lentil and Sweet Potato Shepherd's Pie is a fantastic vegan Christmas dish which can be enjoyed by everyone! In this recipe, I give an option for adding a layer of mushrooms to the pie. I always add mushrooms because I love their flavor but I know some people …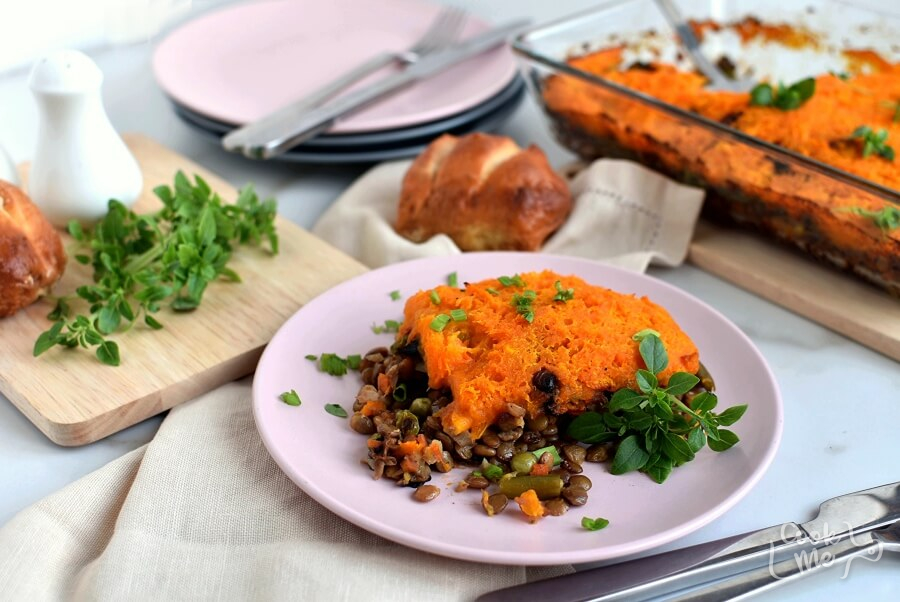 Ingredients for Lentil and Sweet Potato Shepherd's Pie:
FOR THE SWEET POTATO TOPPING:
3 Sweet potatoes
2 tbsp Coconut oil
1/4 tsp Sea salt
1-2 tbsp Maple syrup

FOR THE FILLING:
1 tbsp Coconut oil
1 Onion
2 cloves Garlic
1 1/2 cups Lentils
4 cups Vegetable stock
2 tsp Fresh thyme
1 10-ounce bag Mixed Veggies

FOR THE MUSHROOMS (OPTIONAL):
2 Portobello mushrooms
4 tbsp Balsamic vinegar
1 tbsp Coconut oil
1 pinch Black pepper
1 pinch Sea salt
1 clove Garlic
Cabbage Casserole may not sound very appetizing, but this recipe is like a creamy yet healthy quiche – without the pastry base. You won't be able to resist it if you try it! The base of this casserole is made from shredded cabbage with added dill and green onion. I make a batter from eggs, sour cream, mayo, …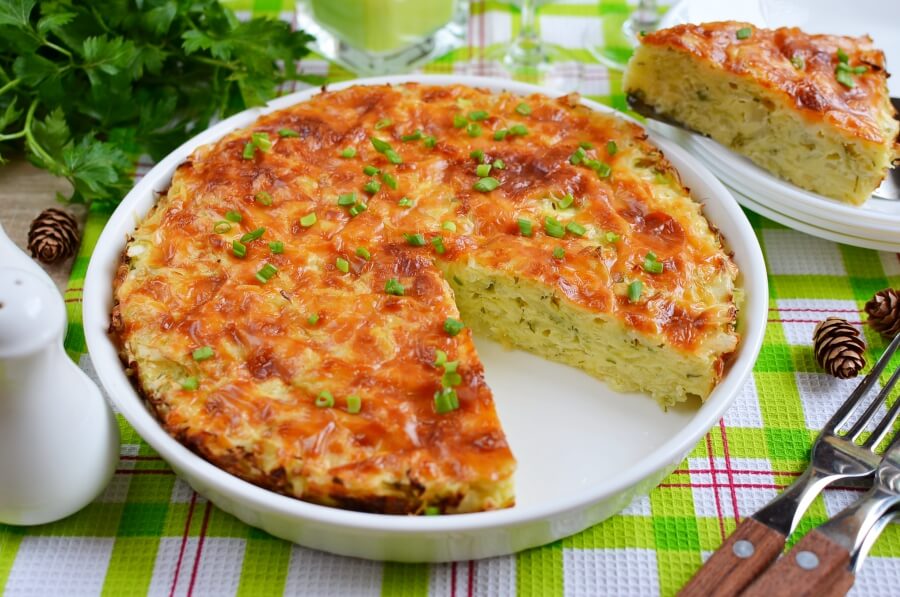 Ingredients for Cabbage Casserole:
4 Large eggs
¼ cup Sour cream
¼ cup Mayonaise
¼ cup All-purpose flour
½ tsp Baking powder
½ tsp Cornstarch
1 lb or 6 cups Green cabbage
½ tsp Salt
2 tbsp Dill
2 tbsp Green onion
4 oz Mozzarella
I don't know about you, but when I think of casserole, I think of a savory dish. However, this Apple Raisin Casserole actually makes a great dessert! I can't think of a more unbeatable flavor combination than apple, raisin and cinnamon, can you?  ….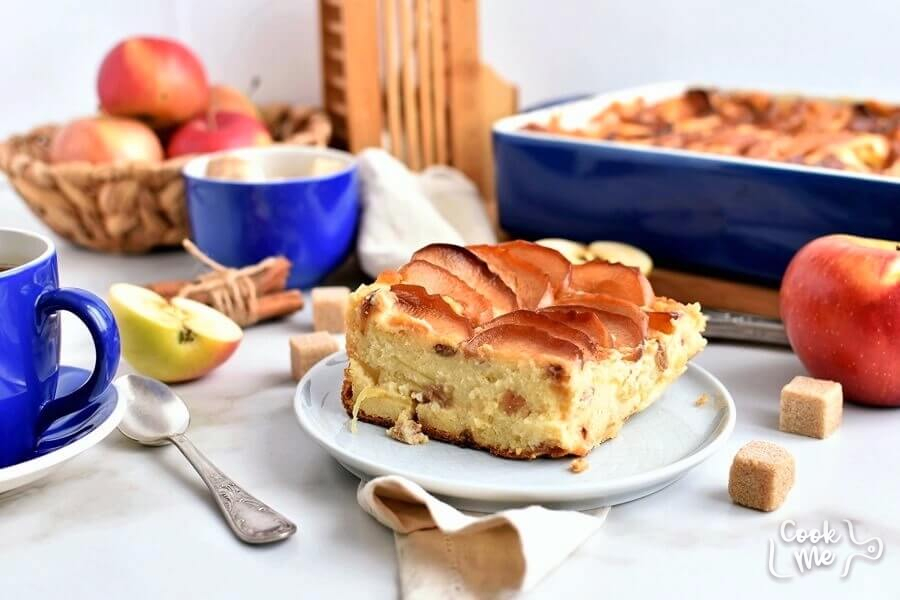 Ingredients for Apple Raisin Casserole:
2 lbs Apples
1 tbsp White wine
½ Lemon
4 tbsp Sugar
⅓ cup Raisins

FOR THE PORRIDGE:
1 quart Milk
½ tsp Salt
¼ cup Butter
4 tbsp Sugar
1 tbsp Vanilla extract
6 oz Cream of wheat
4 Eggs
4 tbsp Cream

FOR THE TOPPING:
Sugar
Cinnamon
I was recently looking for a potato dish to serve as a side which looked impressive and tasted delicious. Enter this Parmesan Potato Casserole which looks seriously cool as thin slices of potato are cooked stacked in a baking dish. Think of a ….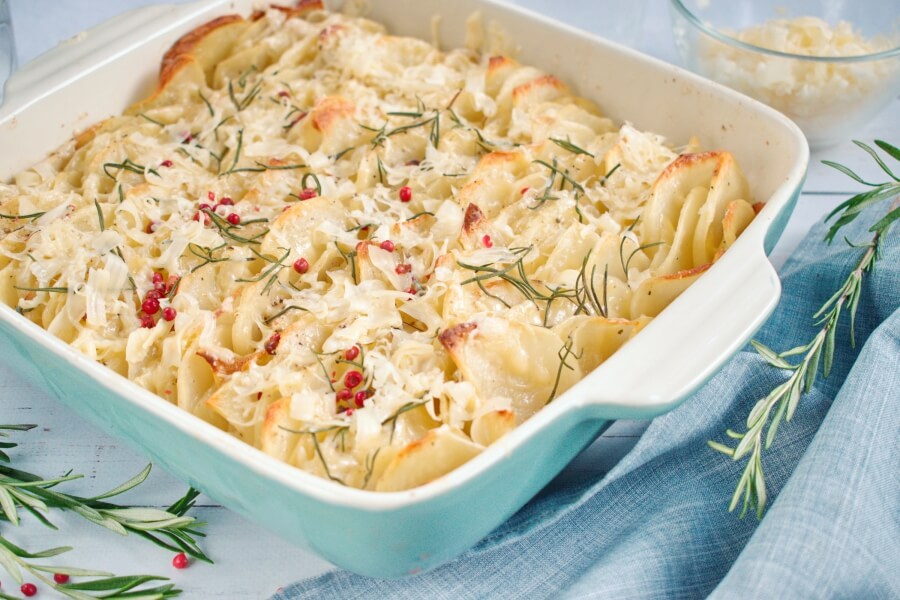 Ingredients for Parmesan Potato Casserole:
3 lb Potatoes
8 tbsp Butter
1 tbsp Garlic powder
1 tsp Kosher Salt
to taste Black pepper
1 cup Parmesan cheese
4 sprigs Rosemary