For the potato filling

2 lbs russet

Potatoes

peeled

2 oz

Cream Cheese

softened

For the pierogi dough

1 tsp

Salt

plus more for cooking

4 cups

All-purpose flour

measured correctly

For the toppings

To serve:
Cheesy Potato Pierogi (Vareniki)
This Pierogi (Vareniki) recipe is one of my favorite recipes to make when I want to get other people involved in the cooking process. As you probably know, pierogi are delicious filled dumplings popular in Central and Eastern European countries. A traditional pierogi recipe is made by wrapping a savory or sweet filling in unleavened dough. These are generally cooked in boiling water.
To prepare this recipe for pierogi, start by making the potato and cheese filling. Make a dough using water, milk, sour cream, egg and flour. Once the dough is ready, roll out and cut out circles. Place potato filling in the center of each circle and fold into a dumpling shape – get your guests to help as there are lots of dumplings to make! Cook in boiling water and serve with a bacon butter topping.
To make Pierogi, you will need the following ingredients: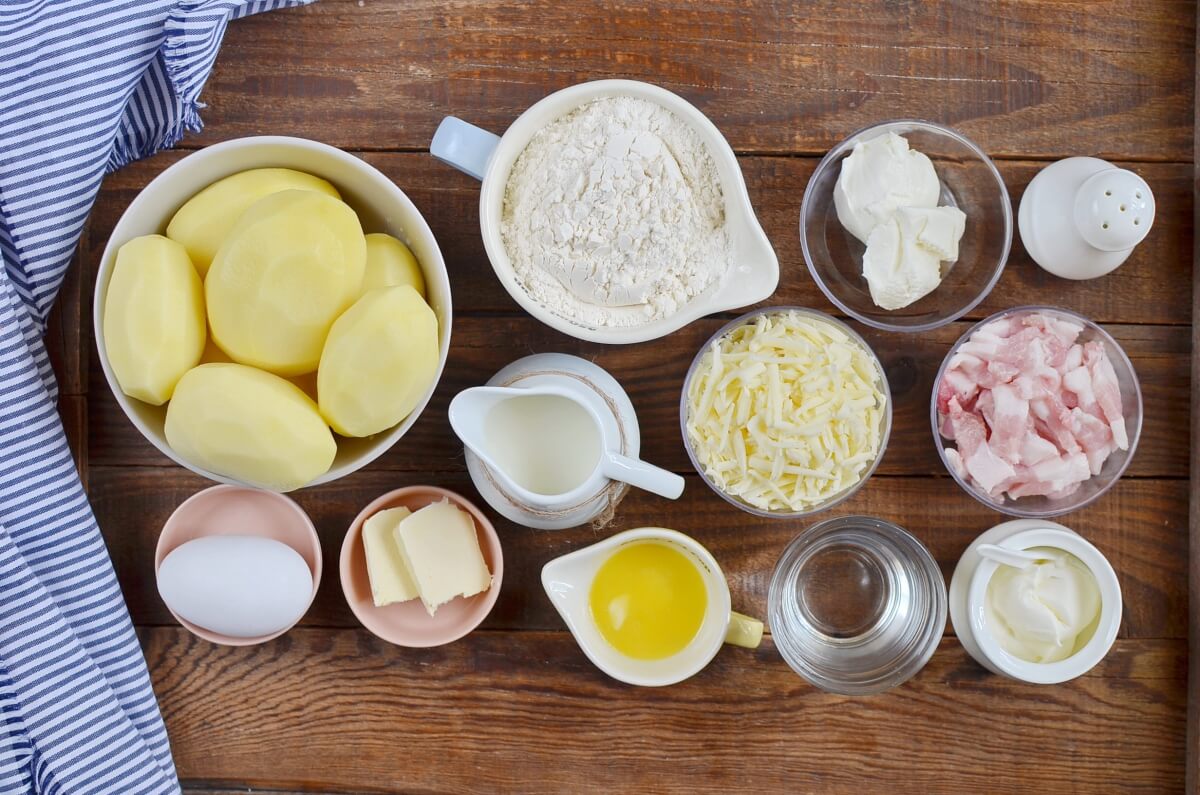 Steps to make Cheesy Potato Pierogi (Vareniki)
Cook potatoes

30

Add cheese

3

Make dough

2

Add flour and knead

10

Attach the dough hook to the mixer. Add 2 cups of flour and mix on speed 2 until incorporated. Add the remaining flour ½ cup at a time, letting it incorporate between additions, before adding more. Add the last cup of flour 1 tablespoon at a time until the dough no longer sticks to sides of the bowl. Knead for 10 minutes on speed 2 or by hand.

Roll out dough

3

Cut out dough circles

2

Add filling

2

Shape the dumplings

10

Make bacon topping

5

Cook the dumplings

5

Serve