500 g

Oyster mushrooms

sliced into 1-cm strips

1½ tbsp

Chicken seasoning mix

6

Shallots

peeled and chopped

3 cloves

Garlic

peeled and chopped

a small handful of

Chives

fresh

a large handful of

Parsley

fresh flat-leaf parsley

250 ml

Vegan single Cream

To serve:
'Chicken' Supreme
This 'Chicken' Supreme recipe is a super delicious dish to add to your midweek cooking. It is a perfect meal for one of your meat free days as despite what the name suggests, it contains no meat whatsoever! The oyster mushrooms deliver both texture and flavor. To make this dish vegan, I use vegan cream and margarine and add vegan friendly seasoning mix.
To make this dish, start by stir frying oyster mushrooms. Remove the mushrooms from the pan and set aside. Fry the shallot and garlic in the same pan before stirring in flour. Add wine, stock, mustard and herbes de Provence. Add beans and cook through. Return the mushrooms to the pan with cream and chopped parsley. Serve garnished with chives, parsley and black pepper.
To make 'Chicken' Supreme, you will need the following ingredients: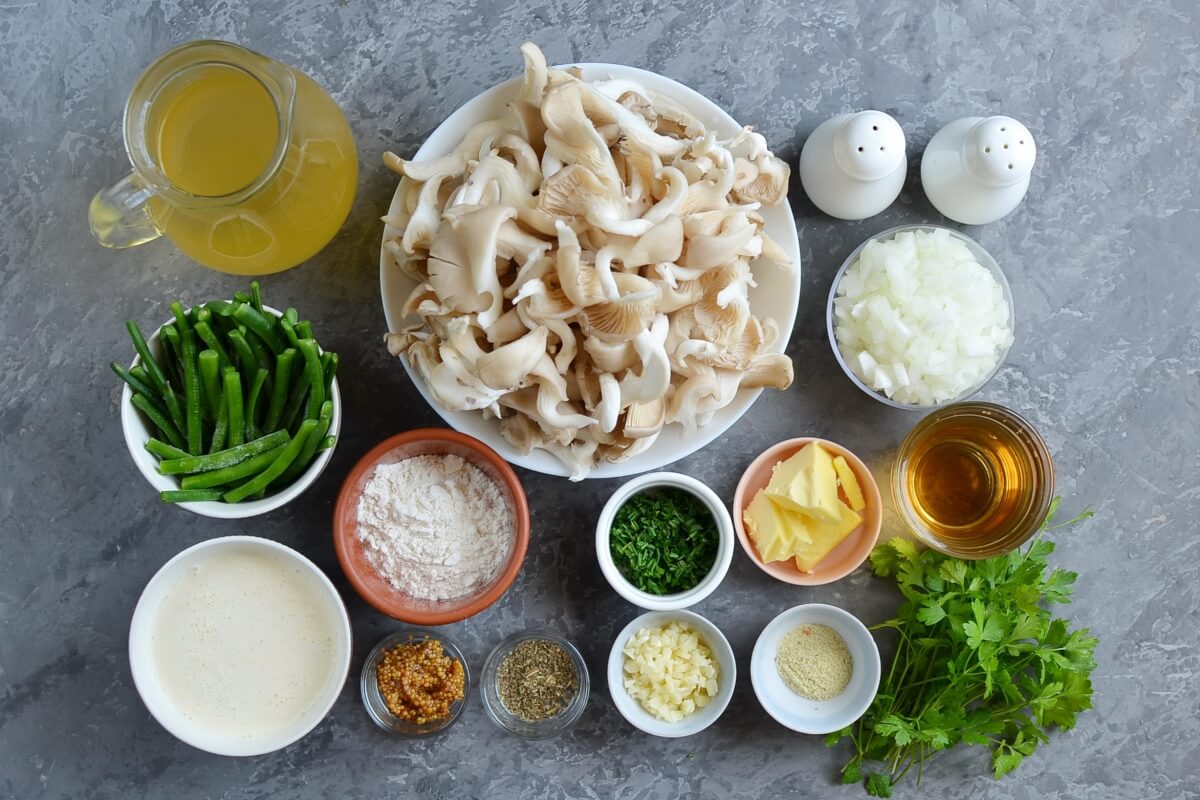 Steps to make 'Chicken' Supreme
Cook mushrooms

20

Fry shallot and garlic

4

Make sauce

5

Add 3 tablespoons of flour. Stir and cook for 2 minutes. Gradually add 200 milliliters of wine, stirring quickly to ensure the flour doesn't clump. The wine will deglaze the pan and gather as much flavour as possible. Simmer gently for 1–2 minutes, before stirring in 500 milliliters of stock and 1 teaspoon each of mustard and herbes de Provence.

Add green beans

10

Prepare herbs

1

Add remaining ingredients

2

Serve

1