5

Carrots

medium, cut into 1-inch pieces

2

Onion

medium, halved and sliced

8

Portobello mushrooms

large, cut into 1-inch pieces

1 bottle

Red wine

(750 ml) dry

2 cups

Vegetable broth

or mushroom broth, divided

1 tsp

Fresh thyme

minced or 1/2 teaspoon dried thyme

2 cans

Lima beans

15 ½ oz each, rinsed and drained

1 package (14.4 oz)

Onion

pearl
Directions
Mushroom Bean Bourguignon is one of my go-to meat free Monday recipes. You know how much I love to cook meat dishes? I often find that meat free alternatives are just not satisfying enough for me. Well that all ended when I developed this mushroom and bean alternative to boeuf bourguignon.
To make this meat free dish, I follow the same rules as the traditional beef version. I start by cooking the carrots, onions, garlic and mushrooms. Then I make the base of the sauce by adding tomato paste wine, broth, salt, thyme and pepper. Halfway through the cooking time, I add the beans and pearl onions. Delicious!
To make this Mushroom Bean Bourguignon, you will need the following ingredients: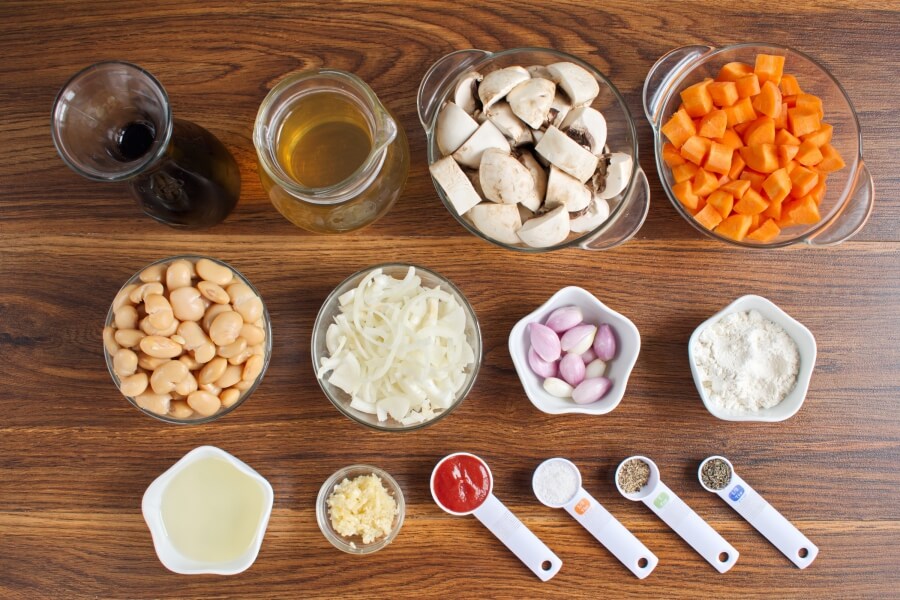 So, how do you make Mushroom Bean Bourguignon?

This video may vary from the original cook.me recipe
Steps
| | |
| --- | --- |
| 10 | Saute the carrots and onions |
| 1 | Add garlic |
| 5 | Cook mushrooms |
| 5 | Mix in tomato paste, wine, broth, salt, thyme, pepper and carrot mixture |
| 25 | Simmer |
| 30 | Add remaining ingredients |
| 10 | Thicken the sauce |
| | Serve |