3 large

Celery

stalks, chopped

2 large

Carrots

peeled and chopped

1 (15 oz) can

Chickpeas

drained and rinsed

3 cups

Chicken

shredded rotisserie
Detox Immune-Boosting Chicken Soup
This Detox Immune-Boosting Chicken Soup does exactly what it says on the tin – it is a super healthy, super nutritious and super delicious. One of the key immune-boosting ingredients in this soup is kale. This leafy green vegetable is one of the most nutrient-dense foods on planet Earth. It is full of powerful antioxidants and it is an excellent source of vitamin C.
And that's not all, kale can help lower cholesterol too. Is it any wonder I try to squeeze it into loads of the dishes I make?
Back to this soup which is chock full of goodness. When it comes to veggies alone, it has a mix of onion, celery, carrots, mushrooms, garlic, chickpeas and kale. To these I add chicken broth, chicken and some flavors and seasoning. When all the ingredients are assembled, it makes a really warm and comforting soup.
To make this Detox Immune-Boosting Chicken Soup, you will need the following ingredients: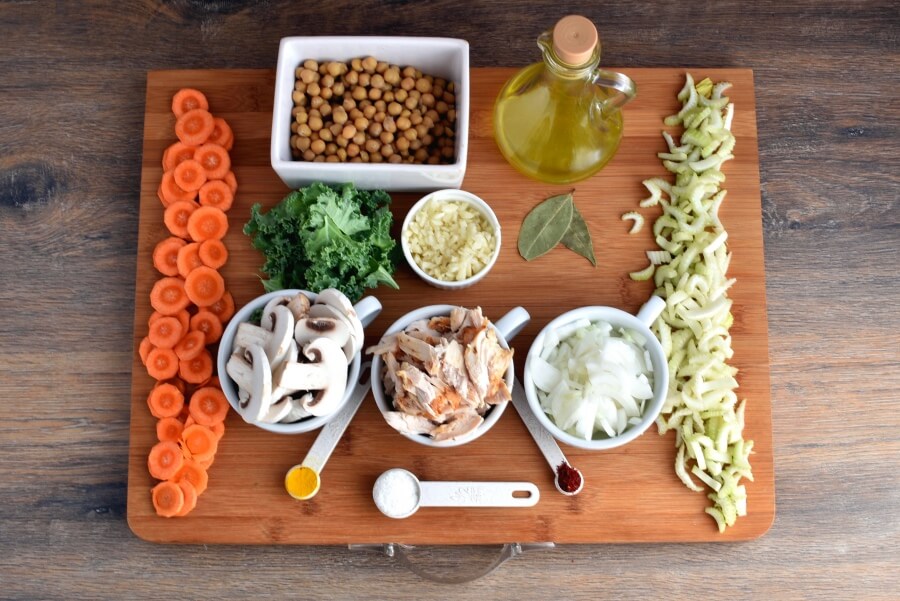 So, how do you make Detox Immune-Boosting Chicken Soup?
Steps to make Detox Immune-Boosting Chicken Soup
Fry onion, celery and carrots

5

Stir in mushrooms and garlic

3

Bring to a boil

2

Add chicken

15

Add kale

5

Serve