For the salad:

12 oz

Bread

loaf rustic white bread, cubed

2 ½ tbsp

Olive oil

extra-virgin

3 large ripe

Tomatoes

chopped

4 cups

Rotisserie chicken

shredded, meat

For the dressing:

1 tbsp

Olive oil

extra-virgin
Easy Chicken Panzanella
This is an Easy Chicken Panzanella dish that was inspired by my last vacation in Tuscany. Panzanella is a chopped salad made with stale bread and tomatoes and other ingredients. I first tasted panzanella in Tuscany where it originates from, and I knew I had to make my own version at home. It is very popular to eat panzanella during the hot Tuscan summer and that's why I decided to recreate it for the hot summer days we get here!
To make my version of panzanella, I grill some leeks and rustic bread chunks. I whisk up a grainy mustard, lemon and olive oil dressing in a large salad bowl which I combine with some tomatoes, chicken and parsley. Just before serving, I mix in the toasted bread and leeks and that's it! Super quick and super tasty!
To make my Easy Chicken Panzanella, you will need the following ingredients: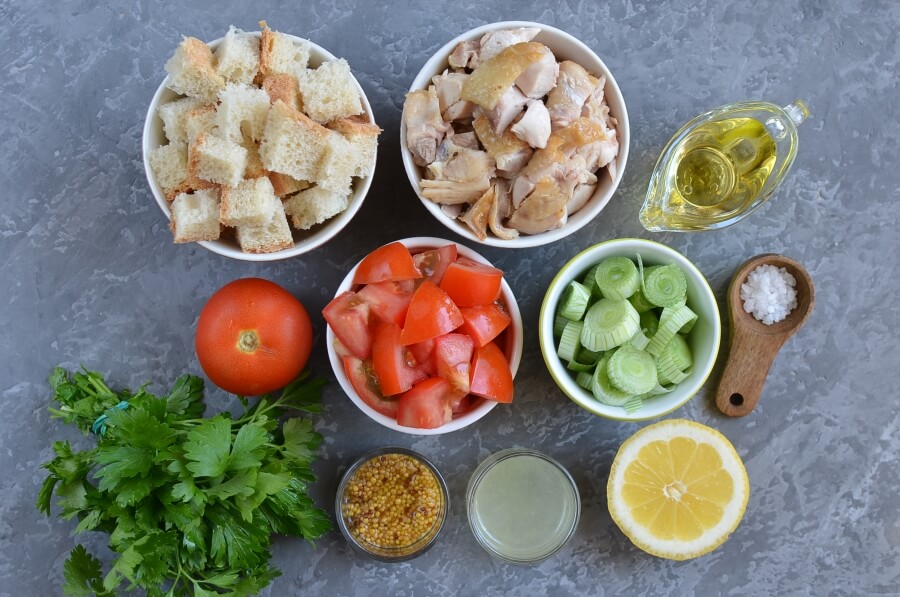 So, how do you make Easy Chicken Panzanella?
Steps to make Easy Chicken Panzanella
Heat the oven

15

Preheat the oven to 450 °F.

Coat the bread and leek in olive oil

3

Toast the bread and leek

15

Make the dressing

2

Mix in the tomatoes

2

Add the chicken, toasted bread, leeks and parsley

3

Serve