For the pasta salad

4oz mini mozzarella balls

Mozzarella

halved

1/2 cup

Olives

kalamata or other kind

1

Cucumber

cut into quarters lengthwise and thinly sliced

1/4 cup

Parsley

roughly chopped

For the dressing

2 tsp

Dried Italian seasoning
Easy Pasta Salad
Everyone needs a quick and simple recipe for pasta salad – and this Easy Pasta Salad is mine! It's loaded with delicious mix-ins and coated in a yummy dressing.
I'm a firm believer in more is more when adding those extra ingredients to pasta salad. Salami, mozzarella, olives – every mouthful is packed full of different flavors and surprises and the simple Italian dressing is what brings it all together. This keeps very well in the fridge so you can make a big batch to last you all week.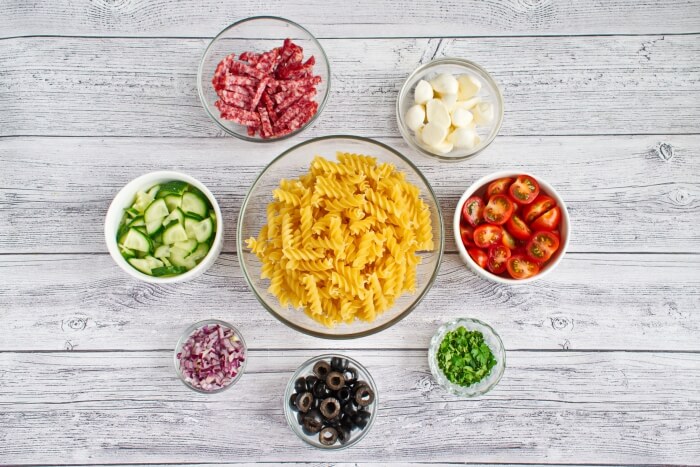 So, how to cook Easy Pasta Salad?
Steps to make Easy Pasta Salad
Make the dressing

1

Soften the red onion

1

Stir the chopped onion into the dressing leave to one side to soften.

Cook the pasta

8

Cool the pasta

2

While the pasta is cooking, add plenty of ice and water to a large bowl. When the pasta is cooked, drain it in a colander and run under cold water, before quickly tipping into the ice bath.

Combine the salad ingredients

2

Serving Easy Pasta Salad

30