2 1/4 ( 1 kg) pounds

Potatoes

starchy potatoes, cut into ⅛-inch 3mm slices

1 clove

Garlic

unpeeled and cut

1¼ cup (300g)

Cream

35% fat

1 cup (100g)

Cheddar cheese

sharp, or Gruyere, grated
Gratin Dauphinoise
Gratin Dauphinoise in simple terms is known as a potato gratin or a potato bake. Made from sliced potatoes baked in a cream sauce seasoned with garlic, nutmeg, black pepper, salt and butter.
What makes ours extra special is the additional ingredient of sliced red onions, which is not usually used in most recipes, and of course we load it up with tons of melted cheese on top.
To make Gratin Dauphinoise, you will need the following ingredients: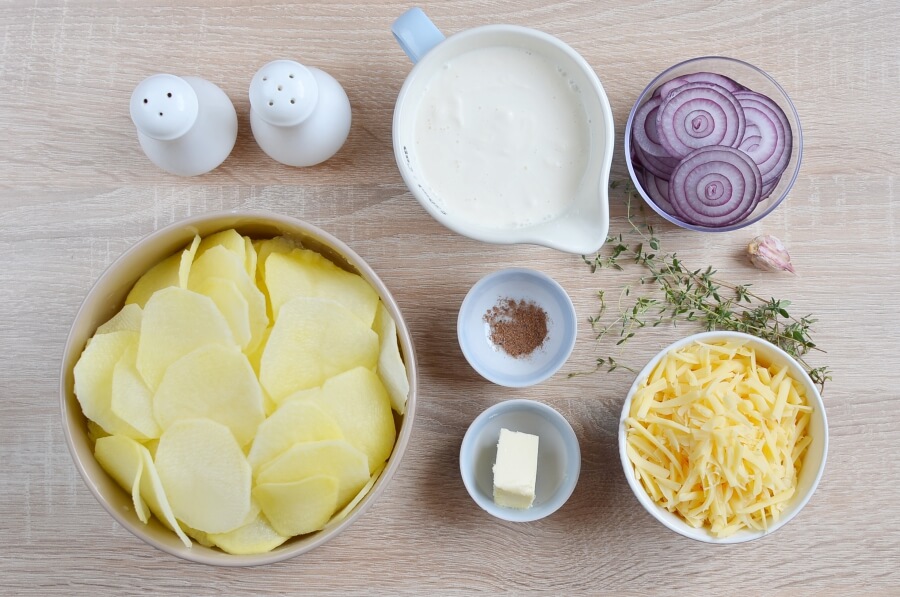 So, how to make Gratin Dauphinoise?
Steps to make Gratin Dauphinoise
Preheat oven and prepare dish

2

Season cream

2

Prepare dauphinoise

10

Arrange ⅓ of the potato slices at the base of the prepared dish then ⅓ of the onion slices, ⅓ cup of the cheese with some fresh thyme sprigs and ⅓ of the seasoned cream mixture. Repeat in 2 more layers with potatoes, onions, cheese and cream mixture. Top the final layer with remaining grated cheese.

Bake

70

Serve

10