1 pound

Lean ground sirloin

or lean ground grass-fed bison

2 cups

Heirloom tomatoes

sliced

1 ripe medium

Avocado

quartered and sliced

1 tbsp fresh

Chives

chopped

1 tbsp

Fresh dill

chopped

1 tsp

Kosher Salt

divided

1 tsp

Black pepper

divided

2 tbsp

Lemon juice

fresh , divided

¼ cup plain 0% nonfat

Greek yogurt
Keto Meatball and Tomato Salad
Meatball and Tomato Salad is the best healthier dinner replacement to spaghetti and meatballs. So if that's what the kids are having, then this is what you'll be having and you're not even missing out.
This recipe has more nutrients and more flavor than pasta could wish to have! Pack in the potassium and enjoy a light and tasty meal with this arugula, tomato and avocado mix, topped with meatballs and a yogurt and fresh chives drizzle.
To make Meatball and Tomato Salad, you will need the following ingredients: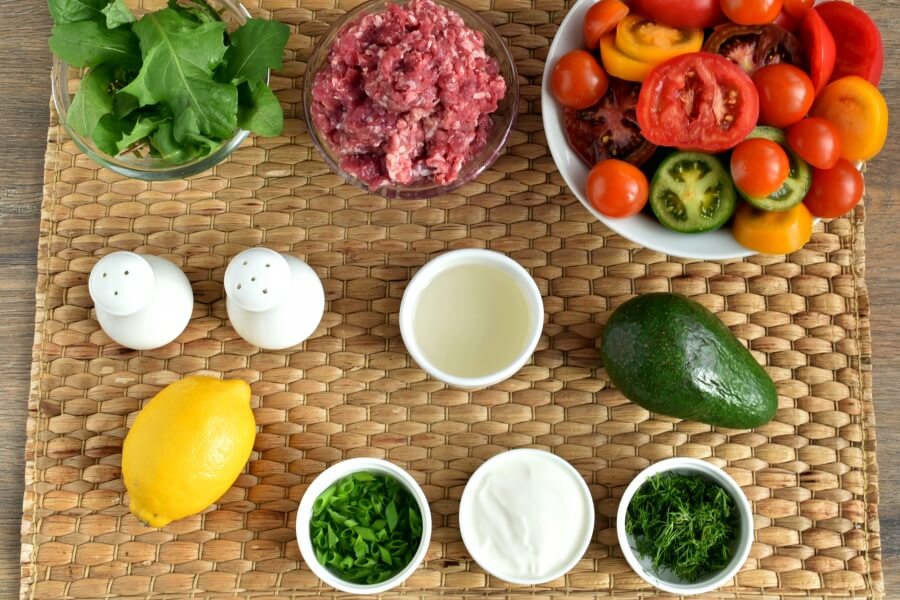 So, how to make Meatball and Tomato Salad?
Steps to make Keto Meatball and Tomato Salad
Prepare meatballs

3

Cook meatballs

12

Prepare oil dressing

1

Prepare yogurt dressing

1

Prepare arugula

2

Add tomatoes

2

Add avocado

1

Serve