1/4 cup

Olive oil

extra-virgin, divided

1

Shallots

large, roughly chopped

3 cloves

Garlic

roughly chopped

2

Leek

large, washed and thinly sliced all green and white parts, a handful of the leeks' green tops reserved, roots discarded

11 oz

Potatoes

about 3 medium, such as Yukon Gold, roughly chopped

2 (15.5-oz) cans

Chickpeas

drained

Black pepper

to taste, freshly ground

For serving:
Potato Leek Soup
Inspired by the classic French dish, this easy Potato Leek Soup makes for a satisfying lunch or dinner. Our spin on this easy recipe has a clever, fragrant twist: a topping of chickpeas and leeks green tops cooked in spices, like paprika, coriander, and cumin until crispy. It takes only a few minutes to make and adds just the right amount of texture to this creamy soup. With a handful of healthy ingredients, you'll have a filling and flavorful meal in roughly one hour.
Cook the shallot, add some garlic, and then add the sliced leeks (white and pale green parts). Next, add the chunks of potato. I love to use Yukon Gold for this soup, but any all-purpose potato will do. Add the chickpeas, reserving some for the topping. Add the vegetable stock and bring to a boil. Cook the potatoes in the stock until they are fall-apart tender, this takes 30 minutes or so. Toward the end of cooking, make the topping. Then, use an immersion blender to puree the soup until smooth and creamy. Stir in the heavy cream and season with black pepper. Serve hot with chickpea and leek topping and a drizzle of chili oil.
To make the Potato Leek Soup, you will need the following ingredients: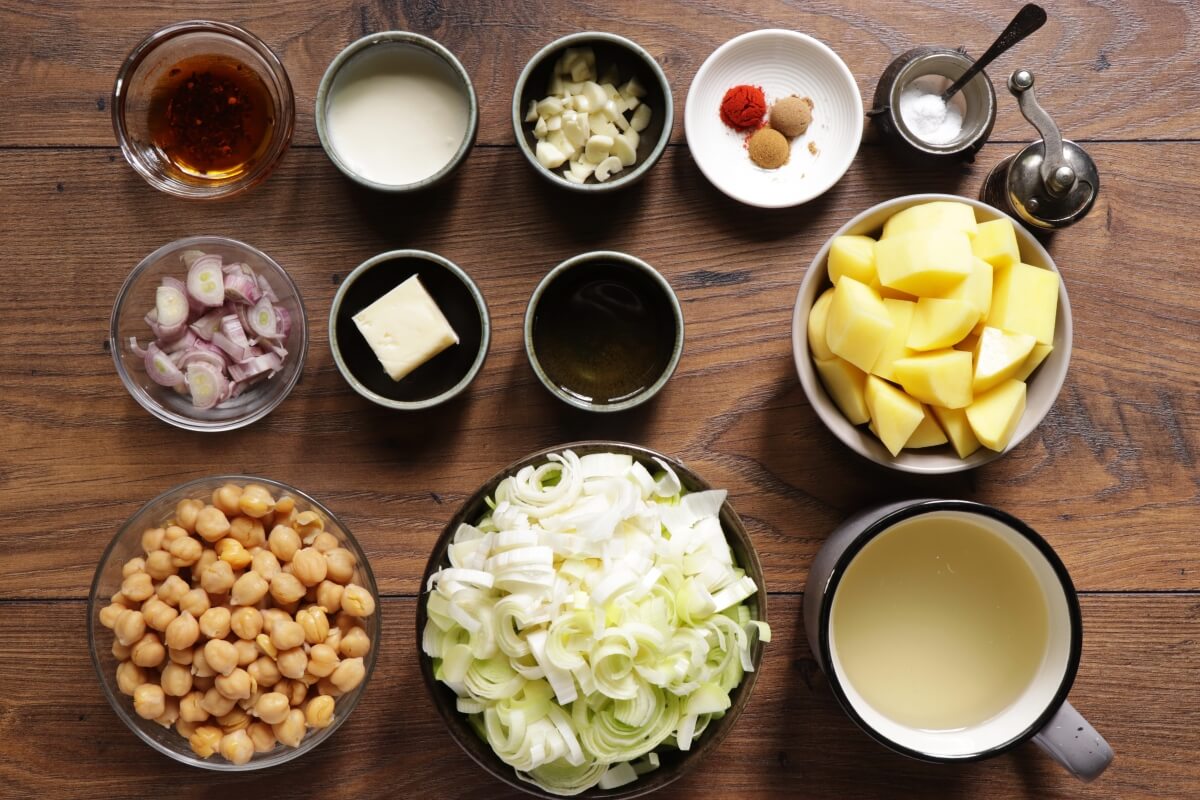 Steps to make Potato Leek Soup
Cook shallot

4

Add garlic

2

Add leeks

5

Add potatoes

5

Add chickpeas

1

Add stock and salt

35

Make topping

5

Toward the end of cooking time, make the topping. Thinly slice the reserved leek green tops. In a small skillet over medium heat, heat the remaining oil and add the sliced leek green tops and reserved chickpeas. Cook until the chickpeas are lightly golden and the leeks are deep green, about 4 minutes. Add ¼ teaspoon hot smoked paprika, ¼ teaspoon ground coriander, ¼ teaspoon ground cumin, and a pinch of salt and stir to coat. Remove from the heat and set aside to cool.

Puree

2

Add heavy cream

1

Serve