1

Onion

small white, peeled and diced

2

Carrots

medium, peeled and diced

2 stalks

Celery

trimmed and diced

3 cloves

Garlic

minced or pressed

8 cups

Chicken bouillon

good-quality

2 cups

Chicken

shredded cooked

Parsley

chopped fresh for garnish, optional
Rosemary Chicken Noodle Soup
This Rosemary Chicken Noodle Soup is like a big hug in a bowl. It is everything you could want in a soup recipe – brothy with the fragrant taste and smell of fresh rosemary. Rosemary is one of those herbs I can't get enough of. I like to add it to everything from stews to roasts and soups. I grow a huge pot of it in my kitchen garden and it's available all year round. A wonderful herb to have on hand!
For this soup, I simply sauté some onion, carrot, celery and garlic before adding chicken stock and rosemary stalks – I leave the stalks whole as it makes it easier to remove the rosemary towards the end. I add the noodles and the chicken around 10 minutes before I transfer the soup to large bowls ready for eating.
To make the Rosemary Chicken Noodle Soup, you will need the following ingredients: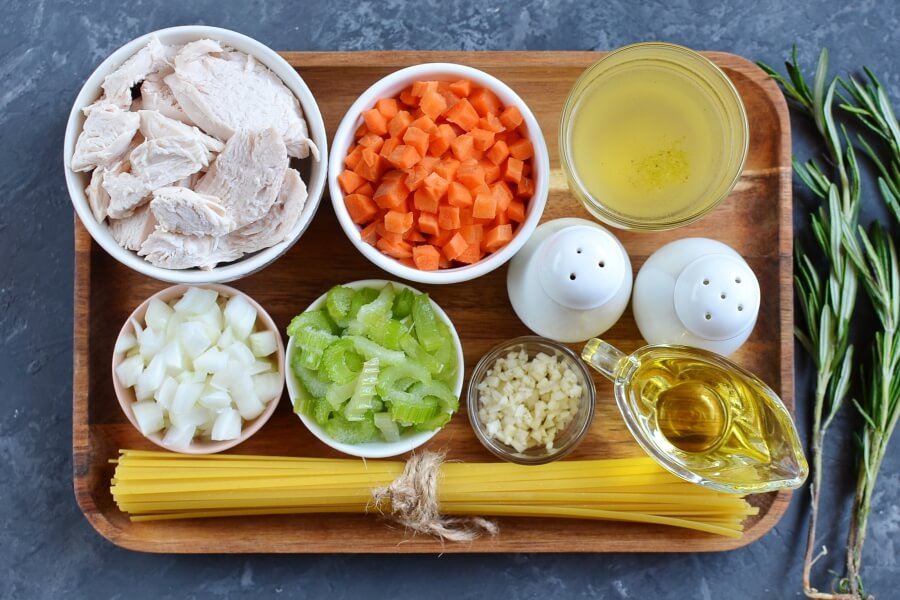 So, how do you make Rosemary Chicken Noodle Soup?
Steps to make Rosemary Chicken Noodle Soup
Sauté the onion

4

Cook the carrots and celery

4

Add the garlic

2

Pour in chicken stock and add rosemary

5

Simmer

5

Remove the rosemary

1

Add chicken and noodles

10

Season

1

Serve

1