For veggies:

1

Red onion

sliced into 6 wedges

1

Sweet potatoes

large, cut into 1-inch pieces

1

Eggplants

medium, cut into 1-inch pieces

½ head

Cauliflower

chopped

For za'atar spice blend:

For serving:
Sheet Pan Roasted Vegetables
You can't go wrong with this easy recipe for Sheet Pan Roasted Vegetables. A combination of sweet potatoes, red onions, eggplant, and cauliflower, roasted with olive oil and a homemade za'atar spice blend on a single sheet pan for a super simple side dish. Serve over couscous for a Middle-Eastern-inspired twist or quinoa for a healthy and delicious vegan-friendly meal.
With this recipe, you start by chopping the veggies into equal-sized pieces and placing them on a rimmed baking sheet. Drizzle the vegetables with olive oil and toss to coat. Make the za'atar spice blend. This seasoning adds a depth of flavor to the recipe with a unique blend of spices like cumin, coriander, thyme, sumac, dill, garlic powder, black pepper, and sesame seeds. I use this seasoning almost weekly to make this whipped labneh dip. You could also try it out in this falafel waffle recipe or use it to season your hummus bowl or baba ganoush. Sprinkle the za'atar over the vegetables and roast them, gently tossing once halfway through, until the eggplant and cauliflower start to brown. Garnish the roasted vegetables with fresh parsley and serve. Enjoy!
To make this Sheet Pan Roasted Vegetables, you will need the following ingredients: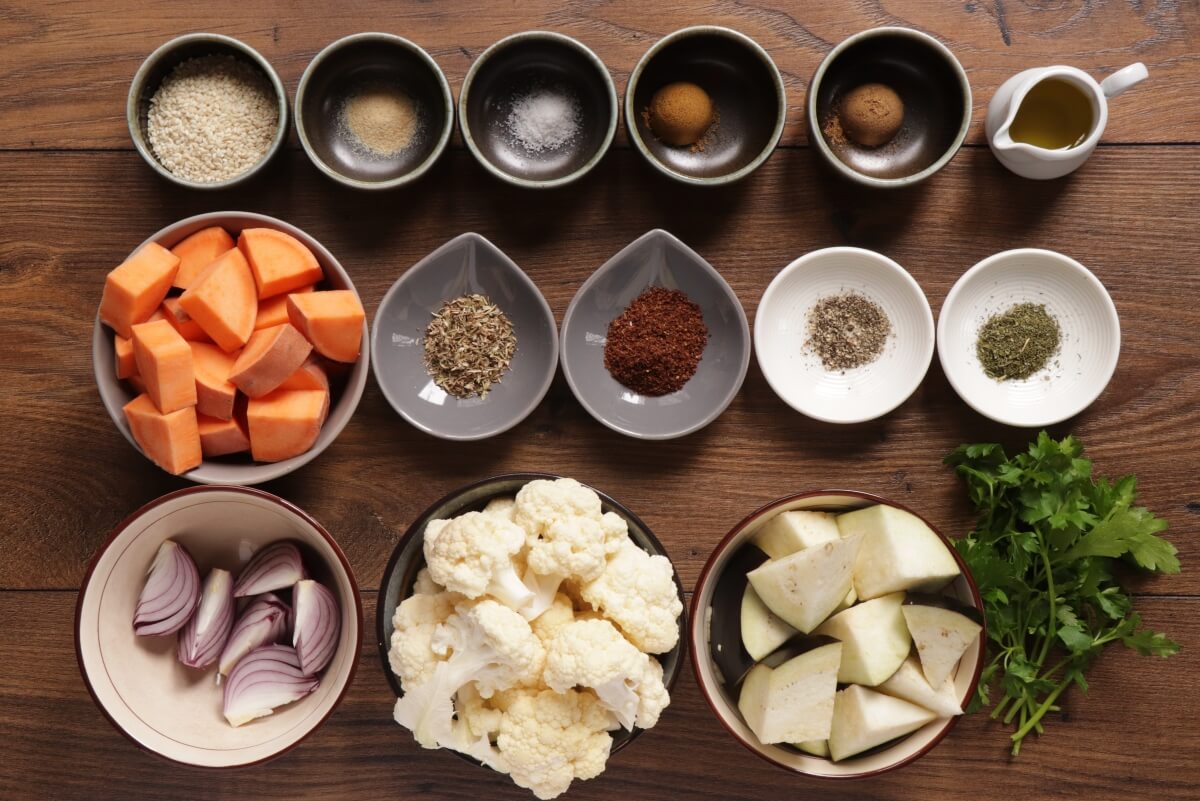 Steps to make Sheet Pan Roasted Vegetables
Preheat oven

Preheat the oven to 425 °F.

Make za'atar spice blend

1

Prepare vegetables

2

Sprinkle za'atar over vegetables

1

Roast

40

Serve