4 baking

Potatoes

washed, brushed

For the Filling:

2 tbsp

Horseradish Sauce

creamed

1 (145 g) can

Can of tuna

in spring water, drained

4

Spring onions

finely sliced

325 g can

Sweet corn

drained

100 g

Cheddar cheese

grated

1

Red chili

deseeded and finely chopped

10 g fresh

Dill

finely chopped

To serve:
Tuna and Sweetcorn Jacket Potatoes
These Tuna and Sweetcorn Jack Potatoes are perfect for those specific nights that you're looking for a light and fresh dinner on a cool summer evening. Not too heavy, but just filling enough. Baked potatoes with directions for the oven or microwave, stuffed with tuna and sweetcorn in a hot and spicy, horseradish mayo with spring onions, chili, dill, lemon and Cheddar cheese!
To make Tuna and Sweetcorn Jack Potatoes, you will need the following ingredients: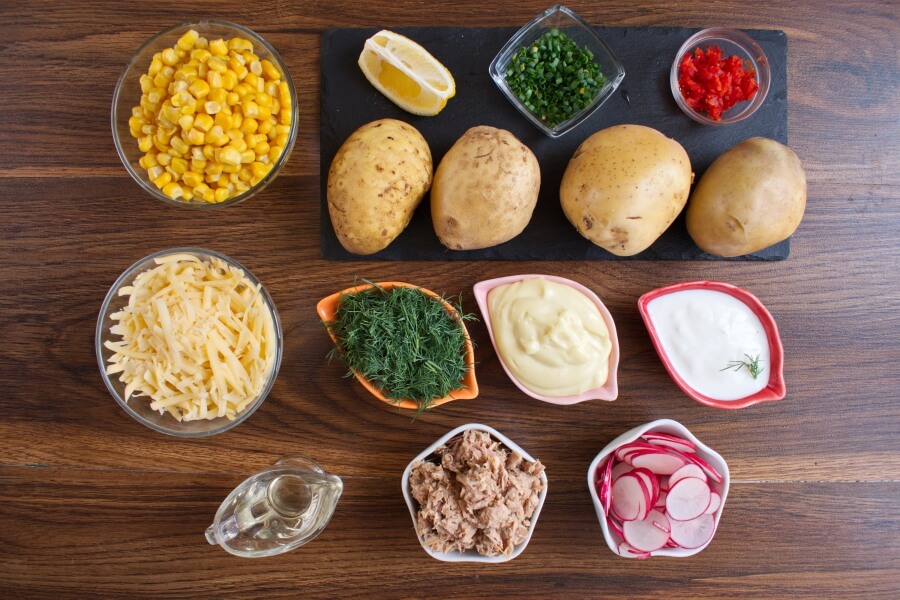 Steps to make Tuna and Sweetcorn Jacket Potatoes
Preheat oven and prepare baking pan

5

Prepare potatoes

2

Bake potatoes

1h 15m

Prepare filling

2

In a mixing bowl, combine 4 tablespoons of light mayonnaise, 2 tablespoons of creamed horseradish sauce, then stir in 1 can of drained tuna, 4 finely sliced spring onions, 1 can of drained sweetcorn, 100 g of grated mature Cheddar cheese, 1 finely chopped red chili, 10 g of finely chopped fresh dill, and squeeze the juice from a ¼ lemon until all well mixed together.

Create a pocket for filling

2

Serve